Labor Day has come to mean a lot of things: barbecues and picnics; the lamentable end of white-pants season; and, notably, big sales. Lots of them.
Somewhere along the way, a holiday meant to commemorate workers morphed into a three-day shopping extravaganza.
Origin story
America observes Labor Day on the first Monday of September as a way to pay tribute to the national labor force and its contributions to society and the economy. At the height of the Industrial Revolution in the late 1800s, American workers were averaging 12-hour workdays, seven days a week. Children as young as 5 or 6 years old were exposed to harsh and dangerous working conditions.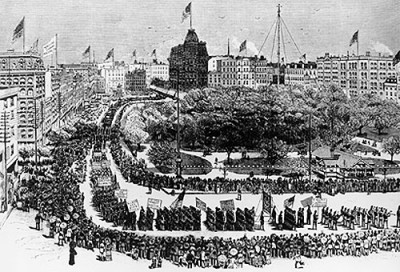 Weary Americans began to rally behind the idea of unity among laborers, and on Sept. 5, 1882, the first Labor Day parade was held in New York City, with 10,000 workers eventually taking to the streets. Oregon was first to pass a state law connoting Labor Day, in 1887. Several other states followed suit, and in 1894 Congress and President Grover Cleveland officially established a national Labor Day.
Shoppers' paradise
The holiday became a way to celebrate the American dream: If you worked hard enough, you could have what the Joneses had.
And perhaps not surprisingly in this nation of consumers, the holiday weekend—timed, as it is, just as seasonal merchandise changes, and incidentally giving many Americans a day off work for leisure pursuits—gradually became a big weekend for blowout sales.
In recent years, Labor Day weekend sales have outpaced those of other holiday weekends, such as Memorial Day and Presidents Day. For certain items, it's an even better time to shop than Black Friday. It's the prime time for deals on summer clothes, especially swimsuits. Outdoor furniture and grills are also deeply discounted as stores make room for fall and winter goods.
Make your move
If there's something you've had your eye on all summer, now is the time to buy. But shop smart—do your research to find the best Labor Day sales first. If you'd rather avoid the madding crowds, go online. And as NerdWallet always recommends: Consider putting any extra money into savings.
---
Images of shopping couple via Shutterstock. Image of Labor Day parade via Google Images.