Stroller frames offer a lightweight, convenient way to travel with an infant — and they're often less expensive than other car seat systems or strollers. But they're also less durable and lack features that some parents want.
The Graco SnugRider Elite is one of the best-selling stroller frames on the market. We took a look at its best and worst aspects to help you decide whether it fits your needs.
The stroller
The SnugRider Elite is compatible with Graco's Click Connect and Classic Connect infant car seat systems. Parents can snap these car seats into the frame and transport children younger than a year without disruption. And with key features such as one-handed folding, a parent tray and an extra-large storage basket, it's good for traveling or running quick errands.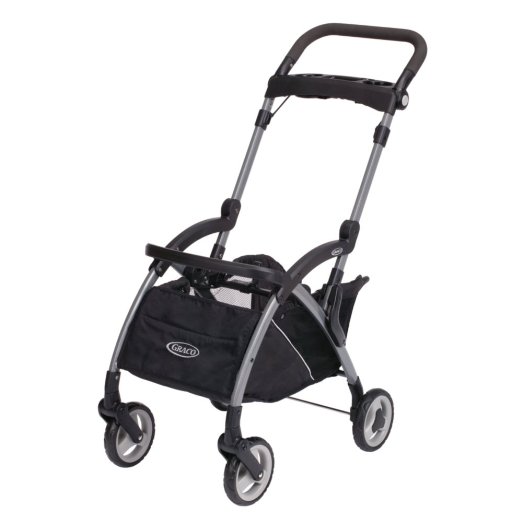 Its adjustable handle makes the SnugRider suitable for users of various heights, and its aluminum frame is compact when folded, easily fitting inside a trunk. Its four wheels can handle smooth terrain, but struggle on bumpy surfaces.
The SnugRider offers a good value for its price. It retails for $99.99 on Graco's site, but can be found for less on Amazon.
The reviews
For this Graco SnugRider Elite review, we consulted expert opinions from sites such as The Sweethome and Good Housekeeping. We also evaluated user reviews.
The SnugRider Elite ranked second in our list of the best car seat strollers and third in our list of the best strollers, with an overall score of 9.08. It scored a 9.6 for ease of use and a 7.5 for functionality.
» MORE: Best lightweight strollers
The pros
Many users said the SnugRider came in handy when traveling and praised its one-handed release button, which made the stroller easy to fold and unfold. Its 3.6-pound frame and compact body also made it easy to stow in the car.
The storage basket earned high marks from some reviewers, partly because it's large for the stroller's stature. Users said they could easily access the basket from the front or back, and it was large enough to hold a medium-size diaper bag. It also includes a hidden zippered pocket, which certain reviewers found helpful for important items, such as a wallet.
The cons
The SnugRider's light frame is designed primarily for walking on smooth ground. It isn't able to withstand a lot of bumps or high impact and is virtually immobile on grass, so taking it to the park might be difficult. Accordingly, durability was a concern for some reviewers.
A few users said the stroller broke after one month. More commonly, users mentioned problems with the one-handed release button, which required them to fold the stroller frame manually. Others said the wheels were flimsy, making folding problematic if they weren't aligned correctly.
The parent tray was another annoyance for some users. Many said the cups were too shallow to hold their drinks securely and that the tray's storage space was too small to hold bigger cell phones.
» MORE: Chicco KeyFit Caddy: Is NerdWallet's top-rated stroller right for you?
Is the SnugRider Elite right for you?
If you're a busy parent and you already have a Graco infant seat, the SnugRider Elite is a great choice. Its lightweight body and one-hand folding makes it easy to tote babies younger than a year — and it comes at a relatively low price.
Its ease of use might tempt some parents to use the SnugRider as an everyday stroller, but reviewers noted such frequent use often caused the stroller to break.
If you like car seat compatibility, but want a system fit for daily use, check out the BOB Motion Travel System or our roundup of the best travel strollers.
More from NerdWallet
How to get the best deal on a stroller
4 things you should know before buying a stroller
Is a Bugaboo stroller worth it?
Nina Tabios is a staff writer at NerdWallet, a personal finance website. Email: [email protected].