Dry air can wreak havoc on skin, irritate the sinuses and aggravate asthma symptoms, especially during cold winter months. While you can't control the weather, you can use a humidifier to alleviate your suffering.
The Honeywell HCM-315T and Dyson AM10 humidifiers both use moisture to turn your home into a comfortable refuge and kill bacteria in the process. We've done the research on these two devices to help you pick between them.
| | Honeywell HCM-315T | Dyson AM10 |
| --- | --- | --- |
| Price | $147.95 | $499.99 |
| Colors | Black with silver | White/silver, black/nickel, iron/blue |
| Weight | 11.7 pounds | 7.8 pounds |
| Height | 26.18 inches | 22.8 inches |
| Capacity | 1.5 gallons | 0.8 gallon |
| Run time | Up to 24 hours | Up to 18 hours |
| Buy on Amazon | | |
Design
The Honeywell humidifier is a 26-inch high cylindrical tower. Its button controls and 1.5-gallon removable water tank are located at the top of the machine for easy access.
The Dyson is just under 23 inches tall and has a sleek, futuristic appearance. It has a vertical, oval-shaped amplifier that sits atop a rounded base. The base houses a power button and LED display. Because the Dyson's 0.8-gallon water tank is located between the base and the loop, you essentially have to take the machine apart to refill it.
The Honeywell is slightly larger and about four pounds heavier than the Dyson, which is worth noting in case you need to move your machine between rooms. The Honeywell is sold in just one color and the Dyson in three.
» MORE: The Dyson AM06 fan: quiet, bladeless and $300
Features
The two humidifiers have the same main capabilities. For example, each allows you to adjust the humidity level and is designed to operate quietly.
Honeywell calls the HCM-315T a "germ-free" humidifier, because it uses UV technology to get rid of up to 99.9% of bacteria, mold and other allergens. Dyson likewise says the AM10 can kill 99.9% of bacteria with its UV light, plus it's exclusively certified asthma- and allergy-friendly by the Asthma and Allergy Foundation of America.
Let's take a closer look at what else sets the machines apart.
Honeywell HCM-315T

The larger-capacity Honeywell can run for up to 24 hours on a full tank, compared with the Dyson's 18-hour duration. It has three speed settings, so you can alter the noise and moisture level as you please. The HCM-315T is designed with large rooms in mind, covering up to 700 square feet.
Dyson AM10
The AM10 isn't just a humidifier; it's a bladeless fan, too. You can use the two functions together or independently. However, this machine h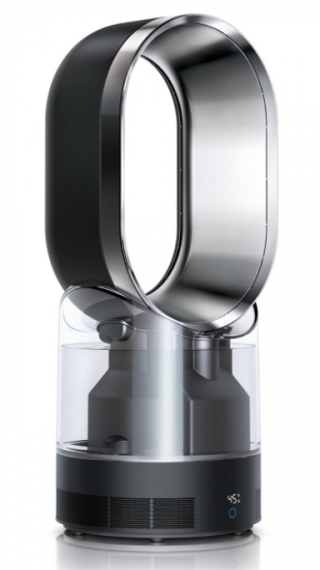 as a shorter reach; it can disperse its subtle mist throughout a 172-square-foot room.
The AM10 might lack extensive coverage, but it makes up for this shortcoming with other features. For example, it has a sleep timer that lets you set the device to turn off after a certain period of time. The machine will also automatically shut off in the event it gets knocked over. And the AM10 comes with a magnetic remote control, so you can adjust the airflow and humidifier settings from a distance. The remote attaches directly to the top of the unit for easy storage.
» MORE: 5 browser extensions to save you money and time
Price
Price is likely to shape your decision, as the Dyson is more than $350 pricier than the Honeywell. It retails for $499.99 and the Honeywell for $147.95. And you may occasionally find the HCM-315T at a discount from the manufacturer. (At the time of this writing, it's on sale for $97.95.) Although the Honeywell humidifier is significantly less expensive, its filter needs to be replaced periodically, which is an additional cost to consider. Filters are about $10 apiece on Amazon.
The verdict
The Dyson AM10 is a dual-purpose device that functions as both a humidifier and fan, suitable for year-round use. It's convenient to operate, and the safety features make it ideal for homes with small children. But the $500 price tag is hard to swallow.
Casual users who can survive without the Dyson's fan, automatic shut-off and remote control should pick the more budget-friendly Honeywell HCM-315T. It's simple to refill, lasts longer on a full tank and is more suitable for large spaces, thanks to its wider range of coverage.
More from NerdWallet
The Best Dyson Vacuums
Amazon Sales and Events Guide
Beats Pill+ vs. JBL Charge 3
Lauren Schwahn is a staff writer at NerdWallet, a personal finance website. Email: [email protected]. Twitter: @lauren_schwahn.