Owning a pet can be a rewarding experience, but a house coated in pet hair is not exactly a rewarding consequence.
The Hoover WindTunnel 3 Pro Pet is well-suited for picking up pet hair throughout your home. Its powerful motor and attachments can reach into nooks and crannies to clear out hair you didn't even know was there.
However, its heft can be an issue, so before you decide to purchase the WindTunnel 3 Pro Pet, read our analysis to see whether this is the right machine for you.
The vacuum
The WindTunnel 3 Pro Pet is an upright, bagless vacuum designed specifically for tackling pet hair in all corners of the home. This 17.8-pound Hoover uses high-powered suction to pull all kinds of deep-seated dirt and debris from the floor.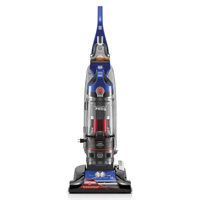 The vacuum has a multifloor brush that can move from smooth to carpeted surfaces with the press of a foot pedal that controls suction power. It also comes with a rubberized accessory pack to attach to the hose for picking up pet hair in various areas of your home.
The turbo tool cleans stairs and furniture, the upholstery tool is a nozzle for precise cleaning in tight areas, and the crevice tool deals with hard-to-reach areas throughout the house.
Combine a 27-foot cord with a 10-foot hose, and the Pro Pet gives users plenty of cleaning range.
The WindTunnel 3 Pro Pet is priced at $169.99 on Hoover's website, but can be found for less at Amazon.
The reviews
For this review we analyzed expert opinions from review sites like The Sweethome, CNET and Good Housekeeping. We then consulted user reviews to see how the vacuum performed under various circumstances and settings, such as hardwood floors or thick carpet.
The vacuum scores range from a low of 1 to a high of 10. We also considered user observations such as durability, ease of use and noise level.
The WindTunnel 3 Pro Pet received an overall score of 8.7. It also received high marks in pet hair removal (10) and ease of use (7.7). Those scores combined earned it a spot on our best vacuums for pet hair roundup.
» MORE: Eureka AirSpeed vs. Hoover WindTunnel
The pros
The WindTunnel 3 Pro Pet scored a perfect 10 in removing pet hair. Users said that whether they were using the floor head or one of the wand tools, the vacuum excelled at pulling in even the most embedded fur from carpets, crevices and corners. They also loved the floor brush foot pedal, which controls the suction power, giving the user a seamless transition between smooth and carpeted flooring.
Reviewers also praised how easy it was to empty and clean the dust canister. The vacuum has an indicator to show when the bin is full, and a release button is pressed to drop debris straight into the garbage.
Users appreciated that the Pro Pet used a HEPA filter, which captures allergens and absorbs odor. They also said it is easy to clean: Users just had to rinse it under water and wait for it to completely dry before vacuuming again.
The cons
While the WindTunnel 3 Pro Pet received high praise for its pet-hair sweeping capabilities, reviewers also reported a few areas of concern.
The vacuum's weight was at the top of the list. At close to 20 pounds, the machine's bulk impeded its maneuverability, according to users. Some reviewers figured the vacuum's motor was partly responsible for its heft and found cleaning difficult because of the weight.
A handful of reviews mentioned that the Pro Pet had a tendency to overheat during extended periods of use. Some said they had to turn the vacuum off and let it rest for at least 30 minutes before they used it again. Machines with high-powered motors tend to get warm (just like your car), but having to take cool-down breaks lengthens the time spent on chores.
» MORE: The best lightweight vacuums
Is the Hoover WindTunnel 3 Pro Pet right for you?
The WindTunnel 3 Pro Pet is a good option for tackling pet hair in all corners of your home. The tools are handy for covering all spaces, especially the stairs. The combination of powerful suction and a HEPA filter helps clean the home by trapping dirt, allergens and odor inside the vacuum.
The main drawback is its weight. The Pro Pet is a burly vacuum, which can account for how well it cleans, but maneuverability is not its strong suit.
For a vacuum that's also tough on pet hair but easier to heft, you might want to consider the Dyson V6 Absolute or the Oreck Insight.
More from NerdWallet
Best upright vacuums
Best vacuums for carpeted floors
The best vacuums
Nina Tabios is a staff writer at NerdWallet, a personal finance website. Email: [email protected].