Now that have listed your ArtFire coupons on our Indie coupon tool, how do you promote your store so that more shoppers see your coupons and shop at your store? By sharing a link to your coupons from your shop, you'll get more exposure and traffic to your store from the millions of NerdWallet Indie visitors. You'll unlock new features like adding product pictures to your coupons and getting featured on the homepage and more!
So how do you link to your coupons from ArtFire? If you have a blog or website outside of ArtFire, follow this step by step guide to link to your coupons from your website.
If you do not have a blog or website outside of your ArtFire shop, follow the simple steps below to link to your coupons from your ArtFire shop. It would be helpful to have two browser windows or tabs open – one window with ArtFire and one window with NerdWallet Indie.
Step 1: Select a Badge and Copy your Badge Code from your NerdWallet Dashboard
In your NerdWallet Dashboard, click the "Link to Your Coupons" tab. Then click the "Add a Badge Now" button.

There are five badges to choose from. Select a small badge with a white or blue background or a large badge with a white or blue background or an HTML text link. Click to select which badge you would like to add to your website or blog.  You can see which badge is selected by the light grey border around the chosen badge. Use the HTML text link version of the badge if you don't want to add an image to your webpage. This badge will link to your store's own personal coupon page on NerdWallet. Just click on a badge to select it. Here's an example:

Copy the code snippet provided. Click inside the text box then copy the text to your clipboard. The HTML code snippet will look similar to this but customized for your store:

Now open your ArtFire in a different browser window.
Step 2: Go to your ArtFire Widget Settings
Log into your ArtFire account and go to "Your Widgets" from the "My Quick Links" section. Your Quick Links section may look different depending on how you have customized your Quick Links.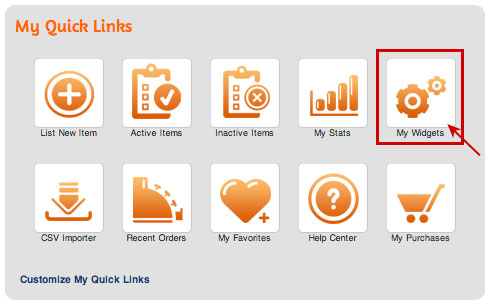 If you do not see the "My Widgets" option in your Quick Links, go to the "Studio Tab"

Then click on the "My Widgets" menu item on the left side bar.

Step 3: Paste the badge image code into your New Widget
Under the "Add a New Studio Widget" section on the right side, click "Text / HTML / Flash"

A new section pops up underneath. Paste your badge image code snippet in the big text field.
Here, you can also select your widget position too if you'd like your badge to show up on the right column of your shop, the left column of your blog, or at the bottom of your shop.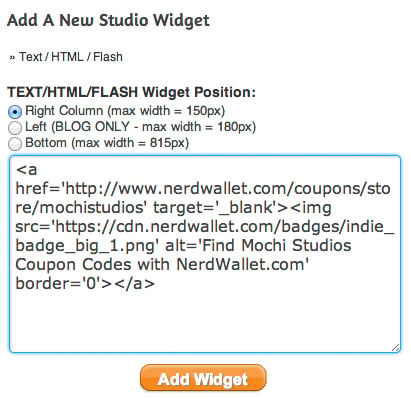 Click the "Add Widget" button to save your badge image as a new widget.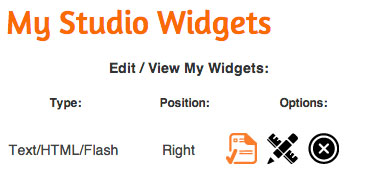 You've successfully added a badge image that links to your coupons from your ArtFire Shop!
Step 4: Test the Link in NerdWallet Indie
Go back to your Dashboard on NerdWallet. Enter your ArtFire shop URL in Step 4: See if it worked where it says "Tell us where you put the code from step 3, then click the button below:"

Click the "Test Now" button to test that your link works.
That's it!
Now, you can go edit your coupons and add an image and up to three tags to each of your coupons! Enjoy all the other new feature available to you that give you increased exposure for your ArtFire shop and  coupons!
If you encounter any issues, please email us at [email protected].
New Features:
Get listed on the homepage.

Prime category listing at the top of your category page

Top priority display in user searches

Get promoted through deal emails

Add a product image to each of your coupons

If you have any questions, feel free to contact me at [email protected].