NerdWallet Indie is our newest coupon site, developed as a way for creative independent retailers like yourselves to share your coupons with millions of NerdWallet visitors. List your coupons on NerdWallet to drive traffic to your store – signing up is easy and takes just a couple minutes.
Sign Up Your Online Store
Click the Sign up link on the top right of the NerdWallet Indie webpage.

Or click on the "Create an Account" button in the "Own a Store?" box on any screen in NerdWallet Indie.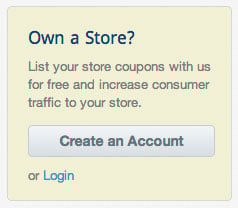 On the Create an Account page, enter your Email Address. This will become your username for your Coupons login. Enter your store URL and choose a password. Click the "Create Account" button to sign up and join.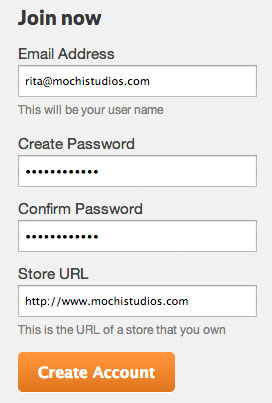 Verify Your Domain
The next step is to verify your domain, so we can make sure that it's your website. It just takes a minute, and you can choose from one of two easy methods – adding a hidden code snippet or uploading a small text file.
If you enter your Etsy or Big Cartel store URL, you will be automatically verified and will be advanced to the next step.
Option 1: Add a Hidden Code Snippet
The first option to verify that the URL is yours, you can copy and paste a line of code that will be hidden from any viewers. You can delete the line of code after your store is verified. The line of code is customized for you and will look similar to this:
<!-- NERDWALLET-80000000 -->
It can go anywhere – in the text, in a sidebar, in the footer, in the header, as long as it's on your homepage. Wherever you paste it, it will not be seen by anyone. And you can delete it as soon as the verification is finished.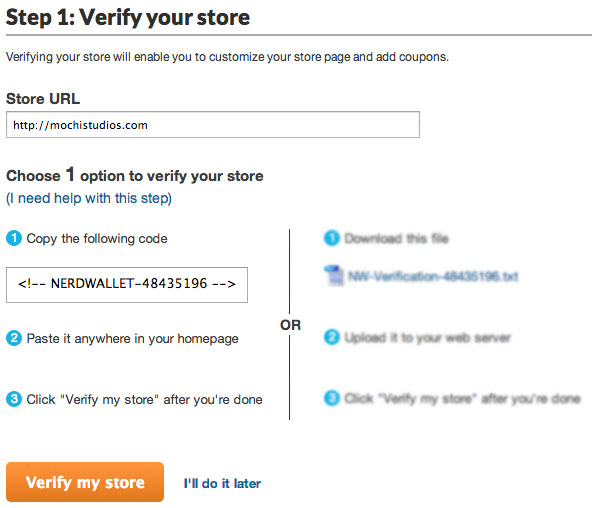 How do I do this in Blogspot?
You can add a Gadget to your Blog Layout and paste the HTML code snippet there. To do this, go to your Layout Settings.
Then click "Add a Gadget" on your blog layout where you would like to add the code snippet to your blog. It doesn't matter where since no one will see it. You would most likely add the badge to your sidebar.
Select the HTML/Javascript Gadget.
Paste the HTML code snippet in the Context text box and click "Save". You don't need a Title.
Now return to your NerdWallet Verify Domain page and click the "Verify my store" button and you're done with this step.
How do I do this in WordPress?
You can add a Widget to your blog by going to the Appearance menu and selecting the Widgets menu option.
Click the Text Widget, drag it to the right and drop it into the Default Sidebar column.
Click "Text" and drag it.
Drop "Text" into the Default Sidebar.
Paste the HTML code snippet into the text box and click the "Save" button. Again, you don't need a Title.
Additionally, you can add the code anywhere in your WordPress Theme Editor PHP pages. You only need to publish the code in one place.
Once the code snippet is published, return to your NerdWallet screen and click the "Verify my store" button. When verification is complete, feel free to delete the code.
Option 2: Upload a Small Text File
The alternate method of verification is to upload a small text file to your web server. We'll provide a small text file to download that only contains your custom number. The file name will look similar to this:
NW-Verification-80000000.txt
Upload that file to your web server and then click "Verify my store." Also, feel free to delete the file after verifying.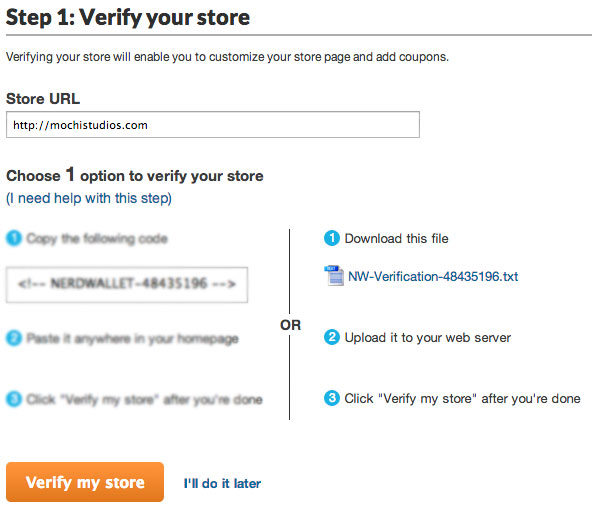 That's it! Now you're ready to fill out your online store information, add coupons and link to your coupons for additional benefits.
If you have any questions, feel free to contact me at [email protected].