With so many models and features to consider, buying a TV can be confusing.
To help you wade through the puzzlement of product specs, we've broken down the important aspects of the LG 55UF6800, a 55-inch 4K smart LED TV with high customer reviews.
What are some of the features?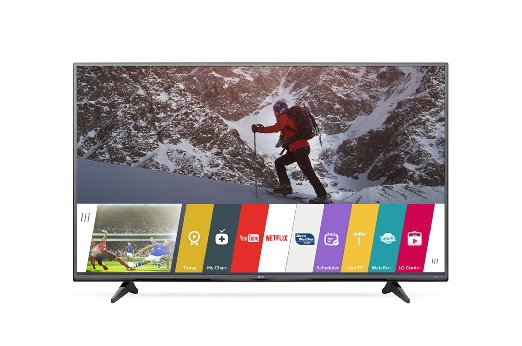 The LG 55UF6800's 4K resolution means it has four times the number of pixels of a 1080p display. It's Energy Star-qualified and boasts a 120Hz refresh rate (to minimize blur during action-packed scenes). It also has a ton of inputs for connection to an assortment of other devices: RF, component and composite, optical, three HDMI ports, USB and LAN.
There are plenty of other appealing aspects too, such as the TV's smart capabilities. It runs webOS 2.0, which offers fast performance; My Channels, which lets you pin your favorite channels; and various apps and settings.
As for sound, the 55UF6800 boasts two full-range 10-watt speakers and Dolby Digital.
The TV comes with a stand, but it can be mounted on a wall as well.
| | LG Electronics 55-Inch 4K Smart LED TV (model 55UF6800) |
| --- | --- |
| Price | $999.99 from LG Electronics |
| Screen size | 55 inches |
| Refresh rate | 120Hz |
| Picture quality | Ultra HD (3,840x2,160 pixels) |
| Web-enabled Smart TV | Yes |
| Energy Star qualified | Yes |
| HDMI inputs | 3 |
Where can you buy it?
At the time of this writing, you can get the LG 55UF6800 for $999.99 directly from LG.
If you're looking for a deal, try shopping on Amazon, where the TV is occasionally discounted. We spotted at least one limited-time deal in December, during which the TV reached just $799.99. The TV is also sold by a number of major retailers, including Best Buy and Wal-Mart.
For more tips on what to consider before purchasing a TV, take a look at our TV Buying Guide.
Who's it best for?
So is this TV a fit for you and your viewing needs?
With its "smart" capabilities, the LG 55UF6800 is an ideal choice for people who intend to use their new TV for traditional viewing as well as YouTube and Netflix. And at 55 inches, it's great for furnishing larger living rooms. Three HDMI inputs should be plenty for attaching any peripheral devices.
But if 4K resolution and Web capabilities aren't necessarily your thing, you'd likely be better off opting for a more simplified TV. There are plenty of models on the market that cost less, such as the Vizio M series.
Nerd note
Fully read all product specifications, retailer return policies, and warranty information before you buy this or any other TV model. It's important to always pay attention to the fine print. The LG site, for instance, notes that webOS 2.0 features are not available on all models.
Compare some popular products:
Courtney Jespersen is a staff writer at NerdWallet, a personal finance website. Email: [email protected]. Twitter: @courtneynerd.