If you're a pet owner, a dependable vacuum is a must. But finding one that works equally well on different floor types is tough.
The Miele Jazz S7280, with its excellent cleaning performance on carpets and hard floors, might be the one to help you fight the fur balls. But users with stairs to clean may find the heavy Miele Jazz S7280 difficult to lift and maneuver. Before you decide to make your purchase, check out our in-depth analysis of this model.
The vacuum
The upright Miele Jazz S7280 bills itself as able to handle all floor types, including tile, hardwood, plush carpets and area rugs. Equipped with an automatic brush, it collects dirt and dust from deep within carpets.
Additionally, designed with "SwivelNeck" steering, the vacuum comes with rotating front wheels to aid maneuverability. The vacuum can be adjusted so it's horizontal with the floor, making it easier to reach spots underneath furniture.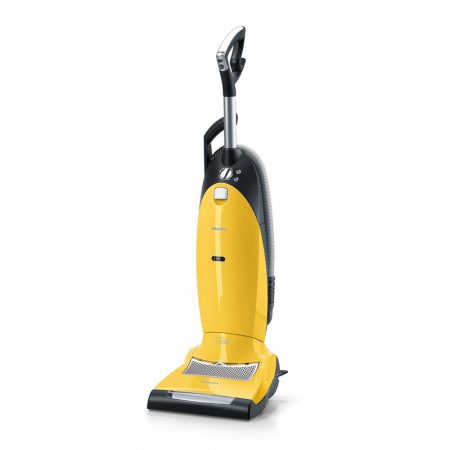 The machine features four power settings — which match the suction to the type of surface you're cleaning — an LED headlight to help you spot dirt and a HEPA filter to remove allergens.
The Jazz S7280 has a 12-foot hose and 39-foot cord for a wide cleaning range. It comes with a dusting brush, upholstery tool and crevice nozzle.
The Miele Jazz S7280 is listed at $549 on Amazon. It's no longer available for purchase through Miele, as the Miele Jazz S7280 is the predecessor to the newer, virtually identical Miele Dynamic U1 Jazz.
At 20 pounds, this vacuum is more than twice the weight of NerdWallet's top-rated Oreck Insight, but what it lacks in terms of ideal weight, it makes up for in other areas. This model earned a spot on our lists of the best vacuums for hardwood floors, best vacuums for carpeted floors, best vacuums for pet hair and best upright vacuums.
» MORE: The best vacuums for pet hair
The reviews
We researched some of the most popular vacuums on the market to create a definitive buyer's guide. Our guide was compiled by looking at expert opinions from review sites such as The Sweethome, CNET and Good Housekeeping, as well as analyzing user reviews to see what shoppers were saying about the various attributes of each vacuum.
Our scores range from a low of 1 to a high of 10. We considered what users reported about the vacuums' performance overall and in a variety of settings, such as on stairs and hardwood floors. We also factored in reviewers' observations on characteristics such as noise level and durability for a comprehensive look at each model.
The Miele Jazz S7280 scored a decent 8.8 overall, but earned a high score of 9.6 for how well it cleans. It scored lower for ease of use, with a 7.7.
The pros
The vacuum delivered on its promise to clean all floor types; it received a perfect 10 for how well it cleans hardwood and a nearly perfect 9.8 for how well it cleans carpet. Certain users said the device moved smoothly from one surface to another.
Some buyers loved its strong suction for picking up dust and pet hair. In fact, the Jazz scored another perfect 10 for pet hair removal. Certain users said the vacuum's powerful cleaning abilities even helped alleviate their allergies.
Some users said the vacuum's flexible design was useful for steering around corners and cleaning underneath furniture. Some also noted that the machine was quiet enough for them to use without disturbing their sleeping children.
The cons
Those strong scores aside, the Jazz had a few shortcomings. Its biggest weaknesses were weight and maneuverability.
Certain users found the vacuum heavy and hard to push. The weight was particularly bothersome for those who carried it up or down stairs. Some reported having trouble using the Jazz to clean stairs, especially carpeted ones.
Some reviewers found that the lengthy cord tangled easily, making it difficult to wind up after use. Others said it was expensive to replace dust bags and filters for the already pricey vacuum; the manufacturer sells combo packs for $18.95.
» MORE: The best vacuums for carpeted floors
Is the Miele Jazz S7280 right for you?
With its powerful cleaning performance — especially on carpets and hardwood — we recommend this vacuum for pet owners who live in single-level homes with a variety of flooring. Because the Jazz can be adjusted horizontally, it's also a good choice if you want to avoid moving furniture around while you clean.
But it might not be the best choice if you have stairs that need to be vacuumed. There are better options if you're looking for something more portable. Check out our best lightweight vacuums and best stick vacuums. If the price is too steep, you can also check out our best cheap vacuums roundup.
More from NerdWallet
The best vacuums for hardwood floors
Lauren Schwahn is a staff writer at NerdWallet, a personal finance website. Email: [email protected]. Twitter: @lauren_schwahn.