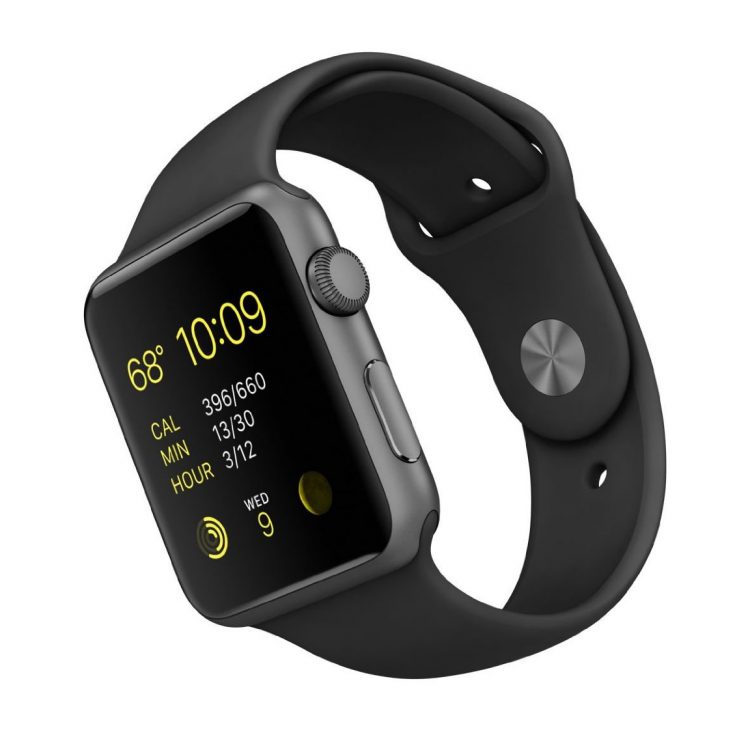 Whether you're a new Apple Watch owner or you've worn the smartwatch for some time, it's all about the apps.
We've rounded up seven must-have Apple Watch-compatible apps that can help you do everything from save money to get in shape. Download these to make your life easier — and more fun.
1. Uber
The mobile rideshare service Uber is helpful in those moments when you need a ride to meet you just where you are. And now, the app that matches drivers with passengers is even more convenient.
Download the app on your Apple Watch to request a ride and get notified when your driver arrives — all from your wrist. Uber will automatically use your last selected vehicle option and payment method. The watch version doesn't include all the same features that the traditional app does, but you can't beat not having to pull out your phone.
Download: iTunes Store
2. Amazon
If you're a frequent Amazon shopper, you'll want the Apple Watch version of the online marketplace's app. When you open the store's interface on your watch, you can search for products via your voice, add items to your wish list and even make purchases with one-click ordering.
While not conducive for making in-depth purchase decisions, this interface is ideal for reordering necessities or making on-the-spot orders when you're in a rush.
Download: iTunes Store
3. Groupon
Bargain hunters and coupon clippers know Groupon is an excellent way to save money on whatever you might be shopping for. The deal-centric company promises to deliver discounts of 50% to 70% on "the best stuff to do, see, eat, and buy in more than 500 cities."
With Groupon's Apple Watch app, you can get the deals you want delivered directly to you. With a quick look at your wrist, receive location-based alerts for nearby deals.
Download: iTunes Store
See how the Apple Watch Sport stacks up against the Fitbit Blaze.
4. Facebook Messenger
Facebook's Messenger app is a great way to stay in touch with friends, and now you can keep up your social media communication on your wrist.
With the Messenger app for Apple Watch, users can read their incoming messages, send standard text replies, record audio responses and even select stickers to send. Use this app to send a quick response when you're on the go.
Download: iTunes Store
5. Snappy Word
People love passing the time with games on their iPhones, so why not load your Apple Watch with games, too?
Snappy Word is all about speed and vocabulary. Players challenge themselves to see how many four-letter words they can spell in 30 seconds. The Apple Watch version promises to give you "a quick game anywhere, anytime to sharpen your brain." It's as simple as tapping your watch's face.
Download: iTunes Store
6. Strava
The Apple Watch is touted for its activity-tracking features, but not just those that come with the watch. It's also renowned for its host of compatible apps from third-party creators.
One such download is Strava, a running and bicycling application that can give you a real-time display of your time, pace, distance and heart rate. Users also can look at their training dashboard and goal progress.
Download: iTunes Store
7. RetailMeNot
Just as no shopping transaction should be complete without a coupon or coupon code, no Apple Watch should be complete without a coupon app.
Coupon giant RetailMeNot has made its app compatible with Apple Watch, allowing users to view nearby deals, receive deal notifications, save offers that catch their eye, and show a bar code on their wrist at checkout to claim discounts while shopping.
Download: iTunes Store
More from NerdWallet:
Microsoft Band 2 vs. Apple Watch Sport
Beats Studio vs. Bose QuietComfort 25
Microsoft Surface Pro 4 vs. iPad Pro
Microsoft Surface Pro 4 vs. Microsoft Surface Pro 3
Fitbit Surge vs. Apple Watch Sport
Courtney Jespersen is a staff writer at NerdWallet, a personal finance website. Email: [email protected]. Twitter: @courtneynerd.