Robot vacuum brand Neato announced Thursday that it's delivering two new smart robots later this year. The Neato Botvac D3 Connected and Neato Botvac D5 Connected — both Wi-Fi-connected and app-enabled — will be available for purchase in early October in the United States.
Neato Vice President of Marketing Nancy Nunziati says the new products are the latest innovation in Neato's pursuit of "a smart life."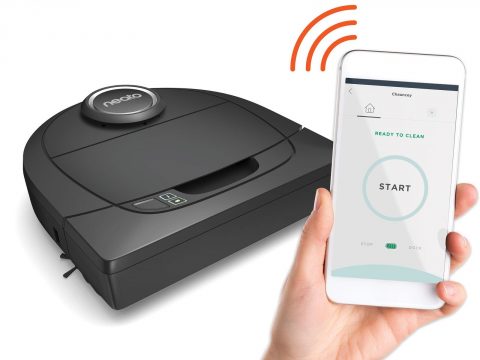 The upcoming Neato Botvac D3 Connected will be priced at $399. This starter robot features laser navigation, the brand's iconic D-shape design and a lithium-ion battery. The company calls the second robot, the Neato Botvac D5 Connected, "a more fully featured robot" with a high-capacity lithium-ion battery, boundary markers, a side brush and more advanced app features, such as access to cleaning stats and a "find me" function. It will sell for $599.
Both will be compatible with the Neato Robotics app (free for iOS and Android), although they can also function independently of the app. They will join Neato's existing Botvac Connected, a $699 Wi-Fi-enabled robot that can clean up to 5,000 square feet in a cleaning cycle.
The new vacuums can work on nearly any surface, including hardwood, tile, carpet and rugs, with the exception of overly shaggy rugs, standing water and stairs. The robots are also equipped to remove pet hair, and they're especially well-suited for single-level homes, according to Nunziati.
» MORE: The best robot vacuums
Nunziati says the new Neato robots are positioned at the crossroads of function and affordability.
"We believe in making things as convenient for people as possible," Nunziati says. "Our products are designed to save people time and money. What we're really doing with these new products is trying to bring our intelligent navigation and super convenient connectivity to a price point where more people can get started with it."
The Botvac D3 Connected and D5 Connected will undoubtedly compete with the 360 Eye, an app-controlled robotic vacuum that was released by vacuum leader Dyson earlier this year. It retails for $999.99.
Shoppers can compare the full suite of Neato vacuums, including existing models like the Botvac BV85, on the brand's website. Neato first started selling robots in 2010.
Courtney Jespersen is a staff writer at NerdWallet, a personal finance website. Email: [email protected]. Twitter: @courtneynerd.