There are a ton of tablets and e-readers on the market, often with similar specs and design. That can make it difficult to narrow down the choices to the one that's right for you.
We put two of them — the Amazon Kindle Fire and the Nook GlowLight Plus — head-to-head to help you determine if either e-reader suits your needs.
The e-readers: At a glance
| | NOOK GlowLight Plus | Kindle Fire |
| --- | --- | --- |
| Price | $129.99 | $49.99 - $69.99 |
| Memory | 4GB, plus cloud storage | 8GB or 16GB, plus storage; can also support external microSD card up to 128GB |
| Color | White | Black, blue, magenta, tangerine |
| Screen size (length) | 6 inches | 7 inches |
| Resolution | 1,439x1,080 pixels | 1,024x600 pixels |
| Connectivity | Wi-Fi | Wi-Fi |
| Video streaming | No | Yes |
| Web-browsing | No | Yes |
| Ads | No | Yes |
| Battery life | Up to 6 weeks on a single charge | 7 hours |
| Buy on Amazon | | |
The e-readers: Up close and personal
Nook GlowLight Plus
Design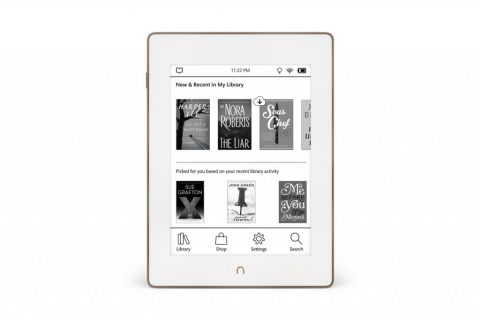 The GlowLight Plus has a thin, lightweight touch-screen body, which makes it easy to hold in one hand. It has a white face and aluminum backing, which some users say makes the device slippery.
Features
The anti-glare screen protector and GlowLight technology work together to provide the right amount of reading light whether you're out in the sun or relaxing in bed at night. This model is also dustproof and waterproof, good for reading in the bathtub or at the beach.
Users have access to thousands of books through Barnes & Noble and their local library, thanks to the Plus' compatibility with different file types such as PDF and Adobe's digital rights management format, DRM ePub.
The GlowLight Plus also boasts a six-week battery life on a single charge, though users have mentioned you have to turn off the Wi-Fi to achieve that.
» MORE: Kindle Paperwhite vs. Nook GlowLight Plus
Kindle Fire
Design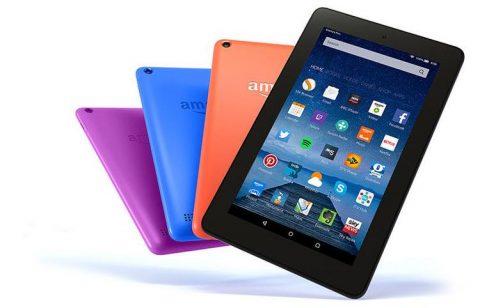 The fifth-generation Kindle Fire's 7-inch screen is good for reading e-books, streaming videos and web browsing. Users say the device's resolution isn't as crystal clear as on newer models, but it's good enough.
Some users say the Kindle Fire feels cheaply made, but others say their Fire was able to withstand drops.
Features
Though Kindles are usually just for reading books, the Kindle Fire has some tablet functionality. It supports e-books, streaming services, web browsing and thousands of apps through the Amazon Underground app store. Amazon Prime members can sync their accounts to the Fire to add access to Prime video and music.
The Kindle Fire also sports a few extra hardware features: front- and rear-facing cameras, a built-in microphone and a microSD card for extra memory storage. Amazon's cloud-based voice service Alexa is also now available on the Kindle Fire. Users can interact with Alexa and ask it to order take-out, play music, set alarms and reminders, receive news updates and more.
The verdict
The Nook GlowLight Plus is simply an e-reader. You can't use it to browse the web, stream videos or listen to music. However, it is waterproof and dustproof, and if you're looking to read (and only read) on the beach, the GlowLight Plus might be a good option for you.
For its price, the Kindle Fire is a great deal if you're using the device mostly to read with some occasional web browsing or streaming. Because it's an older model, users have experienced sluggish performance and glitchy playback at times. The Alexa voice-service is also handy for day-to-day news updates and ordering from Amazon. If you're looking for a simple e-reader that offers some basic tablet functions, the Kindle Fire is one to consider.
If you're an Amazon Prime user but not sure which Kindle to choose, check out our comparison of the recent Kindle models to see which best suits you.
If you want a more advanced tablet and are considering between the top tech players, we compared the Microsoft Surface 4 against the iPad Pro.
Nina Tabios is a staff writer at NerdWallet, a personal finance website. Email: [email protected].
More from NerdWallet
5 things you should know before buying a Kindle e-reader
Follow these tips to ensure the best deal when you shop online
Amazon Prime vs. Jet.com: How the online shopping giants match up