Comparing product specifications on juicers can be somewhat of a headache. How do you know which features you really need in a new kitchen appliance and which ones you can skip?
We put two popular models — the Omega J8006 Nutrition Center Juicer and the Breville 800JEXL Juice Fountain Elite — head to head to help you determine which juicing device will taste just right for you (and your budget).
Omega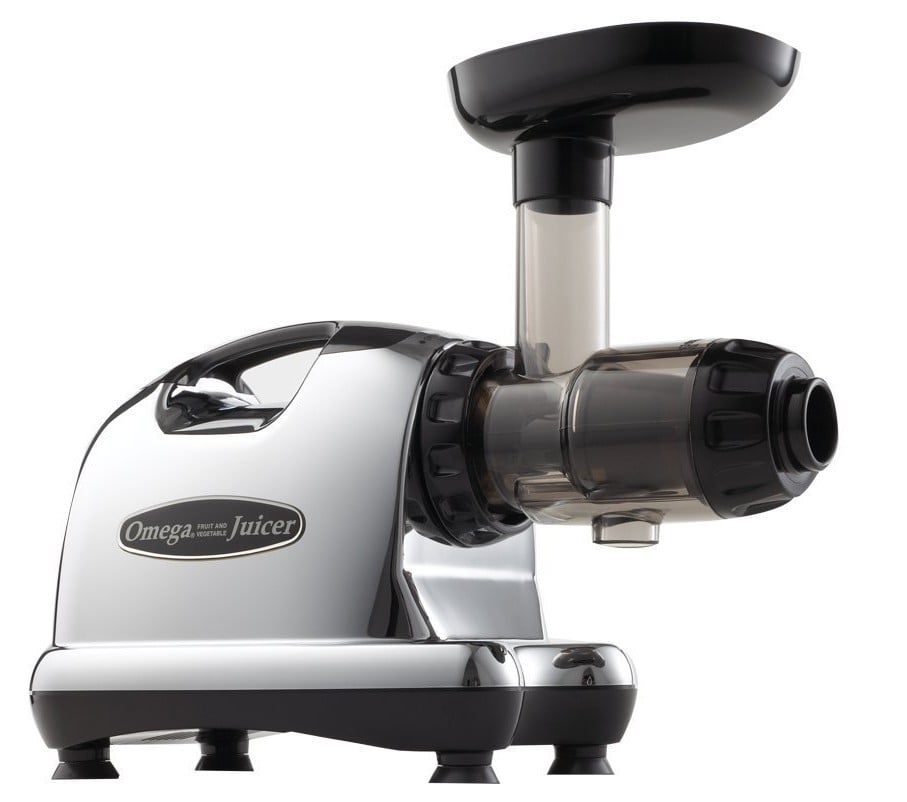 Price: $231.70 (regularly $390) from Amazon
Model: Omega J8006 Nutrition Center Juicer
Type: Masticating juicer
Features: High juice yield, dual-stage juicing system, four stabilizing feet, quiet operation, continuous juicing with automatic pulp ejection, powerful motor, low-speed system
Extras: Food processor attachment, pasta nozzles, homogenizer attachment
NerdWallet takes you shopping: Ranked as Amazon's No. 1 best-seller in the masticating juicers departments, this Omega model does more than just juice fruits and vegetables. Thanks to its attachments and nozzles, the device is capable of grinding coffee beans, mincing garlic and extruding homemade spaghetti, too.
This product's slow speed is designed to squeeze the maximum amount of juice out of foods. Once the process is complete, juice can be stored for up to 72 hours without separation.
Good fit for: Consumers looking for a multipurpose juicer
Breville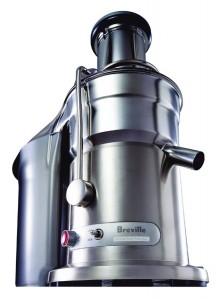 Price: $299.99 from Amazon
Model: Breville 800JEXL Juice Fountain Elite
Type: Centrifugal juicer
Features: Extra-wide feed chute, stainless steel mesh filter basket, 1-liter juice jug, large-capacity pulp container, cord storage, safety locking arm, 1,000-watt motor, two speed controls, die-cast steel housing, titanium-plated cutting disk, mostly dishwasher-safe parts
Extras: Included cleaning brush, manual/recipe book
NerdWallet takes you shopping: This Breville juicer's 3-inch-wide feed chute minimizes prep time, as the product is capable of juicing entire apples, carrots and more.
While the Omega model is a masticating juicer, the Breville device is a centrifugal juicer. This type of appliance grinds and cuts fruits and vegetables — rather than squeezing them — to extract the juice.
Armed with a promise to combine commercial performance with home kitchen convenience, this Breville product is equipped with a large capacity pulp container and 1-liter juice jug with froth separator. Once juicing is complete, users can wash most of the juicer's parts in the dishwasher and use the included cleaning brush for the rest.
Good fit for: Juice drinkers in search of an efficient and reliable appliance
The bottom line
If you're looking for a device that can make juice and baby food alike, the Omega J8006 Nutrition Center Juicer is the better choice of these two. If you're more interested in convenience, choose the Breville 800JEXL Juice Fountain Elite.
But these aren't the only two juicers on the market. While you browse different models, consult our Juicer Buying Guide for more tips on what to consider before you make a purchase.
Courtney Jespersen is a staff writer covering personal finance for NerdWallet. Follow her on Twitter @CourtneyNerd and on Google+.
---
Top image via iStock