Advertisements for Labor Day sales will inundate consumers over the next few days, and legitimate bargains will abound, but NerdWallet uncovered several 2016 Labor Day deals that aren't what they appear. You may not be saving as much as you think you are this holiday, and it's all because of a retailer tactic that's misleading shoppers.
Some deals aren't better on Labor Day
Holiday sales seem like the best time to make major purchases, but we found several items that could actually be purchased for less than their regular price right before the Labor Day sale.

Department store J.C. Penney is currently selling the Epicurious 11-piece nonstick cookware set for $159.99, with an advertised regular price of $380. But we found the exact same set on sale from the store for the exact same price on Aug. 26. We combined a coupon offer at that time to take an additional $48 off, for a total of $111.99 — nowhere close to the advertised regular price of $380. A regional Labor Day ad on J.C. Penney's website lists the cookware for a higher sale price of $169.99 with a note that online prices may vary.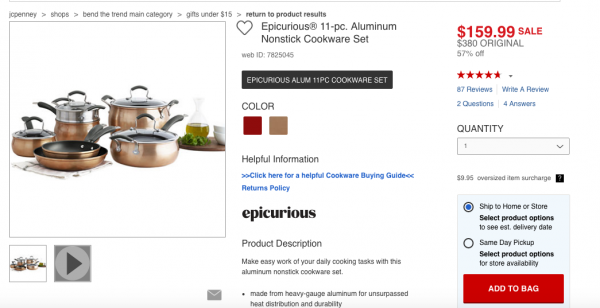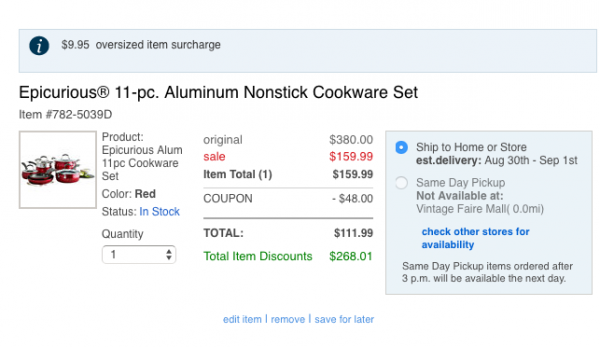 Also at J.C. Penney, the 24.6-cubic-foot. Samsung French Door refrigerator with external ice and water in black stainless is on sale for $1,599 (regularly $2,599) during the Labor Day sale, but it was also $1,599 on Aug. 24. A regional Labor Day ad on J.C. Penney's website lists the refrigerator for a higher sale price of $1,699 with a similar note that online prices may vary.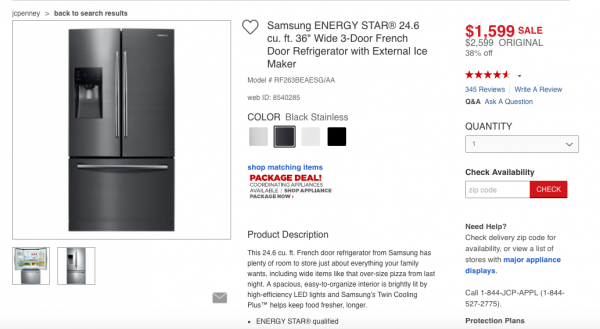 A similar occurrence can be found at Sears. Here, the NordicTrack E 7.0 Z Elliptical is on sale for $599.99 (regularly $999.99) over Labor Day weekend, but it was available for the same price on Aug. 24.

The price you see isn't the price you would've gotten
Experts agree that percent-off sales, like those you'll see over Labor Day weekend, rarely reflect the actual amount consumers are saving. Retailers typically inflate the "original" price of a product to make the amount of the discount appear larger. They do this by contrasting the sale price with the manufacturer's suggested retail price.
But MSRP listings are often "pure fiction," says Lars Perner, an assistant professor of clinical marketing at the University of Southern California.
He explains that while manufacturers set the MSRP, retailers often tout ambiguous percent-off sales that are based on that MSRP rather than on what they regularly sell the product for. "It's sort of a wink-wink kind of a thing that they suggest an exorbitantly high price that very few merchants would actually charge in practice."
So let's say a store advertises a 50% off deal on a blender. It'll show you the sale price, $100, and the "original price," $200. On the surface, the sale price is exactly half the original price. But what you don't see is the price the blender was selling for before the sale. You also don't see what it regularly sells for throughout the year at that store. Frequently, it's not $200.
Manufacturer-imposed price requirements like MSRPs can increase competition among different brands, according to the Federal Trade Commission. Setting a maximum price can prevent dealers from charging a noncompetitive price, while setting a minimum can encourage dealers to provide an adequate level of service.
But it's consumers who end up misjudging these prices. Many use the MSRP — also called the reference price — as a way to judge the value of a deal. And when they're not sure how much an item should cost, they look to the reference price for a sense of value. That's problematic, says William Magnus Northington, an assistant professor of marketing at Idaho State University, who adds, "That reference price really no longer has any meaning."
"To me, and to a lot of people, you would think that the suggested retail price is a price that it's actually been sold at before," Northington says. "It just doesn't seem that way a lot of the times."
The problematic nature of this practice is even recognized in the Electronic Code of Federal Regulations. "There would be little problem of deception in this area if all products were invariably sold at the retail price set by the manufacturer," it reads. "However, the widespread failure to observe manufacturers' suggested or list prices, and the advent of retail discounting on a wide scale, have seriously undermined the dependability of list prices as indicators of the exact prices at which articles are in fact generally sold at retail."
» MORE: What to buy (and skip) over Labor Day weekend
Buyer beware this Labor Day
Barring new regulations or a change in retail practice, the pricing scheme will likely continue. So how can you ensure you don't get duped on Labor Day? The experts we talked to say to view reference prices as nothing more than an idealistic benchmark.
If you can, research items you want before a sale starts. You'll get a better sense for the price the product typically sells for if you monitor it regularly, particularly before a major purchase. You can also consult tracking websites like MyAlerts, where you can find the price history for a product. "We as consumers are more informed now than we've ever been because it's just so easy to get information if we actually go and look for it," Northington says.
Don't buy a product just because you see it on sale. Perner recommends asking yourself if you really need a product and considering how frequently you'll use it. If an item is within your means and will add value to your life, get it for that reason. But don't let perceived deals blind your sensibility.
Courtney Jespersen is a staff writer at NerdWallet, a personal finance website. Email: [email protected]. Twitter: @courtneynerd.