The Roomba 880 and the Roomba 870 are certainly popular, but iRobot Roomba vacuums aren't the only robotic models on the market.
Other choices include the Neato 80 and the Neato 75. Each falls in popular robotic vacuum brand Neato's Botvac line of hands-free cleaning devices.
The vacuums: At a glance
Products in this category share several features: a patented laser-guided technology for methodical movement, a large brush for along-the-wall dirt pickup, an edge-cleaning side brush and a spacious dirt bin, to name a few.
But not all Neato Botvac models are created equal. Find out what sets apart one model number from another.
No matter which vacuum you declare the winner, take a look at our list of the best robot vacuums of 2015 for tips on which features you should be paying attention to.
| | | |
| --- | --- | --- |
| | Neato Botvac 80 | Neato Botvac 75 |
| Price | $499 suggested retail price | $449 suggested retail price |
| Type | Robotic | Robotic |
| Cord length | Cordless | Cordless |
| Weight | 9 pounds | 9 pounds |
| Scheduled cleaning | Yes | Yes |
| Laser-guided technology | Yes | Yes |
| Combo brush | Yes | No |
| Blade brush | Yes | Yes |
| High-performance filter | One | Two |
| Boundary markers | Yes | Yes |
| Features | Extra-large filter, precise edge cleaning, large dirt bin | Extra-large filter, precise edge cleaning, large dirt bin |
The vacuums: Up-close and personal
Product specs are one thing, but actually implementing the features these devices boast is something completely different. Read on to see which user category you best fit in.
Neato Botvac 80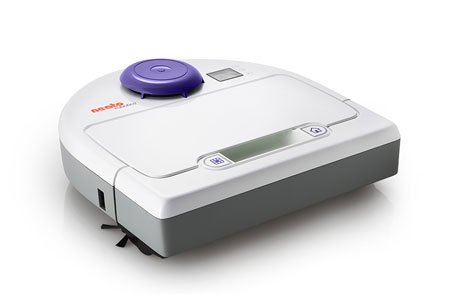 NerdWallet takes you shopping: First up is the Neato Botvac 80. With a regular price of $499.99, this model is the more expensive of the two Neato models we studied, despite the fact that the two include many of the same features.
For example, both offer the ultimate in convenience, affording users the ability to schedule cleanings or spontaneously put the devices in action. Additionally, each allows for room-to-room operation.
Accounting for the difference in price point, however, is this particular product's included combo brush, which is designed to efficiently and quietly (particularly on wood and tile) suck up lingering pet fur from your home.
As for additional accessories, the Neato 80 also comes with a charge base, charge cord, high-performance filter, battery and boundary markers (to keep your cleaner on the right path).
Good fit for: The Neato Botvac 80 is intended to be the "best for picking up pet hair." Accordingly, this particular robotic vacuum is an ideal match for busy homeowners who desire a vacuum that is both self-sufficient enough to require minimal user direction and powerful enough to clean up the messes that indoor pets leave behind.
Neato Botvac 75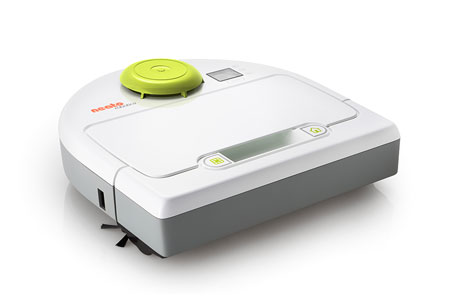 NerdWallet takes you shopping: But the Neato Botvac 80 has a sibling robotic cleaner, the Neato Botvac 75. With a similar appearance and function, this device is identifiable only by its yellow accents (those on the 80 are purple).
Similar to the 80, the Neato 75 carries out scheduled or push-button cleanings, then docks back at the included base for a recharge. Also in common, the product includes a charge cord, battery and boundary markers with purchase.
This model may be lacking the pet-tailored combo brush, but the 75 has selling points of its own. For starters, its regular price is $50 less than the previous model. Additionally, it includes two high-performance filters (its sister device only includes one).
Good fit for: According to Neato, the Botvac 75 is the "best for picking up dust and allergens." Select this robotic vacuum if you're searching for the more affordable choice.
More from NerdWallet
Compare other popular vacuums here:
For more vacuum buying advice, check out:
Courtney Jespersen is a staff writer covering personal finance for NerdWallet. Follow her on Twitter @CourtneyNerd and on Google+.
---
Top image via iStock; other images via Neato.