The Gear IconX is the most recent addition to the Samsung wearables lineup. Unlike most activity trackers, you don't wear it on your wrist or clip it to your clothing. Instead, you wear it in your ears.
These tiny earbuds can track your fitness and play music. If you're looking to pare down your devices when you're on the move, the Samsung Gear IconX might be the only accessory you need. Here's an overview to help you decide whether it's the right fitness tracker for you.
Design
The Gear IconX is a set of compact, wireless, in-ear headphones that resemble ear plugs. They even function the same way — you just pop one in your left ear and one in your right.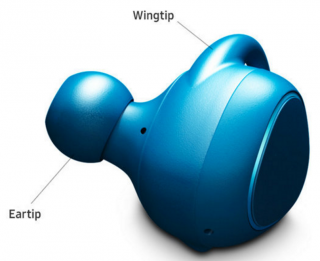 The earbuds are lightweight, weighing only 6.3 grams each, and are about an inch in depth and diameter. The IconX comes with adjustable wing and ear tips, which are the pieces you attach to the earbuds to help keep them in place. The tips come in small, medium and large, so you can choose the ones that fit best, and are made from a gel material that's designed to help them stay put in your ears.
The IconX is available in white, black and blue.
» MORE:  Fitbit comparison: Which Fitbit activity tracker is best for you?
Features
For such a small device, the IconX doesn't skimp on features. It doubles as a pair of headphones and a fitness tracker. Here's a look at the capabilities:
Bluetooth connectivity. The IconX can stream and transfer music plus take calls straight from your phone using its Bluetooth signal. It will also sync your fitness stats to Samsung's S Health app or a compatible third-party app.
Internal storage. The IconX has 4 gigabytes of memory and holds up to 1,000 songs, so you can listen to your music even when your device isn't connected to your phone.
Activity and heart rate tracker. The earbuds can track your heart rate, calories burned, and your speed, distance and duration when walking or running.
Voice guide. You can get audible, real-time updates on your stats and can choose from 15 different languages.
Ambient sound mode. This safety setting lets you listen to your music but still be able to hear your surroundings.
Water resistance. The IconX has a water-resistant coating to help protect it from sweat and rain.
Touch controls. Tap, swipe or hold your finger down on the earbud to skip songs, take phone calls and control other functions.
» MORE: Garmin Vivofit vs. Garmin Vivosmart: Activity trackers for every kind of athlete
Connectivity and battery life
The IconX is designed for Android phones that run on the operating system 4.4 KitKat or higher. Those with a Samsung Galaxy device can sync their music from their phone or from a computer using a USB cable. Non-Galaxy users can only transfer songs from a computer. The earbuds are also compatible with iOS phones, although they can't sync music or stats with those phones.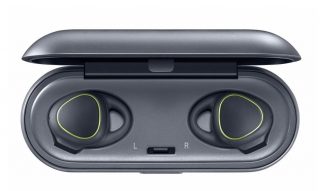 The IconX comes with a small, matching case that both stores it and recharges the lithium-ion batteries in the earbuds.
The batteries last hours, as opposed to days or months like some other activity trackers on the market. Its battery life also depends on how you use the device. For example, if you just play music from the headphones' internal storage, it can last up to 3.8 hours. But if you use it to stream music from your phone while tracking your workout, the time will dwindle to about 1.5 hours.
Price
A pair of Samsung Gear IconX earbuds sells at a retail price of $199.99. You can find them on Amazon, possibly at a discount.
They're also available at most major cell phone carriers such as Verizon and T-Mobile, where you can check whether your phone is compatible.
The verdict
The Samsung Gear IconX is a solid choice for those who like to travel light, because it combines an activity tracker and pair of headphones in one device. It's lightweight, has no cords and can still play your music even if you leave your phone at home, so it likely won't interfere with your workout.
If you're an Apple user, however, you might want to seek out a fully compatible device. And if your workout routine is generally lengthy, you might want a wearable with a longer battery life, like the Fitbit Charge HR, which lasts up to five days on a single charge.
More from NerdWallet
Beats Studio vs. Bose QuietComfort 25: Headphones matchup
The best cell phone plans
Fitbit Blaze vs. Apple Watch Sport
Lauren Schwahn is a staff writer at NerdWallet, a personal finance website. Email: [email protected]. Twitter: @lauren_schwahn.