The Samsung Serif TV isn't your ordinary television set. Its midcentury-esque, I-shaped profile and stark legs make it look more like a piece of art than something you'd sit in front of scarfing nachos and watching the big game.
Design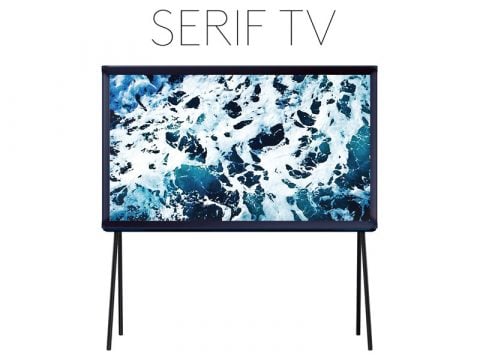 Oprah Winfrey named the Samsung Serif TV one of her "Favorite Things" of 2016, and it's easy to see why she was enamored. Your average boob tube is available only in basic black, but the Serif comes in white and dark blue, adding a twist to the already attractive piece of electronics. It shows an unusual amount of attention to design details; for instance, a fabric cover snaps magnetically onto the back of the set to disguise messy cables and ports.
French designers Ronan and Erwan Bouroullec, known for high-end furniture designs, are responsible for the set's distinctive look. The European model of the Serif comes in three sizes and several color variations, but right now, only a 40-inch set is available in the U.S.
Though it's a very thin television, the Serif's frame is wider on the top and bottom, which means it can sit securely on an existing stand or console; or you can use its freestanding legs for an easel-like look. Consumers who prefer a wall-mounted viewing experience are out of luck.
Functionality
The Samsung Serif is a smart TV, so it includes Bluetooth and Wi-Fi, as well as a "curtain mode" that allows viewers to switch between watching TV and checking the time, accessing apps or email, and even scrolling through their photo galleries. The Serif comes equipped with three HDMI inputs, two USB ports, a headphone jack and an RF input.
The Serif's 4K resolution promises a crisp and clear display. In fact, Samsung claims it has the best picture quality of any TV of its size.
Even the Serif's remote control is sleek, modern, minimal and "smart." Instead of punching buttons, you use a pointer function to select and click.
The verdict
The Serif's $1,499.99 price tag will dissuade buyers looking for a strictly functional TV set. But for design fans who happily pay more for a Dyson vacuum, a Smeg refrigerator or the latest iPhone, the Samsung Serif shines above and beyond your average television.
Samsung Serif TV

Price
$1,499.99
Screen size
40 inches
Screen type
4K, flat panel
Color
White, dark blue
Resolution
3,840 by 2,160
Audio
Dolby Digital Plus
HDMI
3 ports
Dimming technology
UHD dimming
Wi-Fi
Yes
V-chip
Yes
Screen mirroring
Yes
Weight
27.6 pounds, 28.9 pounds with stand
Energy Star certified
Yes
Buy