Like a series of courses in a Thanksgiving dinner, retailers have served up plate after plate of deals in the weeks leading up to Black Friday. But have they saved the best for last?
A NerdWallet analysis of 2016 Black Friday advertisements and the sales that preceded them found that many product discounts will indeed be reaching deeper levels on the day after Thanksgiving than they did earlier this month.
We set out to prove that prices aren't always better on Black Friday — which falls on Nov. 25 this year — but the data proved otherwise. If you still have room to feast after Veterans Day sales, early November sales and pre-Black Friday sales, many Black Friday deals on popular products will be the best dish yet. If you're willing to compete against your fellow shoppers for them, of course.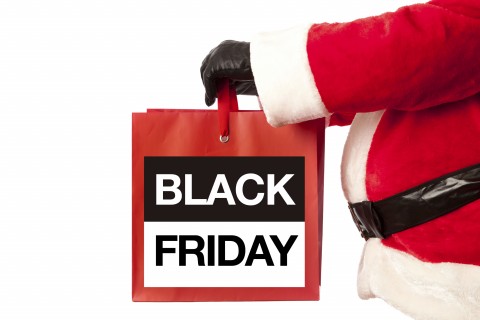 Key findings
Major retailers like J.C. Penney, Best Buy and Kohl's will offer lower prices on many items during their Thanksgiving Day and Black Friday sales than they did during sales leading up to Black Friday.
It's not all good news. NerdWallet found that at least 32 retailers repeated at least one Black Friday deal from 2015 in 2016, according to a NerdWallet analysis of Black Friday advertisements.
Holiday spending is on an upward trajectory. According to an online survey of more than 2,000 U.S. adults commissioned by NerdWallet and conducted by Harris Poll, American shoppers plan to spend $657 on average this year, which is an increase over the numbers shown in similar NerdWallet research over the past two years: It's 8% more than a 2015 survey indicated and 24% over 2014.
The nice list
Many prices will be better on Black Friday
Despite the common perception that shopping early for the holidays is best and that Black Friday bargains are lackluster, holding off until Black Friday is actually better in many cases. We located multiple instances where retailers are reserving bigger bargains for Black Friday.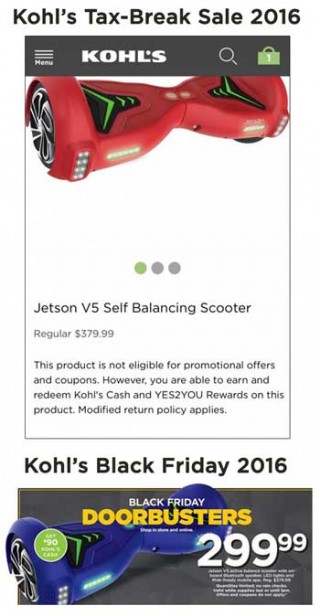 At the beginning of November, for instance, Kohl's put on a Tax-Break Savings sale. It included a Samsung Smart Blu-ray Player with Wi-Fi for $79.99 (regularly $99.99). But the same player will be just $49.99 on Thanksgiving and Black Friday. That's an additional $30 discount for your patience.
And that wasn't the only item. The Jetson V5 Self Balancing Scooter wasn't one of the discounted items during the Kohl's Tax-Break sale. But if you happened to pick it up while you were shopping, you would have paid the regular price of $379.99. Here again, holding out a few more weeks would have paid off. The scooter will be one of the department store's online and in-store doorbusters on Thanksgiving, with a price tag of $299.99 — a difference of $80.
We found a similar occurrence at J.C. Penney. On Nov. 5, the department store hosted something called the It's Your Lucky Day Sale in stores and online. Among the sale items was the Philippe Richard 12-Piece Ceramic Nonstick Cookware Set for $89.99 (regularly $200). But on Thanksgiving and Black Friday, the same set will be just $69.99 (after a $10 mail-in rebate). So you'll pay $79.99 at the store and can mail in a rebate for an additional $10 back.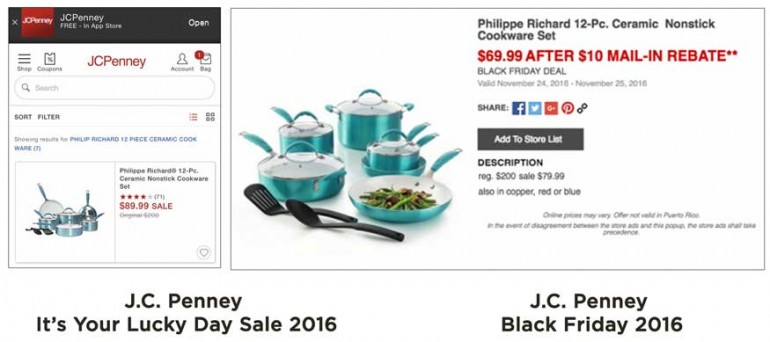 Best Buy's holiday shopping event
On Nov. 5, Best Buy hosted a one-day, in-store-only special holiday shopping event. We stopped by the event in Modesto, California, to see how prices would stack up to Black Friday. Here are five deals that will be significantly better when Best Buy's Black Friday sale kicks off on Thanksgiving Day:

| Product | Best Buy Special Holiday Shopping Event (Nov. 5) | Best Buy Black Friday Sale (Nov. 24) |
| --- | --- | --- |
| Klipsch Reference Dual 6½-inch Floorstanding Speaker (each) | $349.99 (featured at full price) | $174.99 |
| Canon Pixma MX922 Network-Ready Wireless All-In-One Printer | $129.99 | $69.99 |
| Sony PlayStation 4 Console Uncharted 4: A Thief's End Bundle | $299.99 | $249.99 |
| HP Officejet Pro 6978 Wireless All-In-One Instant Ink Ready Printer | $99.99 | $86.99 |
| LG 50-inch Class LED Smart 4K Ultra HDTV | $649.99 | $399.99 |
Veterans Day deals
Each year on Nov. 11, retailers host Veterans Day sale events as a sort of appetizer before Black Friday. Here again, many prices couldn't compete with what's to come.
We sifted through a handful of Veterans Day sales and compared select items to the same store's Black Friday advertisement.
Kmart's Veterans Day sale included discounts on Christmas decorations. The 6-Foot Trim A Home Alpine Spruce, an unlit artificial tree, was on sale for $39.99 (regularly $49.99). But the same tree will be just $15 during Kmart's Black Friday sale.

At Sears, the Kenmore Elite 29.8-cubic-foot French Door Bottom-Freezer Fridge was $2,199.99 (regularly $3,899.99) on Veterans Day, but it will be $1,999.99 on Thanksgiving as part of the store's Black Friday sale.
At J.C. Penney, a 14-karat gold heart pendant, a memory foam pillow and the Roku streaming stick will all be cheaper on Black Friday than they were on Veterans Day. But some apparel deals, like the Stafford Signature Corduroy Sport Coat for men, slightly edged out Black Friday ($34.99 on Veterans Day with a coupon versus $39 on Black Friday).
Black Friday deals 'now'
A handful of retailers teased consumers early in November with "Black Friday deals now," and while these prices didn't beat Black Friday's prices, they did match them. This gave shoppers crowd-free and hassle-free access to low prices.
On Nov. 9, J.C. Penney offered "Black Friday deals now." Shoppers could purchase refrigerators, washers, dryers and other items at Black Friday-level prices without actually waiting until Black Friday.
When Best Buy released its Black Friday ad during the second week of November, it made a select number of deals available early for a limited number of days, or while supplies lasted.
The naughty list
Retail tricks persist
Despite plenty of legitimate bargains, not every Black Friday deal will be stellar. Shoppers will be visited by the ghost of Black Fridays past this Nov. 25: A number of major retail stores are reaching back into their 2015 ads and resurrecting identical deals this year.
Shoppers may be pleasantly surprised to see the return of some deep discounts, but given that some products are now a year older — and in the case of electronics and appliances, newer models may exist — prices should theoretically be lower on certain products than they were last year. That's not the case in many instances.
In our analysis of Black Friday advertisements, we found at least 32 retailers that listed at least one product for the same price in 2016 as in a 2015 ad. Scroll in the table below to see the list.
Repeated Black Friday deals
| BLACK FRIDAY RETAILER | ITEM | REPEATED PRICE |
| --- | --- | --- |
| Ace Hardware | Dremel 3000 Rotary Tool Kit | $39.99 with card |
| Bass Pro Shops | RedHead Big Bite Electric Meat Grinder #22 | $499.97 |
| Belk | Discovery Kids Teepee Canvas Tent | $39.99 |
| Best Buy | Apple - 21.5 iMac - Intel Core i5 - 8GB Memory - 1TB Hard Drive | $899.99 |
| Big Lots | Manhattan 2-Piece Sectional | $589.00 |
| BJ's Wholesale Club | Samsung 2.2 Channel Sound Bar with Wireless Bluetooth | $79.99 after $40 Clipless Coupon |
| Cabela's | Vortex Diamondback 10x42 Binoculars | $129.99 |
| Craft Warehouse | Mini LED Battery Operated Votive | $1.00 |
| CVS | Revlon Super Lustrous Lipstick | $2.99 with card after $4 ExtraBucks rewards for next purchase |
| Dell | Inspiron Micro Desktop | $99.99 |
| Dollar General | 2-liter Pepsi | $1.00 |
| Fred Meyer | Wireless Karaoke Party Machine | $59.99 |
| GameStop | Turtle Beach XO One Xbox One Headset | $49.99 |
| Guitar Center | D'Addario Acoustic Strings (12-Pack) | $25.00 |
| Harbor Freight | US General 26-inch, 4 Drawer Tool Cart | $99.99 |
| J.C. Penney | Cooks 3.5-quart Enamel Cast Iron Dutch Oven | $24.99 after $15 Mail-in Rebate |
| Kmart | Children's Foldout Sofa | $29.99 |
| Kohl's | Black Series Foldable Gaming Chair with Onboard Speakers | $39.99 |
| Michaels | 4-foot Pre-Lit Hillside Pine Tree | $19.99 |
| Office Depot | Realspace Breckland High-Back Bonded Leather Executive Chair | $59.99 |
| Overstock | Hotel Grand Naples 700 Thread Count Siberian Pillow | $49.99 |
| PetSmart | Purina Friskies Cat Food, 5.5-ounce can | $0.42 |
| Rite Aid | Nivea Creme Tin | 3 for $2 with card |
| Sears | Craftsman 13-Drawer Heavy-Duty Ball Bearing Tool Chest | $299.97 |
| Shopko | Discovery Kids Construction Fort | $9.99 |
| Stage Stores | Realtree Slippers | $14.99 |
| Staples | Hyken Chair | $119.99 |
| Target | Black & Decker 8-Serving Electric Griddle | $14.99 |
| Toys R Us | Edu Science Microscope Telescope Combo Set | $49.99 |
| Verizon | Ellipsis 10 Tablet | $49.99 |
| Wal-Mart | 30-inch Storage Ottoman | $29.00 |
| Walgreens | 24-pack Aquafina Water | $3.99 with card |
Consider electronics retailer Dell. Here, the Inspiron Micro Desktop was marked down from its market value of $199.99 to $99.99 on Black Friday 2015. But shoppers who missed out will have a second chance. The same product will be $99.99 again this Black Friday.

Shoppers unsure about deals, for good reason
According to our survey, the majority of American shoppers (65%) aren't sure whether they're getting the best deals during the holiday season, and 64% think all sales held throughout the year are somewhat the same.
Holiday shoppers are confused, and it's no surprise. Retailers can be tricky during the season. One common tactic is marking up prices to make discounts appear larger. Retailers often inflate the "comp price," "original price" or "regular price" that you see alongside the sale price in ads.
Take Harbor Freight Tools, for example, where the 17 Ft. Type 1A Multi-Task Ladder was on sale for $115 during Black Friday 2015. The same ladder will be on sale again this Black Friday for $99.99. Shoppers are saving more this year, but the problem? The retailer is making the discount appear much larger than it is.
In 2015, the ladder's sale price was contrasted with a comp price of $209.99, leading customers to believe they saved roughly $94 by shopping at Harbor Freight Tools on Black Friday. This year, the ladder's sale price is accompanied by a previous price of $139.99 and a comp price of a whopping $357.99. Harbor Freight had the ladder listed for $139.99 in late October 2016. You'll still save by shopping on Black Friday, but not by as much as the ad shows.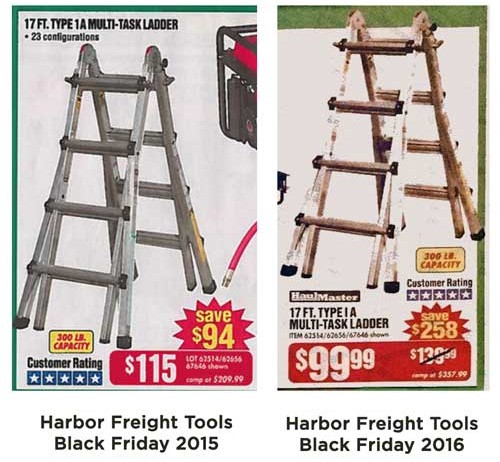 Post-Thanksgiving shopping continues
American shoppers plan to spend $657 on average during the 2016 holiday season, which is an increase over the numbers shown in similar NerdWallet research over the past two years: It's 8% more than a 2015 survey indicated and 24% over 2014.
They'll also rely less heavily on cash than they have in the past. When asked which payment methods they'll use this year, 50% said they plan to use a major credit card or retail credit card to purchase gifts, while 41% will use debit and 49% will use cash. That's a decrease in cash use over the last two years — 53% used cash in 2014 and 55% did in 2015.
How to stay in the black this Black Friday
In light of what will be a grab bag of offers, here's how to spot the deals and avoid the duds of Black Friday 2016.
Scope out savings. Before sales start, compare prices among multiple retailers and from the same retailer to locate the lowest price and gain a better sense for the true original price of a given product. If you shop a pre-Black Friday sale, always compare the sale prices to the retailer's Black Friday ad.
Be realistic. Many legitimate deals are available in such limited quantities that they'll likely be sold out before most shoppers even make it through the front door. Select a handful of worthwhile deals that you think you have a chance at scoring.
Be ready at go time. If you want a shot at the big deals, you need to show up early. Be at the store with a targeted list of items in mind right when doors open. Or log online at the moment a sale launches.
Keep your finances in mind. Set a budget and hold yourself accountable to it. When making a major purchase, consider using a rewards credit card with a generous cash-back offer to max out your possible savings opportunities.
Courtney Jespersen is a staff writer at NerdWallet, a personal finance website. Email: [email protected]. Twitter: @courtneynerd.
Shopping Dealfinder Newsletter
Get the best deals on Black Friday and beyond!
---
Ad comparison methodology
For the Black Friday ad comparison component of this study, NerdWallet analyzed 41 ads for which full 2015 and 2016 ad scans were available at the time of analysis. Some major national Black Friday ads from 2016 were not available at the time of analysis.
While some retailers repeated more than one item at the same price in both their 2015 and 2016 ads, we chose to list only one item per store to simplify presentation.
Survey methodology
The 2016 survey was conducted online within the United States by Harris Poll on behalf of NerdWallet Sept. 20-22, 2016, among 2,036 U.S. adults ages 18 and older. The 2014 survey was conducted Nov. 3-5, 2014, among 2,013 U.S. adults ages 18 and older, and the 2015 survey was conducted Oct. 22-26, 2015, among 2,052 U.S. adults ages 18 and older. This online survey is not based on a probability sample and therefore no estimate of theoretical sampling error can be calculated. For complete survey methodology, including weighting variables, please contact
Maitri Jani
.