From less than $40 to upwards of $140, juicers have quite the price spectrum. So how much do you really need to pay without squeezing your wallet?
We're helping you get the most juice for your money. Check out our comparison of four popular juicers (listed from least to most expensive) to find the appliance with the right features and price for you.
Black & Decker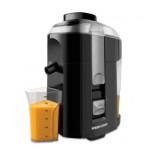 NerdWallet takes you shopping: At just $34.49, this Black & Decker appliance is our least-expensive contender. It boasts a stainless-steel cutter and strainer as well as a 300-millileter pitcher (about 1¼ cups) to collect your tasty creations. Plus, its large, integrated pulp container reduces the amount of counter space you'll need.
Being the least expensive has its drawbacks: With just a 400-watt motor, this juicer is also the least-powerful model we studied.
Good fit for: Consumers looking for their first juicer
Hamilton Beach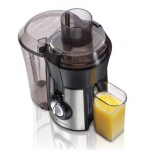 NerdWallet takes you shopping: With a selling price of $59, this midrange juicer has twice the power of the preceding Black & Decker. This Hamilton Beach product is also attractive because of its 3-inch-wide feed chute, which can fit whole fruits and vegetables — thereby minimizing your prep time.
Ideal for the convenience-minded user, this appliance includes a 20-ounce juice container that can also function as a serving pitcher. The removable parts are dishwasher-safe. Plus, it comes with a cleaning brush.
Good fit for: Those who want to juice an entire apple in just three seconds
Cuisinart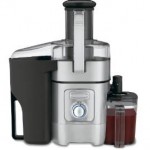 NerdWallet takes you shopping: This Cuisinart juicer is our second most expensive, but also our most powerful. Similar to the more affordable Hamilton Beach, this Cuisinart boasts a 3-inch feed tube and dishwasher-safe parts.
It stands apart, however, with advanced features that include a 1000-watt motor and a user-friendly control dial that switches among five speed settings. The juicer's sleek design and quiet operation make it an ideal kitchen addition, but you'll have to decide how much you're willing to pay for those selling points.
Good fit for: Juice drinkers who value a functional appliance with lots of features
Breville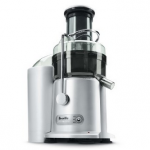 NerdWallet takes you shopping: Ranked as Amazon's number one best-selling product in centrifugal juicers, this Breville model costs just under $150.
The device is characterized by its 850-watt motor, wide feed tube and safety locking arm. The kitchen appliance promises to produce an 8-ounce cup of juice in only five seconds and includes a dual high/low speed switch for juicing either hard or soft fruits and vegetables.
Good fit for: Shoppers looking for a high-end juicer
So which juicer came on top? That's ultimately your call, as it depends on what you're looking for in a kitchen companion.
As you choose between these and other juicers, don't forget to take a look at our Juicer Buying Guide. It'll help you determine which features you should be paying attention to before you make your decision.
Courtney Jespersen is a staff writer covering personal finance for NerdWallet. Follow her on Twitter @CourtneyNerd and on Google+.
---
Top image via iStock