DealFinder knows that when you purchase a product, you care about getting your money's worth.
Coffee makers are no exception. That's why we pitted two popular makers — one from Cuisinart and one from Tassimo — head to head. Check out our side-by-side comparison to determine which brand suits your taste (and budget).
Cuisinart 
Price: $79.75
Serving Size: 12-cup carafe
Brews: Coffee
Material: Plastic
Features: Brew pause function, 24-hour advance brew start, programmable auto shutoff, LCD digital clock, adjustable heater plate, self-cleaning function, ready tone to signal end of brew cycle, measuring scoop included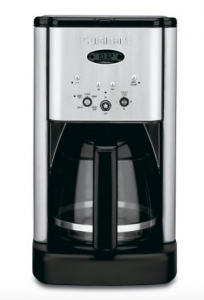 NerdWallet takes you shopping: Unlike other popular single-serve models, this Cuisinart coffee maker can brew up to 12 cups at one time, an especially useful feature when entertaining. Or, if you're brewing for fewer people, the product includes a 1- to 4-cup setting for those who desire a smaller batch.
This model, moderately priced at $79.75, brews coffee grounds, which eliminates the need to buy potentially costly coffee pods — but it might also limit the number of flavors and specialty coffee types you'll be capable of brewing.
Flavor aside, this maker's 24-hour advance brew start and self-cleaning functions make it an appealing choice for those who value convenience.
Good fit for: Families full of coffee drinkers
Tassimo

by Bosch
Price: $123.99
Serving Size: Single-serve
Brews: Coffee, cappuccino, latte, hot chocolate, tea and more with T Discs (sold separately)
Material: Plastic
Features: Instant heat-up, height adjustment, removable cup stand, noise reduction system, bar-code system scans T Discs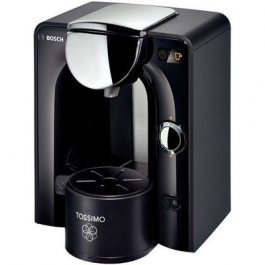 NerdWallet takes you shopping: Priced at $123.99, this Tassimo coffee maker is nearly $45 more than the preceding Cuisinart model. So what accounts for this price difference? What the Tassimo lacks in serving size— it can only brew a cup at a time — it makes up for in variety.
It can make regular coffee, cappuccino, and practically everything in between. The small kitchen appliance uses a bar-code system to read Tassimo Discs ("T Discs") coffee pods.
Although these pre-packed pods offer an expansive variety of flavors, they are brand-specific and must be purchased separately. A 16-pack of Maxwell House Cafe Collection House Blend Coffee T Discs, for example, costs $7.99.
Good fit for: Starbucks drinkers who'd rather make their own beverages at home
Which coffee maker should you get?
So who won this round of coffee maker matchups? That depends on whether you prefer bigger batches of ground coffee or smaller servings of specialty flavors.
As you choose between the Cuisinart, Tassimo and possibly other coffee makers as well, don't forget to take a look at our Coffee Maker Buying Guide. It'll help you determine which coffee components you care most about when creating your perfect cup.
Courtney Jespersen is a staff writer covering personal finance for NerdWallet. Follow her on Twitter @CourtneyNerd and on Google+.
---
Top illustration via iStock.