The end of summer is the best time to buy camping supplies, when stores clear out their inventories, and outdoor essentials are deeply discounted. But by then it's too late to pack up the car and head into the wild.
You can still enjoy the great outdoors without breaking the bank, though. There are relatively affordable deals mid-camping season on a variety of outdoor products, and you'll have plenty of time to use them before this year's warm weather gives way to rain and snow.
Before you head to your next campout, use this checklist as a guide to get everything you need.
1. Tent
The first thing you should buy before you camp out under the stars is a sturdy tent. Whether you prefer a dome or a cabin design, a 3-person or a 10-person capacity, browse the inventory at popular outdoor retail stores for ongoing tent sales.
Try this: At Bass Pro Shops, you can find a variety of tents from popular brands at relatively affordable prices.
2. Canopy
The need for shelter extends beyond just tents for sleeping. Bring along a canopy to keep you cool and protected from the sun while you grill, play games or just relax.
Try this: At adventure specialty store Gander Mountain, the Gander Mountain Canopy and Quad Chairs Tailgate Package comes with a 10-by-8-foot canopy as well as two adult-size chairs. It's now on sale for $99.99 (regularly $159.99).
3. Camera
While you're searching for technology accessories, add a camera to your list of must-haves. If you plan on being extra adventurous, opt for a waterproof model.
Try this: The Olympus Stylus TG-860 Tough is a digital camera specifically suited for the outdoors. It features built-in Wi-Fi, has GPS capability and is waterproof up to 50 feet. It's on sale from Olympus for $199.99 (regularly $279.99).
4. Cooler
Great food can make for a great camping experience, but spoiled food can spoil your entire trip. Bring along a cooler that can fit all of the food and drink supplies you and your fellow campers will need.
Try this: At outdoor company Coleman, you can find a cooler to fit every size need you may have, from beverage coolers to wheeled coolers.
5. GPS device
One thing you certainly don't want to do during your summer camping trip is get lost. In the interest of safety for you and your fellow campers, make sure that everyone in your group has some sort of GPS device to keep them on track.
Try this: REI has a vast selection of tracking devices. Choose between standard GPS map devices or sport watches that include GPS functionality.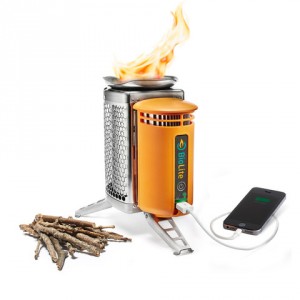 6. Portable grill or stove
Speaking of grilling, don't forget to pack a portable grill or stove for your excursion. This will allow you to bring a taste of home to your camping experience with a little home-cooked (and not prepackaged) food.
Try this: Techie campers will appreciate the BioLite CampStove. This wood-burning device can cook food and boil water. Plus, the electricity generated from the stove can be used to charge LED lights or mobile phones.
7. Lights
For those nighttime hikes and evening campfires, campers know that no trip is complete without the right amount of lighting. You can choose to pack flashlights, headlamps or lanterns. Just remember to bring enough batteries (if the device you select isn't solar-powered).
Try this: For a dual-purpose product, consider the Coleman CPX Fan/Light Combo from Cabela's. This item can be attached to the ceiling of a tent and acts as both a ceiling fan and a light.
8. Backpack
Backpacks aren't just for students. Packs are an essential way to carry all of the supplies you need, especially for daylong hikes. For more-intense workouts, consider a hydration backpack with comfortable shoulder straps and plenty of pockets.
Try this: Backcountry has the CamelBak L.U.X.E. Women's Hydration Pack (458 cu. in.) for $100. The lightweight pack includes a water reservoir and a variety of storage compartments.
9. Games
When you're separated from technology and electricity, your entertainment options can be limited. Pack some old-fashioned games to keep your mind and body active during your vacation.
Try this: Visit Campmor's Outdoor Games and Toys section. The retailer sells everything from children's field trip bug labs to snowball makers and playing cards.
10. Rugged smartphone case
As a camper, you generally always remember to bring essentials to protect yourself from the elements, but don't forget to safeguard your smartphone on your trip, too. Equip your iPhone or Android device with a sturdy or waterproof case.
Try this: Smartphone case company Otterbox has a broad line of rugged cases designed to shield your phone against spills, falls and other hazards.
11. iPhone binoculars
While you're out in the wilderness, you'll undoubtedly run into wildlife, scenery and other eye-catching sights. Pack iPhone binoculars, which will allow you to get a better view of your surroundings without having to carry a pair of bulky binoculars with you.
Try this: For just $2.99, the Binoculars app for iPhone allows you to zoom in on whatever you may be watching. You can even take a high-resolution picture from within the app.
Courtney Jespersen is a staff writer at NerdWallet, a personal finance website. Email: [email protected]. Twitter: @courtneynerd.
---
Top image via iStock.