Wearable technology usually comes in the form of fitness trackers and smartwatches. However, Snap Inc.'s latest invention, Snapchat Spectacles, are worn on your face rather than your wrist. The Spectacles put a social media spin on a traditional fashion accessory, combining sunglasses with a video camera that links directly to your Snapchat account.
Although Snapchat Spectacles aren't widely available yet, we've done the research to help you decide if they'll be a useful tool or just a novelty item.
Design
Snapchat Spectacles look like regular sunglasses but have a built-in camera that captures first-person videos straight from your face. The futuristic glasses are always on standby, so they'll be ready to record and upload to your Snapchat when you need them.
Two yellow circles on the front near each lens surround a camera on the right side and LED lights on the left. The LED lights glow white as you're recording to let others around you know the camera is on. A button on the top left side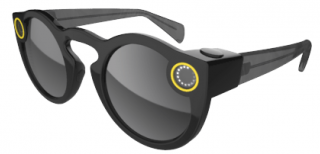 of the frame controls the camera.
With rounded lenses, thick frames and a high, arched bridge, the Spectacles have a more playful than high-fashion appearance. The glasses come in a single size and three colors: black, coral and teal. Each color has tinted lenses to match.
» MORE: Polaroid Zip vs. Fujifilm Instax Share SP-2: Smartphone Instant Printer Comparison
What do they do?
The Spectacles use a Wi-Fi or Bluetooth connection to wirelessly send your video "snaps" to your smartphone. The camera doesn't take still pictures, and you can't apply filters or replay footage using the glasses themselves. You'll have to make edits through the Snapchat app after your videos are uploaded.
Videos taken with your Spectacles automatically import to Snapchat when the app is running and your paired device is nearby. (The Spectacles can pair with only one device at a time.) If you don't have the app open or you're out of range, the glasses will store your videos until you can sync. You can find your snaps under the Memories section of the app.
How do they work?
The sunglasses record videos in 10-second installments, up to 30 seconds total. Simply press the button to start recording. The LED lights will flash when you have two seconds left, but you can press the button a second time to record an extra 10 seconds and a third to extend to the full 30 seconds. The snap will appear in three separate parts in your Snapchat app. You can review and edit your snaps before sharing to your Snapchat Story.
The Spectacles hold about 200 snaps at full capacity. They're compatible with iPhone 5 or later iPhones operating on iOS 8 or above, and with Android devices running on Android 4.3 or above.
Battery
The sunglasses take roughly 100 10-second snaps per charge. They come with a portable charging case, which holds about four full charges, so you can easily power up when you're out and about. It takes about 90 minutes of charging to reach a full battery.
To check the glasses' battery life while you're wearing them, double tap the left side of the frame and the front LED ring will light up to indicate the remaining percentage. You can also view the battery level in the Snapchat app under the Spectacles settings.
Price and availability
The Spectacles are priced at $129.99, but they're tricky to track down. They aren't sold regularly in any stores, and they're not for sale on the Spectacles website. However, there's a temporary retail store in New York City that is selling the Spectacles through New Year's Eve.
The glasses are mainly sold through yellow, pop-up-style vending machines called Snapbots, which arrive unannounced in various cities for just about a day. Most Snapbot machines let you virtually try on the glasses before you buy, but you can't physically test out a pair.
Snap Inc. has been tight-lipped about its inventory, but so far the supply has been limited. Check the website regularly or follow the Spectacles Twitter account for updates on the next Snapbot reveal.
» MORE: Apple Watch Series 2 vs. Fitbit Flex 2
The verdict
The Snapchat Spectacles are reasonably priced compared with other wearables, but they're hard to come by. The elusive sunglasses might be worth tracking down if you frequently document your life on Snapchat. They're convenient because they allow you to quickly capture footage without fumbling through your bag or pocket to fish out your phone. However, if you don't use Snapchat much, they're probably overkill.
If you like the idea of a wearable camera but would prefer to record longer or higher-quality videos, consider a more advanced device such as a GoPro instead.
More from NerdWallet
Use price matching to avoid leaving money on the table
Fitbit comparison: Which Fitbit activity tracker is best for you?
Lauren Schwahn is a staff writer at NerdWallet, a personal finance website. Email: [email protected]. Twitter: @lauren_schwahn.