You might love Trader Joe's for its addictive Cookie Butter, but can it also help you save time and money during one of the most stressful holidays of the year? Deana Gunn and Wona Miniati say yes.
The two aren't your average Trader Joe's fans. They've self-published a series of "Cooking With Trader Joe's" cookbooks that are sold nationwide. (And no, none of them was sponsored by the grocery chain.)
Gunn and Miniati met during their freshman year at Massachusetts Institute of Technology and stayed close while starting their families and careers. Both eventually moved to California and fell in love with Trader Joe's.
"We were both incredibly busy starting our careers and Trader Joe's was a lifesaver," Gunn says. "In juggling our hectic jobs and taking care of our young kids at home, we began to rely more and more on their clever products."
If you're unsure what to prepare for your Thanksgiving feast — or are just looking to cut costs and cook more efficiently — here's how you can make the most of your next trip to the store.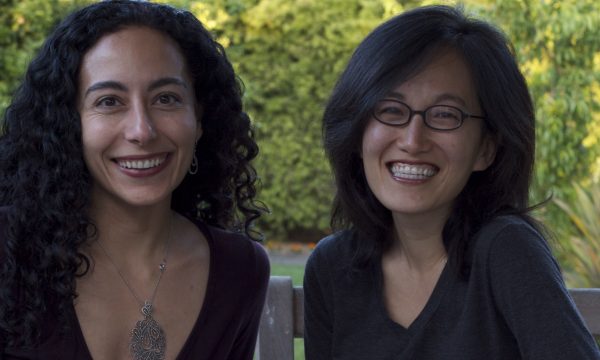 Deana Gunn and Wona Miniati
How Trader Joe's can make Thanksgiving easier (and cheaper)
Gunn and Miniati are big believers in letting Trader Joe's do most of the work for you, especially on Thanksgiving.
"It's no fun hosting a Thanksgiving meal if you're spending the entire time in the kitchen, sweating over a stove," Gunn says. "Stop stressing about making complex and lengthy dishes from scratch. Your guests will enjoy your relaxed company more than anything else."
The authors make Trader Joe's their "kitchen crew" by buying pre-prepped ingredients, such as trimmed green beans and jarred sauces, that let them assemble meals quickly.
Trader Joe's is also known for its low prices, so if you're trying to stay on top of your food budget, Gunn and Miniati recommend going there before heading to higher end shops. Your guests won't know the difference.
Buy your wine there, too. "You can buy cheeses, wine, organic coconut oil and high-quality olive oil for much less than other grocery stores," Gunn says.
Their go-to products for Thanksgiving
Gunn and Miniati recommend the large bags of peeled and cubed butternut squash and sweet potatoes to make dishes such as butternut squash soup and roasted sweet potatoes with balsamic maple glaze. "The bags take out all the time-consuming peeling and cubing, especially with hard-to-peel-and-cut butternut squash," Gunn says.
Gunn also loves the brined turkeys ("I buy two of these every year, and they're always juicy and flavorful"), refrigerated biscuits and frozen crushed garlic for mashed potatoes and green beans.
And she customizes Trader Joe's boxed cornbread stuffing mix by adding sauteed mushrooms or other vegetables and herbs.
The frozen puff pastry is "great for miniturnovers stuffed with goat cheese or Trader Joe's pumpkin butter," as well as for covering pot pie, wrapping salmon and making three-ingredient cinnamon cookies, Gunn adds.
A Trader Joe's Thanksgiving menu
This year, Gunn will stick to the classics: turkey, sweet potato casserole, roasted fennel, mashed potatoes with gravy and pumpkin pie.
She always makes homemade cranberry sauce or raw cranberry pomegranate relish.
"My main departure from the traditional menu is that I always make a second or even third dessert for the non-pumpkin-pie crowd," she says. (One of her favorite twists on pumpkin pie is her no-bake pumpkin cheesecake.)
Her desserts will include a cranberry pecan pie and chocolate mousse pie.
How to save time when you shop
Anyone who shops at Trader Joe's knows the lines can be overwhelming, especially right before holidays.
"I love shopping at Trader Joe's the moment the store opens — for us, that's 8 a.m. — when the store is relatively empty, the lines are nonexistent and the shelves are completely stocked," Gunn says.
She buys nonperishable items a week to two before Thanksgiving and the turkey a few days before, never at the last minute.