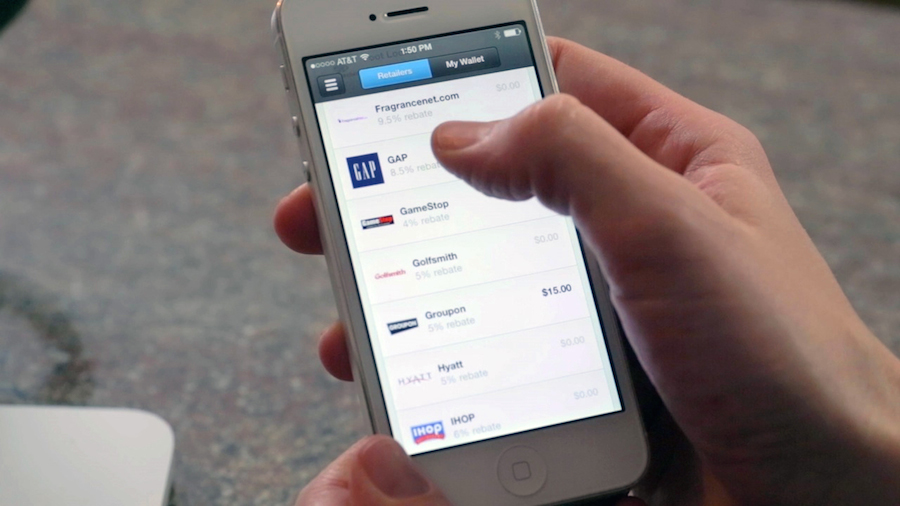 You've probably heard of TOMS Shoes and Warby Parker — retailers that donate shoes and glasses, respectively, when a consumer purchases one of their products.
A new mobile payment processing app called Benefit has the same charitable idea. The app enables consumers to pay with a purpose, but the twist is that the spender gets to choose where their donation goes. And if the money doesn't go to a cause, it might contribute to a college fund or a mortgage.
Benefit plans on offering small businesses a unique platform to support their communities. Here's how it works:
What is Benefit?
Benefit is a prepaid mobile wallet. At the point of sale, consumers use their phones to buy discounted gift cards to cover their purchase. Some online retailers also accept this payment method. The app generates a bar code or gift card number that can be presented to the cashier or entered online.
"This is something you buy instantly and within three seconds can redeem it," Benefit CEO Derik Lolli says. "You're not gifting it, although you could — you're actually buying this with the intent of using it right then. We're using gift cards as a method of payment for everyday transactions."
Participating businesses set a discount on the digital gift cards, usually between 3% and 25%. Rather than receiving this discount, the customer passes the rebate on to their cause of choice (though it must be linked to Benefit).
Benefit started as a way for users to funnel rebates on everyday spending to a favorite charity or local school. But it recently launched a "life expenses" option, which allows users to have the rebate directed to a linked financial account, so the money can go toward a mortgage, child's education savings or health insurance plan.
Expanding to small businesses
There's already an existing marketplace, where national prepaid gift card retailers offer businesses bulk pricing, Lolli says. For example, the gift cards at kiosks you see in grocery stores and pharmacies are purchased in bulk, then resold to consumers.
Benefit uses that same model in a digital format. "Instead of keeping that [bulk] discount," he says, "we pass it on to what the user wants to support."
Benefit is currently partnered with 120 national retailers and recently started working with small businesses. But it's a slower process to get smaller companies ready to accept its mobile payments, since it's often not economical for them to be in large-scale gift card networks.
But using Benefit has its advantages. Lolli says small businesses are often involved with nonprofits and schools in the community. But with this mobile tool, there are opportunities for further engagement. If consumers know that every time they come to a business, 5% of their purchase goes to their favorite cause — or their mortgage payment — that fosters loyalty, he adds.
Benefit is also in the process of launching special fundraising programs for schools, nonprofits and health insurers. Participating organizations will have the the ability to invite local retailers to get on Benefit and allow shoppers to direct rebates to those organizations.
Independent retailers will soon be able to sign up online for free, and a custom gift card bar code will be created in the app. Benefit provides full reporting, so retailers can track spending and redemption. And retailers set the discount they want to offer.
"In programs like Groupon, a small business might get locked into a price and have to honor it for a year," Lolli says. "With Benefit, retailers are empowered to change the discounted amount, so if they're having a slow month, they can decrease the percent that goes to a cause."
Bringing in small businesses with Conpoto
To help bring more small businesses on board, Benefit has partnered with Conpoto, a cloud-based currency software for membership organizations and chambers of commerce. "We give technology to communities that have an interest in supporting local merchants," says Matt Lepard, founder and CEO.
Conpoto allows membership organizations like chambers of commerce to sell a single gift card that works at a variety of local merchants; this keeps spending in the local community, say, when businesses want to buy gift cards for employees. Benefit will use Conpoto's existing network and technology to provide gift cards for local merchants. However, the experience will remain Benefit-branded.
Lepard sees Benefit as an opportunity for merchants who want to be on a platform that drives new business, but doesn't require much effort. Benefit connects small businesses to people who are buying every day, which "puts [these businesses] on the same playing field as big-box stores," Lepard says.
Are you a small business interested in accepting payments through Benefit? They're still getting set up for small merchants, but starting later this summer, you can sign up on Benefit's website.
For more information about how to start and run a business, visit NerdWallet's Small Business Guide. For free, personalized answers to questions about starting and financing your business, visit the Small Business section of NerdWallet's Ask an Advisor page.
Emily Starbuck Crone is a staff writer at NerdWallet, a personal finance website. Email: [email protected]. Twitter: @emstarbuck.
---
Image via iStock.