If you run a small business and want to accept credit and debit cards, your first inclination might be to spring for traditional card-processing terminals. But if your business keeps you on the move or you have limited space, it might make sense for you to choose a mobile credit card processing system.
Overview
In the past, if you wanted to accept cards in person, you were limited to traditional credit card processing machines, which require expensive equipment leases and contracts that are costly to terminate early. They're also bulky and not portable, so if you were selling goods or services at markets and events, you were forced to accept cash only and miss out on sales from card-wielding customers. 
Mobile credit card processing technology has addressed this predicament with an easier, and possibly cheaper, way to accept cards. In most cases, you plug a small card-reading device into your smartphone or tablet and open an app to process payments. Most options also include the ability to manually key in credit card numbers. Some other technologies let you capture credit card payments by using your smartphone's camera instead of swiping.
Most mobile credit card processing systems provide the device and accompanying app for free, and there are rarely contracts, long-term commitments or recurring fees like you'll find with traditional credit card processing.
Transaction fees for mobile credit card processing are generally slightly higher than for traditional terminals since there are fewer fees and commitments. Rates often hover around 2.75% for swiped transactions, and around 3.5% for manually keyed-in cards.
So how do these services make money? A percentage-based transaction fee is taken from every payment. It hurts to lose this income, but the tradeoff is that you should have a wider customer base and make more money overall, since studies show transactions with credit and debit cards are increasing. 
Transaction fees for mobile credit card processing are generally slightly higher than for traditional terminals since there are fewer fees and commitments. Rates often hover around 2.75% for swiped transactions, and around 3.5% for manually keyed-in cards. Some providers also charge a flat transaction fee between 10 cents and 25 cents, though in those instances, the percentage rate is often a little lower. A few mobile credit card processing services, such as Intuit's GoPayment, offer plans with lower rates in exchange for flat monthly fees. The good news is this space is growing quickly, with an increasing number of options out there. 
The benefits and drawbacks of mobile credit card processing
Pros of mobile credit card processing
These small, lightweight devices are convenient for merchants who frequent farmers markets, craft fairs or other events.
You're adding convenience for customers who might not have cash or checks with them, and this can give you an edge if competitors don't accept credit cards.
Mobile credit card processing devices are often free and don't require long-term commitment, whereas traditional credit card terminals must be leased or bought (often at significant cost) and lock you into a contract.
Most systems integrate with popular accounting software, streamlining your reporting and money management.
Mobile systems are often outfitted with features you don't get with traditional credit card terminals, such as the ability to email customer receipts, manage inventory and run customer loyalty programs.
 Cons of mobile credit card processing
There's a trade-off for the minimal fees and lack of contracts: the transaction fees tend to be higher for mobile card processing than with traditional terminals.
Some services require your phone to have an Internet connection to process payments (though some let you accept payments while offline).
NerdWallet verdict
Accepting credit cards is a must if you don't want your business to miss out on potential sales. Mobile credit card processing is ideal if your small business sells goods or services out and about because of its portability and ease of use. It also offers advantages over traditional credit card machines, including fewer fees, low commitment and bonus features that might make it easier to manage your business, such as robust reporting and integration with your accounting software.
How to get started with mobile credit card processing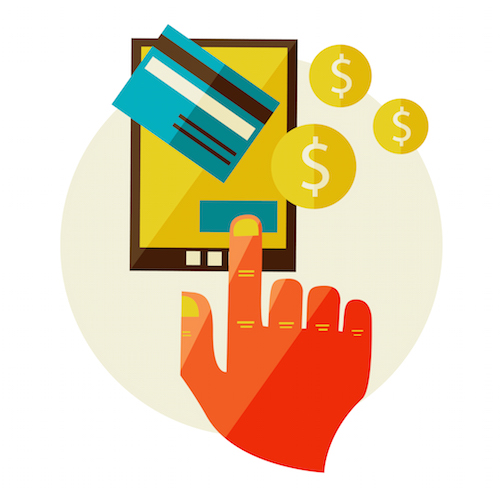 With so many options on the market, make sure you spend time researching options online and carefully comparing your top choices. Square is one of the most popular mobile processing companies, but make sure to also look into other providers such as Shopify, PayPal Here, QuickBooks GoPayment, PayAnywhere and Breadcrumb. You might want to explore other options, such as Flint, which uses your phone or tablet's camera to capture card info rather than using a swiping device.
Although it's tempting to compare transaction costs only, look at the bigger picture when stacking up your options. Here are some factors to consider as you compare mobile credit card processing companies:
What's the transaction fee for swiped cards and manually keyed-in cards? (Know that the latter will always be higher.)
Are there any other fees, such as device costs, setup fees or monthly fees?
How will I get paid, and how soon can I access the money?
Can I accept payments if the phone is offline?
Does the app integrate with my accounting software?
Can I manually record cash and check payments with the app?
Does it have any other benefits, such as robust reporting, customer loyalty programs, inventory tracking and online ordering?
Don't hesitate to call a sales representative at some of the providers you're interested in to ask these questions and ensure their product is right for your particular business needs. Once you've signed up and started accepting payments, the money minus the transaction fees is deposited directly into your bank account, usually within three business days.
Looking to accept credit and debit cards at your business?
Compare payment systems
For more information about how to start a small business and getting a small-business loan, visit NerdWallet's Small Business Guide. 
Emily Starbuck Crone is a staff writer covering personal finance for NerdWallet. Follow her on Twitter @emstarbuck and on Google+.
---
Mobile-payment illustrations via iStock.