It's the season when mega Halloween marts are popping up in malls around the country, overflowing with witch hats, grotesque makeup, fake spider webs and, this year, costumes from Disney's "Frozen."
The biggest seasonal players in this industry – Spirit Halloween and Halloween Express – together operate nearly 1,400 pop-up franchises throughout North America, according to IBISWorld analyst Britanny Carter.
But Halloween stores are not the only pop-up shops in town. More broadly, the multibillion-dollar pop-up retail industry, which includes food trucks, seasonal holiday shops, galleries and one-time brand-marketing events, has "exploded," says Christina Norsig, founder and chief executive officer of PopUpInsider, a New York-based company that connects temporary retailers with landlords. "It's here to stay."
With thousands of locations nationwide, pop-up Halloween stores have reached saturation, Norsig says.
Other businesses, however, are getting in on the act.
The pop-up model brings together real estate owners and merchants to attract consumers. All three parties benefit in this equation: building owners earn extra cash while keeping the lights on in their spaces, businesses attract customers with a limited-time event and consumers enjoy a novel shopping experience. For example, this fall in New York, the Eight O'Clock Coffee Company hosted a pop-up recreation of Central Perk, the coffee bar from "Friends," to celebrate the show's 20th anniversary.
Powerhouse retailers like Target and Amazon also use temporary, seasonal locations to bolster their marketing efforts. But for small businesses in particular, pop-ups often serve as a training ground where entrepreneurs can test a location, build a customer base and flesh out a business plan before committing to a long-term lease.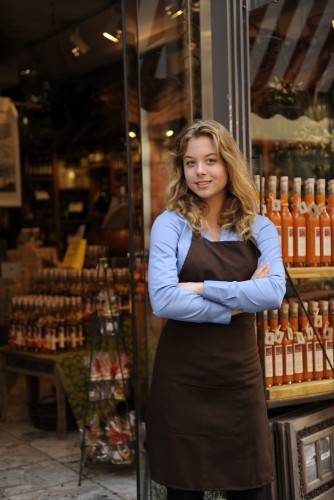 Evan Bloom and Leo Beckerman spent a year honing their craft in the pop-up scene before opening Wise Sons Deli in San Francisco's Mission District in February 2012. They rented space from businesses that were closed on Saturdays — first a coffee shop, then a wine bar, and finally another restaurant — and set up their equipment once a week to get their Jewish-style deli off the ground.
"It teaches you every aspect of the business," Bloom says, reflecting on his year in the pop-up business. "Build a staff, a crowd, a menu, a following, an email list; the kind of things you might take for granted. But when you open a brick-and-mortar, if you've already got all of these things, you've definitely got a leg up."
Norsig also endorses the entrepreneurial benefits of a pop-up. "You have to work through the kinks before you do a permanent location," she says. "Just because it's temporary doesn't mean it's not professional."
In the pop-up industry, owners and businesses strike unique rental agreements based on the situation, but all businesses need liability insurance to rent, Norsig says. To accommodate the rising demand for temporary retail, companies including PopUpInsider and Storefront, a San Francisco-based startup, have emerged to offer online platforms for listings.
For example, on Storefront, business owners can rent a 1,500-square-foot boutique in San Francisco's upscale Fillmore neighborhood for $10,000 per month, or a 731-square-foot space in an high-end shopping center in Chicago's downtown Loop district for $2,000 per month. The website also advertises listings at daily rates, such as a gallery space in Brooklyn for $517 a day.
Target has been operating temporary locations for a dozen years. The company first opened a holiday pop-up on a boat docked in New York's Chelsea Pier in 2002 and has continued opening limited-time shops ever since. This year, Amazon is opening a pop-up store at a Westfield mall in San Francisco and is considering other locations to promote its electronic gadgets.
With both online retail giants and established brick-and-mortar brands turning to pop-up shops, new businesses face the challenge and opportunity of deciding which business model works for them.
"How do manufacturers and vendors find a place in the market and what should it be?" Norsig asks. "Lines are getting blurred between brick-and-mortar, e-commerce and temporary."
---
Storefront photo  and business owner photo via Shutterstock.