There was a time when yoga studios were sparse, reserved for hippies and serious yogis. Today, the practice has exploded into the mainstream: 20.4 million Americans practiced yoga in 2012, up from 15.8 million in 2008, according to a study commissioned by the Yoga Journal, a 40-year-old industry publication. More than 5,000 new yoga and pilates establishments are projected to open in the U.S. by 2020, according to a study this year by the global research firm IBISWorld.
Starting a yoga studio is not enough. With that level of growth, yoga studio owners have to work hard to stand out against the competition.
"Being a good yoga teacher and having a cool studio name is no longer enough," says Andrew Tanner, a spokesman for the industry group Yoga Alliance.
To find out what it takes to stand out in the crowded yoga market, NerdWallet talked to studio owners and business consultants around the country and collected their best tips.
Tip No. 1: Learn the business
Practicing or teaching yoga is one thing, but owning a studio is a whole different beast. Many people open studios because they love the practice but fail because they lack business experience.
"Often they're driven by passion, but not necessarily a spreadsheet," says Racheal Cook, founder of The Yogipreneur, an online consultancy that offers virtual conferences and workshops for yoga entrepreneurs.
"Being a good yoga teacher and having a cool studio name is no longer enough." — Andrew Tanner, spokesman, Yoga Alliance.
Like any small-business owner, yoga entrepreneurs need startup capital and a detailed business plan. Before even signing a lease, Cook recommends studio owners calculate exactly how many students they need in each class to break even. That break-even point can help inform the studio's prices, she says.
Common price structures studios implement include monthly memberships and drop-in classes, where students pay per-visit. To differentiate and add value, Cook suggests offering packages of six- or eight-week programs aimed at specific clients, such as "Yoga for busy professionals" or "Yoga for new mothers." This model can help consistently fill classes, because students feel like they're committed to the multi-week series.
Tip No. 2: Start small
Kimberly Wilson started her studio, Tranquil Space, in her living room in 1999. Within a decade, Tranquil Space had two commercial locations in the Washington, D.C., area and was on Travel + Leisure magazine's list of the top 25 yoga studios in the world.
"We began growing slowly by word of mouth," Wilson says.
Cook suggests aspiring studio owners follow Wilson's lead by starting out teaching classes at home or at a local park or community center to build a loyal following of customers before signing a lease on a brick-and-mortar space.
Tip No. 3: Consider location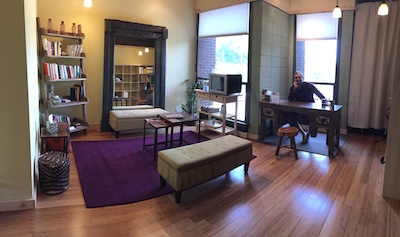 While cities such as New York, San Francisco and Boulder, Colorado, are saturated with yoga studios, there are untapped markets in midsize cities and suburbs, Tanner, of the Yoga Alliance says.
In 2007, Tanner opened BambooMoves, a yoga studio in New York City. Although it was successful — he opened three additional locations in two years — he sold his share of the company in late 2009. In 2014, Tanner started Elements3 Yoga in Framingham, Massachusetts, a middle-class suburb about 20 miles west of Boston. With lower rent, lower startup costs and less competition, he made more profit in his first year there than he did at his previous studios based in cities and wealthier suburbs.
Tip No. 4: Recruit new students
One of the best ways for yoga studios to stand out is to focus on attracting and retaining new students, MindBody business consultant Nicole Chetaud says. MindBody makes software that yoga studios, salons, spas and other fitness studios use to manage client bookings, sales and staff scheduling.
To draw new students and keep them coming back, Chetaud recommends offering a 30-day introductory deal "at an irresistible price" (think $30 for 30 days of unlimited classes). During that first month, studios should make new students feel welcome and encourage them to sign up for additional class packages. Data from MindBody University, the company's business education program, has shown that 50% of new students don't come back after their first visit to a yoga studio. However, studios that offer a 30-day introductory special and have a retention sales strategy can see up to 70% of new students return, Chetaud says.
Tip No. 5: Find your niche
Studios in saturated markets can stand out by finding a niche, says Cook of The Yogipreneur. For example, Lil Omm Yoga in Washington, D.C., caters to families with children by offering classes for babies, toddlers and pregnant mothers, and in-studio child care during adult classes. Some studios, including Yogaqua in Marina Del Rey, California, and OnBoardSup Yoga in Sausalito, California, have taken to the water for floating yoga on stand-up paddleboards.
At Wilson's Tranquil Space studios, students receive hands-on adjustments during class, and tea and cookies after class. The studio's teachers are all trained in-house. After the devastating 2015 Nepal earthquake, the studio did a fundraiser to raise money for the relief efforts.
All of this is part of Wilson's "special sauce" that makes her studio unique. "I basically was like, 'What would I want in a yoga studio?' — and that's what I created," she says.
Teddy Nykiel is a staff writer covering personal finance for NerdWallet. Follow her on Twitter @teddynykiel and on Google+. Contact her at [email protected].
Photos (from top): Tranquil Space by Patrick Onofre; Elements3 Yoga via Stephanie Jasieniecki Photography