Get your TVs ready — Super Bowl XLIX is almost here. Over 100 million people are expected to tune in this year to watch the Seattle Seahawks defend their Super Bowl title against the New England Patriots.
While the average American will watch the game from the comfort of a couch or at a local bar, nearly 80,000 football fans will be in attendance at the University of Phoenix Stadium to take in the experience in person. It's no surprise that most of these fans will dig deep into their wallets to be there for the big game, but how much will it actually cost them? NerdWallet took a look at how much you'll have to pay to be there on Sunday, Feb. 1.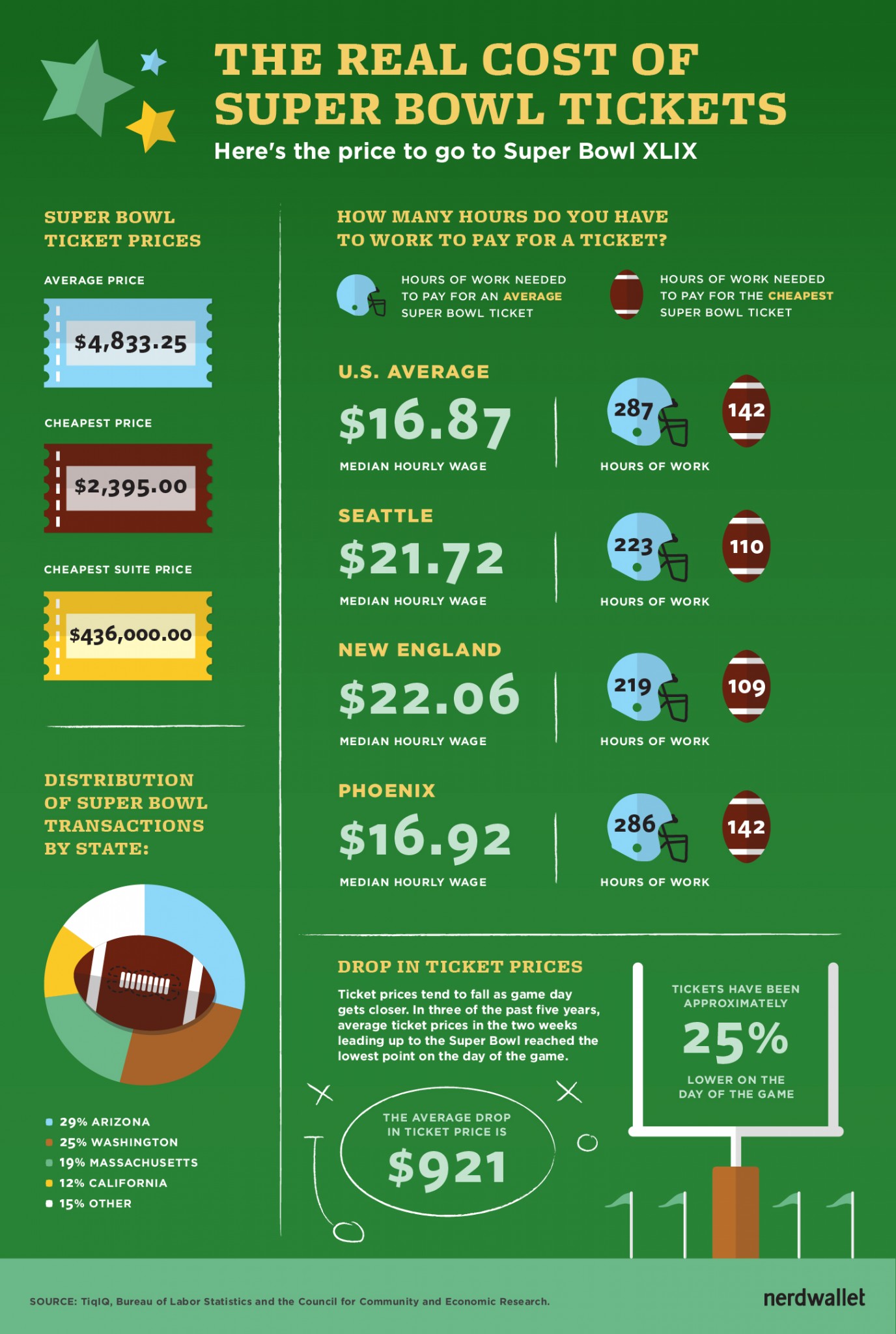 According to ticket prices listed at aggregator TiqIQ, the average Super Bowl XLIX ticket costs $4,833.25, while the cheapest ticket is going for $2,395. Ticket prices are up nearly 36% from a year ago, and are higher than in the past five years.
The data also reveal that 29% of all ticket transactions are happening in the host state of Arizona, while fans from the two states represented in the game, Washington and Massachusetts, account for 25% and 19% of all transactions, respectively.
But what do these prices really mean? Yes, those numbers are a steep price for anyone, but a dollar doesn't stretch the same way for everyone. Where you live and your income factor into the relative affordability of any commodity. NerdWallet used pretax median hourly wages to calculate how much average fans have to work to pay for a Super Bowl ticket:
The average American, who makes a median hourly wage of $16.87, would have to work 287 hours to afford the average-priced ticket. That's nearly 36 days of work for most people.
Fans from Seattle, where the average resident makes $21.72 an hour, would have to work less than the average American to pay for a ticket — 223 hours, or 28 days of work. For the price of one Super Bowl ticket, you could pay for 2 ½ months of rent for an average two-bedroom apartment in the Seattle metro area, or 2,761 tall cups of coffee at Starbucks.
Patriots fans making Boston's median hourly wage of $22.06 would need to work pretty much the same amount as Seahawks fans to pay for a ticket — 219 hours, or 27 days. That $4,833 ticket cost is about the same as over two months of rent for an average two-bedroom apartment in the Greater Boston area. It's also the equivalent of 200 Wilson footballs (and you would have enough money left to buy a pump to deflate each one to your liking).
Football fans in Phoenix would need to work 286 hours (36 days) at the local median hourly wage of $16.92 to pay for a ticket to see the game in their hometown. For that same amount, they could cover just less than six months of rent for an average two-bedroom apartment in the Phoenix metro area, or nearly a semester's worth of tuition at Arizona State University.
Here's the best time to buy Super Bowl tickets
Those who have decided to shell out the few grand it will take to head to the Super Bowl can still save some money by buying their tickets at the right time. We looked at how ticket prices vary over the two weeks before the game.
Here's how average ticket prices on the resale market changed over time in each of the past five years, starting with the day of the conference championships (14 days before the Super Bowl) and leading up to Super Bowl Sunday:
In three of the past five years, average ticket prices on the secondary market reached the lowest point on the day of the game. In fact, tickets have been about 25% lower — an average drop of $921 per ticket — on the day of the game compared with two weeks before.
We also found that ticket availability at the lowest price on game day hasn't been an issue. Over the past five years, 1,453 tickets on average were still listed for sale on the day of the Super Bowl. Buying a last-minute ticket online requires more planning, however, so if you take this route, be sure to set up travel and accommodations well ahead of time.
And if you're looking for the absolute premium experience, you can shell out $436,000 to $575,000 and invite lots of friends and family to join you in a Super Bowl suite. The luxury lofts include food and beverages and your own private restrooms.
Super Bowl vs. regular season tickets
Here's another way to put the price of one single Super Bowl ticket in perspective: the cost to go to a regular home game.
NerdWallet looked at average regular season home game ticket prices for all 32 NFL teams in 2014, and factored in local median wages to gauge affordability. We also calculated how many average-priced home game tickets could be purchased for the price of one Super Bowl ticket.
If Patriots home game ticket prices don't change next season, fans could use the $4,833 they would spend on a Super Bowl ticket to buy about 16 regular season tickets. Meanwhile, Seahawks fans could purchase about 12 regular season tickets for the price of one Super Bowl ticket.
Check out the graph below to see ticket prices for all 32 teams, each city's median wages, home game ticket affordability as well as affordability compared with the Super Bowl, based on each city's local wages:

Data sources
All ticket prices are from TiqIQ and are accurate as of Jan. 23, 2015. We analyzed tickets on the resale market because it contains the largest number of tickets available this close to game day. Most Super Bowl tickets aren't available to the general public and are initially released through lotteries held by the NFL and its teams.
The face price for Super Bowl XLIX ranged from $800 to $1,900 and those tickets were distributed as follows:
Each team in the game received 17.5% of the inventory to raffle to season ticket holders.
The host team, the Arizona Cardinals, received 5% of all tickets to raffle.
Over a third, 34.8%, of tickets were equally distributed among the 29 other NFL teams.
The NFL keeps 25.2% of tickets for the league to distribute among sponsors and others.
Even though travel and accommodations play a major role in Super Bowl costs, we didn't consider this expense in our analysis because choices will vary among those who attend the game.
Data on wages are from the Bureau of Labor Statistics.
Local two-bedroom apartment rent costs are from the Council for Community and Economic Research.
---
Image via iStock.