The economy, safety and sustainability are top of mind for California's local government officials, who have taken on ambitious projects to address these issues.
NerdWallet conducted a survey in September of city officials across California to find out what they're doing to improve their cities and increase the quality of life for residents. Mayors, members of city councils and other officials shared their city's top priority and a snapshot of what's in store for 2015.
What are the most important issues for your local government?
City leaders and officials in California say the most important issues local governments face range from improving the business climate and the job market to safety, crime and sustainability.
When given the following eight options and asked to pick three, here's what they ranked as the most important: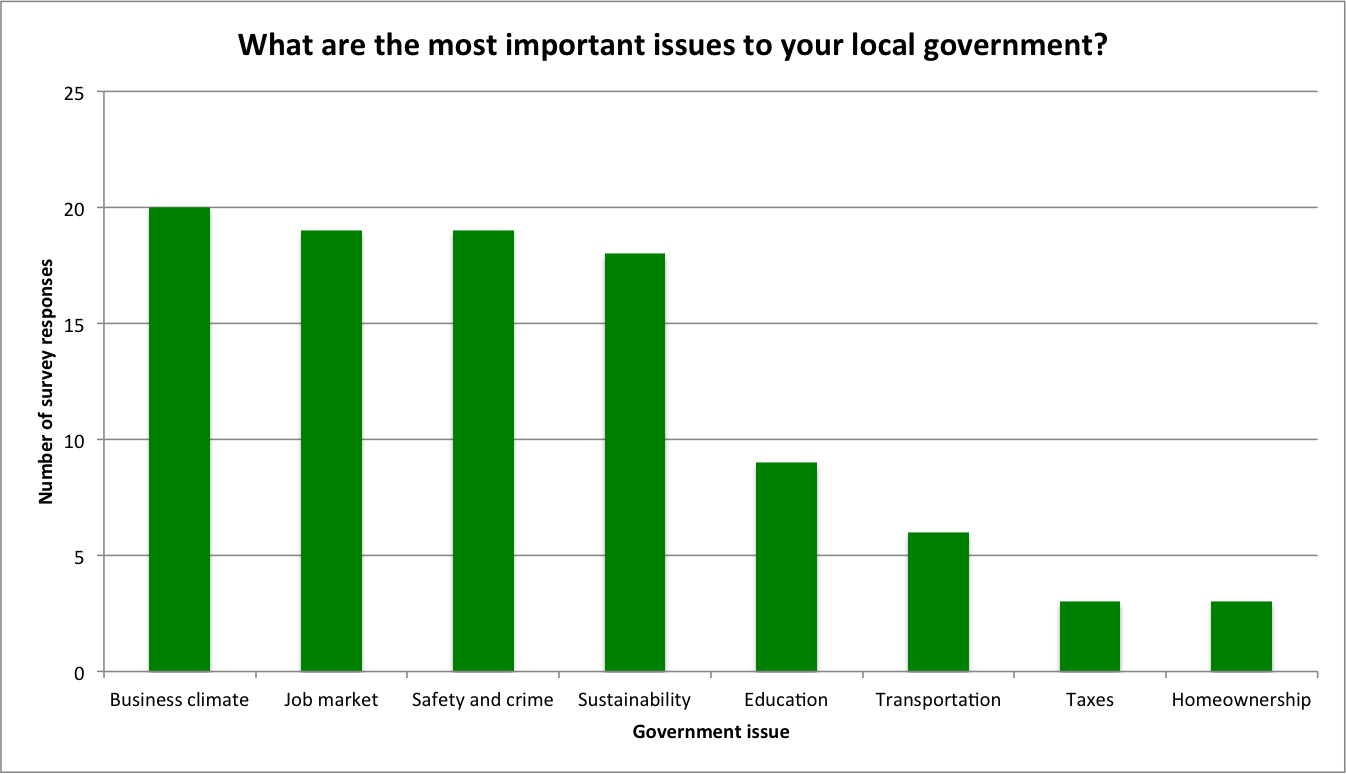 Source: NerdWallet surveyed 34 cities at the 2014 League of California Cities conference
What projects are local governments working on?
Officials have launched a variety of innovative initiatives aimed at improving their cities. NerdWallet received dozens of inventive and civic-minded programs. Below we've highlighted some of the most ambitious local government projects in California:
Jobs and economic development
Santee is working on an aerotropolis, an urban plan that will bring infrastructure to help stimulate the economy in the area surrounding Gillespie Field airport.
Goleta has created the Goleta Entrepreneurial Magnet, a program that supports new entrepreneurs and those with growing businesses by providing workshops, grants and mentorship.
Mendota tapped solar energy, which brought more jobs to the area and also provided environmental benefits for the city and its residents. The city has implemented policies to increase the number of solar installations by making the process easy and affordable.
Benicia introduced the Business Resource Incentive Program, which analyzes resource management and reimburses businesses and property owners at the city's industrial park.
Chico started Team Chico, an economic development collaboration that connects businesses to resources and addresses the needs of essential industry sectors.
Water and sustainability
Claremont has been working on its Water System Acquisition Project, a proposal to purchase the Claremont Water System from the private company that currently operates it.
Yountville created a town center that boasts energy savings of 44% over California's already stringent building efficiency standards. The town is also working toward 100% water reclamation.
American Canyon is creating what it calls a "zero water footprint." This policy requires that all new development projects be assessed by the Public Works Department for anticipated water and sewer needs.
Avalon, an island community that emphasizes environmental stewardship and water quality, is working on a water reclamation project.
Affordable housing
Buena Park is working on creating more low- and moderate-income housing for first-time homebuyers and providing rental assistance programs. These initiatives are spearheaded by the city's Community Redevelopment Agency.
Indio is conserving water and creating affordable housing units such as public housing apartments and nonprofit housing assistance resources.
Engaging youth
Brisbane created a community skate park after local teenagers presented a proposal and successfully made their case to the city council.
American Canyon has opened its doors to community governance by involving youth in commissions and other city business.
Health
Perris created Live Well Perris, a community health initiative that provides free workout sessions, sports clinics, healthy cooking classes and community events to help Perris residents live happier and healthier lives.
What innovative initiatives is your local government working on? What problems do you want your local government to fix? Let us know in the comments!
Want to know about future NerdWallet studies first? Click here to have updates sent directly to your inbox, and check out our city studies here.
Solar panel installation at a home image via Shutterstock.