If you want to buy a ticket right now for Super Bowl XLVIII and think you can get one for less than a month's rent, you can forget about it. But if you can afford to wait, you could end up saving close to $1,000.
The NFL's championship game is Feb. 2 at MetLife Stadium in East Rutherford, N.J., about 10 miles outside New York City, and tickets have seen a Big Apple markup—sometimes double what they were a year ago when the game was in New Orleans. If you're a fan of the Denver Broncos or the Seattle Seahawks and are riding high off last weekend's victories, or if you love football and want to be there, it'll cost you $1,985 just to get in and sit in the worst seat in the house, according to ticket resale hub TiqIQ.
And the average price of a ticket on the secondary market? That'll be $4,084.37. (If you're considering shelling out for a luxury suite, you'll pay a minimum of $318,000 or as much as $962,000 for a 20-30-person suite.)
But, interestingly, as the Super Bowl kickoff draws nearer, prices are likely to plummet. Part of this is down to the quality of the seats remaining, but the effect is unlike that of, say, booking a flight, where the closer you are to your departure the higher the cost of any ticket. Furthermore, the resale market reveals a record number of tickets still available for purchase, with more than 10,000 tickets for sale with 12 days to go until the game. This excess of supply will likely result in a relative decrease in prices over the next week and a half.
That average seat price of $4,084.37 was for the morning of Jan. 21, and it was up more than 18% from two weeks before. But a look at the daily fluctuations in ticket prices over the past few years reveals that prices rise as the playoffs go on, spiking in the day or two following the conference championship games—and then steadily decrease as the big game approaches.
The following table and graph, covering the last four years, show the downward trend in ticket prices from the date of the conference championship games (two weeks prior to the Super Bowl) to the day of the Super Bowl:
| | 2010 | 2011 | 2012 | 2013 |
| --- | --- | --- | --- | --- |
| Avg. Price 2 Weeks before Super Bowl | $3,509.42 | $4,062.06 | $3,646.04 | $3,082.51 |
| Avg. Price 1 Week before Super Bowl | $2,866.43 | $3,350.42 | $4,039.90 | $2,993.28 |
| Avg. Price on Game Day | $2,329.26 | $3,649.41 | $2,955.56 | $2,199.08 |
| Avg. Percentage Decrease | 33.63% | 10.16% | 18.94% | 28.66% |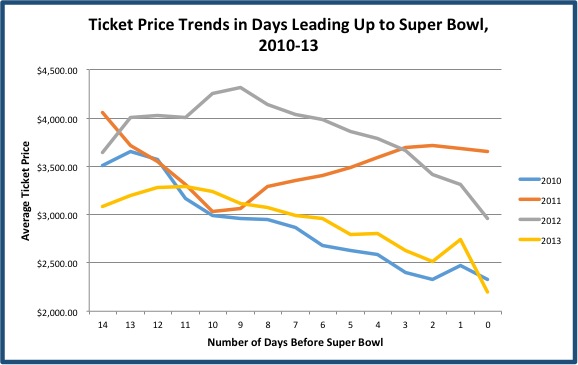 This historical ticket data shows that in each of the last four years, average prices decreased significantly between the two weeks prior to the Super Bowl and game day. So if you can hold your nerve (and your wallet) a while longer, you can expect to see a price drop of anywhere between $400 and $1,400 on tickets to this year's Super Bowl.
Of course, there are far savvier things a football fan could do with all that cash. For the cost of one average-priced ticket to Super Bowl XLVIII:
Broncos and Seahawks fans could, using TiqIQ's data for 2013, buy a ticket to 12 regular-season home games (a season-and-a-half's worth of home games) in Denver or Seattle.
Fans anywhere could buy the NFL Sunday Ticket package and watch every football game every week for 17 years.
Party planners and the very, very hungry could buy 50 large Pizza Hut pizzas, 2,000 chicken wings and 400 liters of soda and still have money left to buy a 60-inch TV to watch the game on.
Still want to see New York? You could stay three nights at a five-star hotel, eat at the three best restaurants in the city (according to the New York Times), see a Broadway show and visit the Met—and still have more than a thousand bucks left in your pocket.
Or you could put that money in a savings account and start stocking it away for the next time your team goes to the Super Bowl. Or, if you're a Lions or Browns fan, the first time.
Check out our other sports finance studies here.
All ticket pricing data was obtained from TiqIQ.