Advertiser Disclosure
Study: Fly on Thanksgiving & the Day After to Avoid Delays
With Thanksgiving quickly approaching, many travelers are beginning to make travel arrangements. TravelNerd has analyzed the on-time arrival statistics from the Bureau of Transportation Statistics to provide travelers with holiday travel recommendations.
Peak Travel Days vs. On-Time Arrivals
Peak passenger travel days are the Tuesday and Wednesday before Thanksgiving. However, your best bet for on-time arrival is on Thanksgiving. Airlines reduce the number of flight operations on the holiday since there are fewer travelers on Thanksgiving day. As a result, travelers who flew on Thanksgiving in 2011 had an on-time arrival rate of 94% while Tuesday and Wednesday travelers had on-time arrival rates of 78% and 85% respectively. This trend isn't just a one hit wonder. The on-time arrival statistics for 2009 and 2010 told a similar story, with Thanksgiving on-time arrival rates that were much higher than the Tuesday and Wednesday before the holiday. If the idea of on-time arrival didn't win you over, Travelocity recently released a study which states that Thanksgiving day is also the cheapest day to fly. So traveling on Thanksgiving day is not only cheaper but more likely to arrive on-time!
Many holiday travel tips tell travelers to return home on the Tuesday after Thanksgiving to avoid the crowds and snag cheaper tickets. Unfortunately, the on-time arrival percentage is much worse on Tuesday – so you might save money but you also might lose time. According to 2011 statistics, your best bet is Friday after Thanksgiving.
For those traveling to their Turkey day festivities early (like the week or weekend before Thanksgiving week), flying home on the Friday after Thanksgiving will provide cheaper tickets and more timely arrivals. For the last three years, the Friday after Thanksgiving had the highest on-time arrival rates compared to the ENTIRE Thanksgiving travel period (beginning the weekend before Thanksgiving and ending the Monday after Thanksgiving) with on-time arrivals ranging from 91-96%!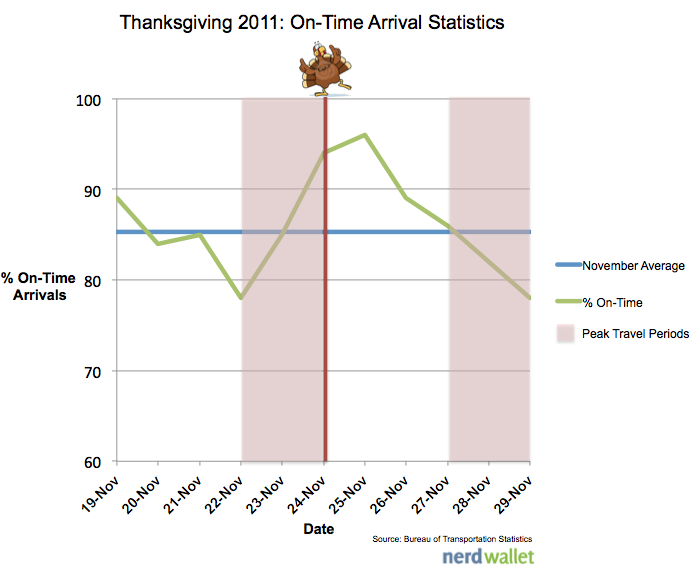 Thanksgiving Travel Tips
So what should you take away from these statistics?
For on-time arrival and cheap tickets, depart on Thanksgiving day.
For on-time arrival and cheap tickets, return on the Friday after Thanksgiving.
For cheap tickets, return on the Tuesday after Thanksgiving (but remember, you have a higher risk of being delayed compared to flying out any day before Tuesday).
Be Prepared: Know Your Traveler's Rights
If you do have to fly on peak Thanksgiving travel days, be prepared for some delays. In general, travelers are not entitled to any compensation or benefits if their flight is delayed, but you may be able to request some customer service.
If your flight is delayed, ask your airline representatives if they will provide meal vouchers. While this may seem like a small token, it may help to be fed.
If you're able to find a flight on a different airline, ask your current carrier if they will endorse your ticket on the new airline. If they agree to do so, you could save an additional fare collection. Unfortunately, since travelers are not typically entitled to compensation or benefits from delays, there is no rule that requires an airline to do this.
When you're booking a flight, remember that a departure early in the day is less likely to be delayed than a later flight. This is because flight delays occur throughout the day. Flights later in the day are more likely to experience the snowball effect of the entire day's delays.
Travelers should also be aware that flights may be over capacity during the holidays. Be prepared in case you are bumped from your flight.
Airlines are required to first request volunteers to be bumped from the flight. Often, airlines may request volunteers, offering higher and higher amounts of compensation to reach the necessary number of volunteers. If you are willing to be bumped, it may pay to hold out a bit, especially on extremely overbooked flights.
If you are involuntarily bumped and your airline provides substitute transportation that is scheduled to arrive between 1-2 hours after your original arrival time (or 1-4 hours on international flights), the airline must pay you equal to 200% of your one-way fare to your final destination that day (with a maximum payout of $650).
If you are involuntarily bumped and the alternative transportation method is scheduled to get you to your destination more than 2 hours later (or 4 hours internationally), or if the airline doesn't make any alternative travel arrangements for you, the compensation doubles to 400% of your one-way fare (with a maximum payout of $1,300).
Photo Credit: Delayed flight image from Shutterstock.