Eileen Gunn wanted to immerse her daughter in French culture. Where better to do that than in Paris? The whole family packed up and headed to France using American Airlines AAdvantage miles.
The cardholder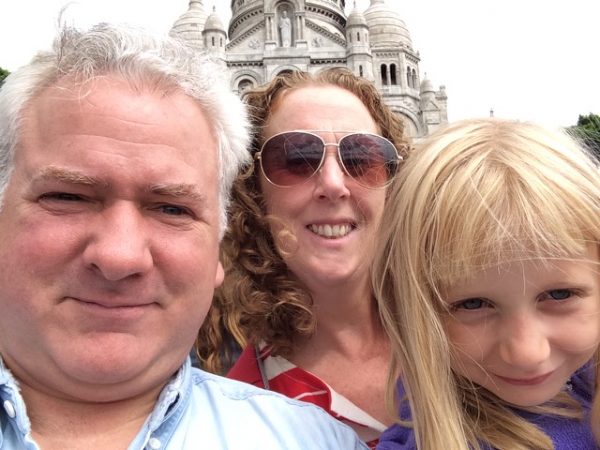 Name: Eileen Gunn
Age: 47
Occupation: Editor of FamiliesGo!
Residence: New York
Credit Card: Citi® / AAdvantage® Platinum Select® World Elite™ Mastercard®
The trip
Route: John F. Kennedy International Airport – New York to Charles de Gaulle – Paris with a connection at Logan International Airport in Boston. We flew directly to New York returning from Paris.
Dates of travel: August 2014
Airline: American
Class of service: Economy
Q: Did you visit a lounge at the airport?
A: Not this time.
Q: Did you travel alone or with someone?
A: I traveled with my husband and daughter. I'd never been to Paris, and our daughter was in a French immersion class at her elementary school. We decided to do this trip partly to expose her to some French in situ.
The card
Q: What card did you use to get a free trip?
A: Citi® / AAdvantage® Platinum Select® World Elite™ Mastercard®
» Learn More: Find the best airline credit card for you
Q: How long were you a cardholder at the time of your trip?
A: About 10 years.
Q: How long were you saving for this trip?
A: It takes us about three years to accumulate enough points for three tickets to Europe.
Q: What's your favorite perk of this card?
A: We also get free luggage check on domestic flights and lounge access with the card.
Redemption and booking
Q: Did you take advantage of promotions while earning points for this trip?
A: No.
Q: How did you book?
A: We booked by phone. It's easier than going online when redeeming points.
Q: How many miles/rewards did this cost?
A: About 140,000 miles.
Q: Did you book in conjunction with a promotion or deal?
A: No.
Q: Any surprises?
A: American Airlines partners with British Airways, but we found out that when redeeming points booking American Airlines flights works best. British Airways tacks on more taxes and fees than American does.
What's up next?
A: Our goal is enough points for another trip to Europe soon.
Photo via Eileen Gunn.
How to maximize your rewards
You want a travel credit card that prioritizes what's important to you. Here are our picks for
the best travel credit cards of 2020
, including those best for:
Planning a trip? Check out these articles for more inspiration and advice:
How I flew for free: Miles to the rescue for a family emergency
How I flew for free: Round trip NYC to India using Chase Ultimate Rewards
How I flew business class to Bangkok with my family for free