This hardworking writer and author took his first real vacation in years with his wife thanks to the points he earned on his Chase Sapphire Reserve®.
The cardholder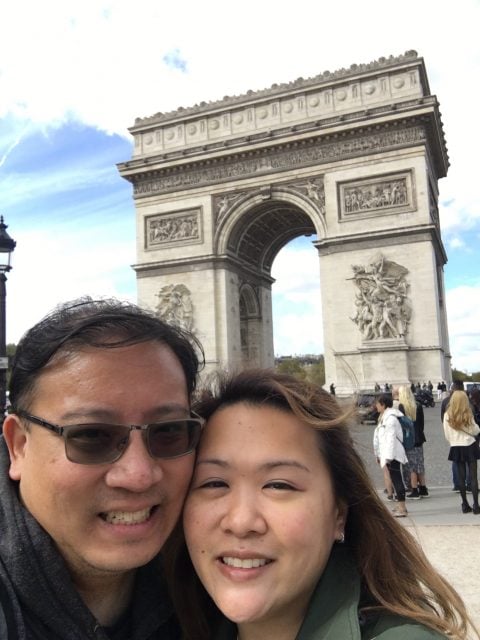 Name: Victor Li
Age: 40
Occupation: Assistant managing editor, ABA Journal and author of "Nixon in New York: How Wall Street Helped Richard Nixon Win the White House"
Residence: Chicago
Credit card: The Chase Sapphire Reserve®
The trip
Route: Depart from O'Hare International Airport – Chicago to Heathrow Airport – London, return from Charles de Gaulle Airport – Paris to O'Hare
Dates of travel: Sept. 12 – 22, 2018
Airlines: United Airlines (departure), Swiss Air (return)
Class of service: Economy
Q: Did you visit a lounge at the airport?
A: No.
Q: Did you travel alone or with someone?
A: I traveled with my wife for our first real vacation in several years.
The credit card
Q: What card did you use to get a free trip?
A: The Chase Sapphire Reserve®.
» Learn more: Chase 5/24 rule explained
Q: How long were you a cardholder/member at that time?
A: Five years.
Q: How long were you planning/saving for this trip?
A: Four months.
Q: What's your favorite perk of this card?
A: The points.
Redemption/Booking
Q: Did you take advantage of promotions while earning points for this trip?
A: No.
Q: How did you book?
A: I booked through the Chase travel portal.
Q: How many points/miles/rewards did this cost?
A: 85,148 points [for both Li and his wife].
Q: Did you book in conjunction with a promotion or deal?
A: No.
Q: Any surprises?
A: No.
What's your next travel rewards goal?
We have to build up our reserve a bit, but we'd love to go to Taiwan, Hong Kong, Tokyo or Singapore next.
Photo via Victor Li.
How to maximize your rewards
You want a travel credit card that prioritizes what's important to you. Here are our picks for
the best travel credit cards of 2020
, including those best for:
Planning a trip? Check out these articles for more inspiration and advice:
How I flew for free: Miles to the rescue for a family emergency
How I flew for free: Round trip NYC to India using Chase Ultimate Rewards
How I flew business class to Bangkok with my family for free