To buy or not to buy? That is the question facing millions of people following the recent release announcement for the new iPhone 5. Apple hails the phone as its best ever; it's slimmer, lighter, and faster than the previous model, but the decision to buy is far from clear-cut, especially with all the discounts and upgrades available for older models.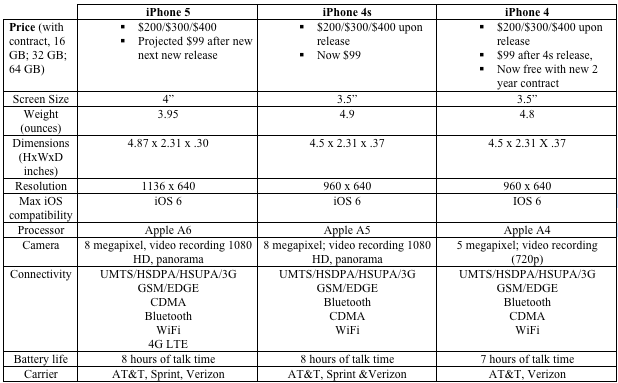 The iPhone 5 boasts many improvements over previous versions, including an A6 processor, which Apple promises is twice as fast as the 4s; a 4" screen, half an inch longer than previous models; better picture quality and battery life; a new, smaller connector and redesigned headphones, as well as connectivity to the much faster 4G LTE networks.
While reviewers and critics agree that the iPhone 5 is a step up from the 4s, no one claims it's revolutionary.
Nor does sticking with an older model necessarily doom you to obsolescence. The tech world moves fast, but Apple has a history of servicing its older models well, and with a 4s, you'll still have access to Apple's upgraded mobile software, iOS 6.
When it comes down to it, one of the biggest differences between the iPhone 5 and previous models is price; the newest technology doesn't come cheap. By signing on to a two-year contract with AT&T, Sprint or Verizon, you can get an iPhone 5 at subsidized rates of  $199.99 (16GB); $299.99 (32 GB); and $399.99 (64 GB). Unlocked versions of the iPhone 5 are rumored to be $649.99 (16 GB); $749 (32 GB) and $849 (64 GB).
Meanwhile, as expected, the announcement of the iPhone 5 also brought markdowns in the prices of older models. The iPhone 4s got cut in half, dropping to $99, while the 4 model is free when signing up for a new two year contract.
NerdWallet Recommendation
If history is any indicator, the iPhone "5s" is only 12 months away, meaning more price drops and upgrades ahead.  To get the most bang for your buck, take advantage of product cycle pricing and upgrade to a 4 or 4s model.
While some see the inevitable yearly upgrades as part of the natural progression of technology, others look at the short lifespan and recognize a clever marketing strategy. Indeed, two-year contracts that guarantee a subsidized price, coupled with new phones each year make it very easy to stay locked into a contract.
But the rapid product cycle can be used to your advantage. In the future, if you're looking to get the best deal on the newest model of iPhone, sell your older model of the phone and put the money toward the new one. The trick is to sell before the announcement or release of the newest phone in order to maximize your resale value—a process that requires a little risk and some time churning through the rumor mill.
Remember, information can be a consumer's best friend. Simply being aware of the product cycles can help you secure the best deal; prices tend to drop precipitously in the weeks leading up to, or just after the announcement of newer models, and there are entire websites dedicated to art of gauging product cycles. They closely monitor third party reviews of products, upcoming announcements of newer models, and pricing history, running it all through algorithms that crunch the numbers for you and tell you the best time to buy.
Expert Recommendations
Jeff Lyons, co-founder of myPhoneMD, had this advice:
"As has been demonstrated once again, pre-ordering is no guarantee of acquisition.  While the iPhone 4 took 21 hours to sell out of pre-orders and the iPhone 4s took 22 hours, the iPhone 5 sold out in 63 minutes.  Meaning that if you added it to the cart on Apple's site 64 minutes after launch, then Apple has your money and your phone is coming in two weeks late at a minimum.
Also please bear in mind that Apple has been running on a September release date for what is now three generations.  If you want to unload your existing hardware in order to offset the purchase price of the new model you should try and do so at least a week before the launch of a new model, if not two weeks before.  Buyback pricing drops precipitously once the new generation is on the street, in fact by as much as $100 per handset or more."
Jeffrey Powers, writer for Geekazine, had this to say:
"The best way to take advantage of this announcement is to sell your existing iPhone to cover the new. iPhone4 in good condition sells for $162. That is 80% of an iPhone5 and free money if you get an iPhone4 or 4s. iPhone 3GS sells back for $40 (data collected from Gazelle.com and could change). Generational pricing works best for people who are on a budget and want to upgrade more than one phone. A household of three can get the iPhone4 for free and everyone is on the same phone platform. If Dad is on an iPhone4 already, he doesn't have to hand-me-down the phone. Junior can get a new phone and dad could sell his on a buyback website."
Chris Maddern, CEO of AppLaunch, had this advice:
"The iPhone 4 being free is a big deal—it's truly a current generation iPhone free with any contract. If you're on a budget and want in to the world of iPhone, it represents exceptional value. There is almost nothing that you can do on the iPhone 5 that isn't present on the iPhone 4. The camera is noticeably different, but it's still better than almost any Android device in real-world tests. It's not as fast, but what's a few seconds if its the difference between being able to afford an iPhone or not?! For the first time, there is a free iPhone that gives (basically) the same experience as the most premium device."
Jeffrey Vocell, co-founder and director of product and marketing at Trendslide, had this recommendation:
"Keep in mind what features you need.  Many features are appealing on each iteration of the iPhone, but truly evaluate what you need the phone to do and then purchase based on that list.  Keep in mind there are apps that can extend the usefulness of your device, even if you do not have the latest and greatest. Lastly, keep in mind that Apple announces a new device every year so if you miss getting the brand new version this time wait until next year to see what they will announce."