Advertiser Disclosure
Credo Mobile Cell Phone Plans
Credo Mobile's major hook is that it helps its customers lobby for progressive causes and makes monthly donations out of its revenue to nonprofits chosen by customers.
---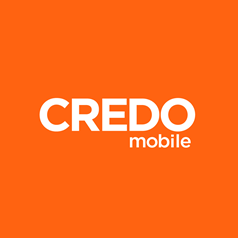 At a glance
Plans start at $50 per month
Notables: Allows customers to easily lobby for and donate to progressive nonprofits; limited features for its price point.
Credo Mobile cell phone plans
Credo Mobile offers three shared data plan tiers, priced as follows:
1GB: $30
3GB: $40
6GB: $60
You pay a $20 line access fee for each phone connected to a plan. To estimate your monthly costs, take the number of lines you want and multiply by $20. Then add that number to the cost of the shared data plan tier.
Credo also offers unlimited data, with different pricing for single and multiline plans.
Unlimited data, single line: $65 + $20 line access fee
Unlimited data, multiline: $105 + $20 line access fee
Up to five lines can share one pool of data for any plan.
Credo Mobile's network
Credo, a mobile virtual network operator, uses either Sprint's or Verizon's network, depending on the customer. New customers buying phones from Credo will use Verizon, while customers bringing their own devices will use the Sprint network.
» MORE: What's a mobile virtual network operator?
How Credo Mobile compares on prices
Credo occupies an odd space in the cell phone landscape. It's a postpaid service, but like many prepaid providers, it's a mobile virtual network operator, or MVNO. The prices it offers are similar to or greater than those offered by Verizon, Sprint and AT&T.
Generally speaking, prepaid providers offer cheaper monthly costs, but you have to buy a new phone from them upfront. Postpaid providers have higher monthly costs but offer installment plans to spread out the cost of a new phone.
Credo offers installment financing plans for new phones and subsidized phones under two-year contracts (which we generally don't recommend).  
What also sets Credo apart is its activism campaigns and nonprofit donations. Credo frequently mobilizes its customers to lobby for progressive causes. Recent campaigns and petitions are listed here. It also donates to several progressive nonprofits every month, selected by customers. Here's a list of Credo's recent donations.
So what you end up with is a postpaid service running on someone else's network, likely Verizon's if you're a new customer. Verizon doesn't disclose details about its MVNO deals, so it's anyone's guess whether Credo customers get the same service Verizon customers do.
You'll pay a monthly price similar to what you would pay to major cell phone providers like AT&T, but you get the added benefit of Credo's lobbying and activism, if that's your bag. You can also buy phones from Credo on a monthly installment plan.
Stephen Layton is a staff writer at NerdWallet, a personal finance website. Email: slayton@nerdwallet.com.
Updated June 21, 2017.