Today, everything is "smart." There are smart TVs, smartwatches and smartphones, so it only makes sense that there are now smart thermostats.
Google's Nest Learning Thermostat and the Honeywell Lyric are two players in the smart home space. They take heating your home to a whole new level. The questions is, should you go the Lyric route or trust in Google's ability to keep you warm (or cool)?
We compared the two to help you decide before you go out shopping.
The thermostats: At a glance
| | | |
| --- | --- | --- |
| | Nest Learning Thermostat (3rd generation) | Lyric |
| Price | $249 from Nest | $249 from Honeywell |
| Software | iOS and Android | iOS and Android |
| Size | 3.3 inches in diameter, 1.3-inch depth | 3 inches in diameter, 1.21-inch depth |
| Notable features | Auto-schedule, auto-away and Nest Leaf | Geofencing and Fine Tune |
| Installation | DIY or call a Nest Pro | DIY |
| Remote programming | Can be controlled from a smartphone, tablet, laptop or computer | Can be controlled from a smartphone or tablet |
| Compatible devices | Nest Cam, Nest Protect and more | HomeKit-enabled accessories |
The Lyric was introduced in 2014 as a response to Google's Nest, which was originally released in 2011. Both devices claim to add an extra level of efficiency to heating and cooling your home, and they both promise to save you money.
Lyric may be the new kid on the block, but it is in many ways a worthy opponent. Both systems have the ability to be controlled from anywhere, with the Lyric relying on the app to signal when your home is occupied, and Nest "learning" your patterns and behavior.
In terms of savings, the Lyric claims to shave off an average of $75 a year on heating/cooling costs and Nest, based on typical energy fees, believes its thermostat could save you between $131 and $145 a year.
The thermostats: Up-close and personal
Honeywell Lyric
Appearance: The Lyric is visually appealing and maintains the company's iconic "round" thermostat shape, but with a more modern display and a ring that rotates to adjust the temperature.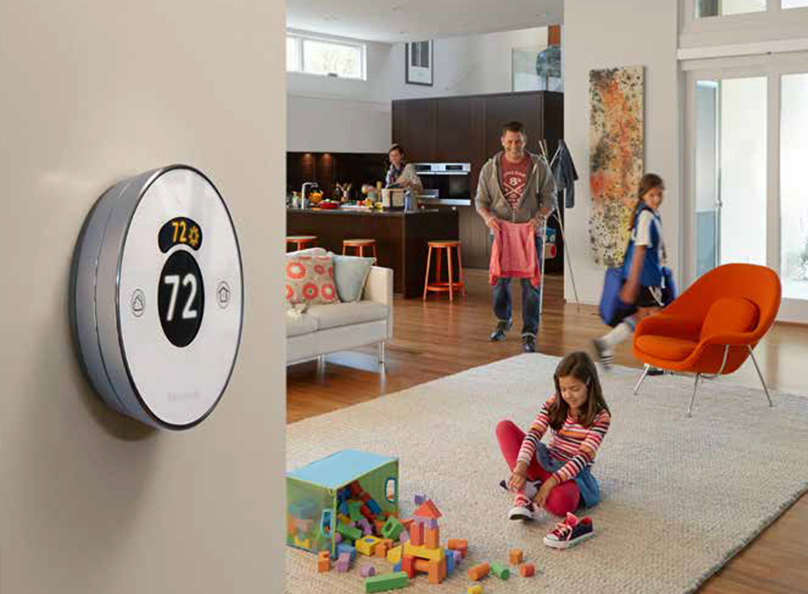 The front portion of the device has two buttons: One allows you to choose between your preset "home" and "away" settings, and the other pulls up a real-time weather forecast. The design of the device is also mimicked in the interface of the app.
Features: With a sleek design and easy-to-use interface, the Lyric offers an efficient way to heat your home. The device syncs to your phone, so you can easily control the temperature no matter where you are. Plus, you can set it to automatically shut off (or lower the temp) if no one is home.
There are a number of innovative features unique to the Lyric, one of them being geofencing. There are two different geofence settings: one ideal for suburban settings (7-mile radius) and one better suited for urban living (500-foot setting). The device is smart enough to know when you're is home (or not) based on the corresponding app installed on your iOS or Android device. Lyric will know when you've left the house and will respond accordingly to your preselected "nobody home" setting. Once you re-enter the geofence, Lyric will turn back on and heat (or cool) to your desired temperature.
The downside is that an iOS/Android device must be present in order for Lyric to recognize that someone is home, so if you have out-of-town guests or young children without a phone or tablet, you'll need to find a workaround. Setting up "shortcuts" might be an option, which means it can automatically raise or lower the temperature based on your daily activities (like coming home from work).
Another notable feature is "Fine Tune," which takes into account the outside temperature including humidity. The local weather is not only displayed on the dial, but can also be used to predict when the temperature should be raised or lowered.
The Lyric retails for $249 and can be purchased through the Honeywell site.
Google Nest
Appearance: Like the Lyric, Nest has a round, modern design and a sleek interface. It lights up when someone walks into a room (a feature called Farsight) and its bold display can easily be seen.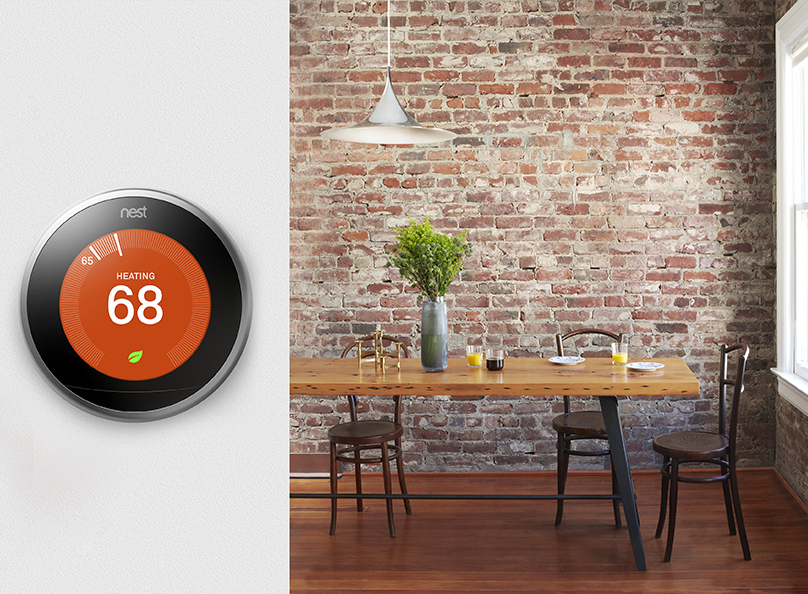 Features: Nest has the benefit of being the first smart thermostat to market, which means they've had some time to perfect its features.
Unlike the Lyric, rather than relying on the proximity of the app to function, Nest actually learns your behavior by noticing patterns using its smart "learning" algorithms.  The auto-scheduling feature allows you to preset your desired temperature for certain times of day, which Nest will then "learn" and improve upon as time goes on. The thermostat contains temperature sensors that enable it to better understand your home. This can be especially useful if there's an issue with your furnace, since Nest is smart enough to recognize a problem, alert you via text, and note the incident in your monthly Home Report.
Your monthly Home Report will also include your Energy History. This shows when you use the most energy and allows you to adjust your patterns and behaviors accordingly. If you still want to save more, use the Leaf function. If you lower the temperature, you'll be rewarded with a "Leaf." The Leaf learns your specific patterns, so it's different for every household.
The auto-away feature knows when certain rooms or the entire house is empty and will respond accordingly. By doing this, you can increase efficiency and cut down on unnecessary heating and cooling costs.
One of the biggest benefits of Nest is that there are many other Nest-compatible products. Nest Protect can sense smoke or carbon monoxide, and the Nest Cam can record your home while you're away.
Nest, like Lyric, retails for $249 and can be purchased through the Nest site.
How they stack up
While the Lyric and Nest are very similar, the Nest has some advantages: It's been on the market longer, isn't dependent on an app, and can be used with other compatible smart home products. Plus, it's the same price as the Lyric. For these reasons, we suggest purchasing the Nest if you're in the market for a smart thermostat.
Put more of your favorite products head-to-head:
Kirsten VerHaar is an editor at NerdWallet, a personal finance website. Email: [email protected]. Twitter: @kirstvh.