Verizon Wireless is adding more data to its signature cell phone plans — but you'll have to pay for it.
The nation's largest wireless carrier announced the new data amounts and plan prices Wednesday, along with four new features: carryover data, safety mode, data boost and international coverage.
The revamped plans launch July 7 and "reflect significant growth in data usage," Verizon Vice President Rob Miller said at a news conference. Data usage by the average Verizon smartphone customer increased from 1 gigabyte per month in April 2013 to 2.7GB per month in April 2016, Miller noted.
» MORE: How much data do you really need?
New prices, data allotments
The revised Verizon plans still range from Small to XX Large, but they'll include more data at each size. At the low end, the Small plan will include 2GB for $35 a month. At the high end, the XX Large plan will come with 24GB for $110.
Verizon plans previously ranged from 1GB for $30 (Small) to 18GB for $100 (XX Large). The carrier will continue to charge a $20-per-month access fee for each smartphone on the plan.
Customers already on one of the carrier's plans can stay where they are or opt in to one of the revamped, more expensive plans for more data and features.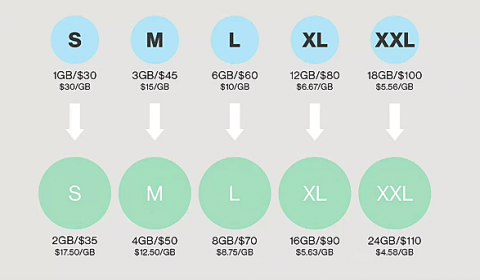 New features
Verizon also unveiled four features, which will be available only on the new plans.
Safety mode: Prevents overage charges by slowing data speeds to 2G when you max out your plan. This feature will be $5 per month on the new Small, Medium and Large plans and free on the new X Large and XX Large plans. Customers on any of the new plans will need to switch safety mode on or off via the MyVerizon app.
Sprint, T-Mobile and a handful of prepaid carriers give customers unlimited 2G data when they hit their plan limit.
» MORE: Best cell phone plans
Carryover data: Verizon's version of rollover data will be available on all new plans at no additional charge. The feature lets you keep any unused data for an additional 30 days. There's no cap on how much data you can roll over.
AT&T and T-Mobile already offer rollover data at no additional charge. T-Mobile lets customers stash data for up to a year on some plans.
Data boost: This isn't so much a feature as a way to add more high-speed data to your plan. You can get an additional 1GB for $15, the same rate that Verizon charges for data overage on its existing plans. If you don't use the full gigabyte, you can carry it over to the next month.
AT&T charges $15 per 1GB, if you exceed your plan and any available rollover data. It charges the full overage amount even if you don't use a full gigabyte.
» MORE: Best international cell phone plans
International calling and roaming: New X Large and XX Large plans will include unlimited calls and texts from the U.S. to Mexico and Canada. The plans will also allow customers to use their minutes, texts and data while traveling in Mexico and Canada. Verizon customers can add these features to smaller plans for an additional cost.
Sprint includes international calling and roaming in most of North and South America on all of its plans. T-Mobile's Simple Choice plans come with international coverage, too, allowing unlimited texting and 2G data in more than 140 countries.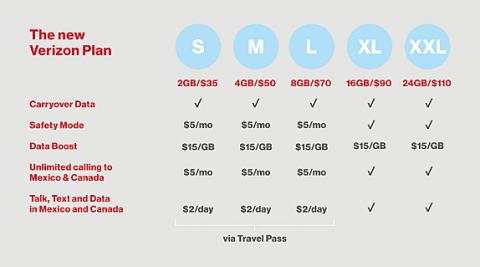 Kelsey Sheehy is a staff writer at NerdWallet, a personal finance website. Email: [email protected]. Twitter: @KelseyLSheehy.