Picking a streaming device that's right for you can be confusing. There are many options out there, and they all seem to do the same things.
Among them: the Apple TV. If you're considering purchasing an Apple TV (or any other streaming device, for that matter), there are a few things you should keep in mind before you start shopping.
What is the Apple TV?
On the surface, the Apple TV appears to be nothing more than a small black box emblazoned with the Apple logo.
In actuality, the product — which was originally released in 2012 and is now in its fourth iteration — allows users to bring movies, TV shows, live sports, music, photos and videos straight to their TV. And thanks to features such as AirPlay, the box also offers users the ability to stream content from an iOS device or Mac directly onto their TV.
Check out the Apple TV's specs:
Price: $149 (32GB), $199 (64GB) from Apple
TV compatibility: Compatible with high-definition TVs with HDMI and capable of 1080p or 720p at 60/50Hz
Size: 1.4 inches (height) by 3.9 inches (width) by 3.9 inches (depth)
Setup: Connect to HDTV with HDMI cable (sold separately)
Features: iTunes Radio, AirPlay for wireless streaming, iCloud, family sharing, access to photos and videos, live sports, hit movies and TV shows on demand via a ton of apps made specifically for the device
Accessories: Includes Apple TV, Siri Remote, power cord, USB to Lightning cable
Streaming-device specs
But this device isn't the only one of its kind. If you're not sold on the Apple TV, there are a variety of other streaming devices on the market as well.
There's the Amazon Fire TV, for example — a streaming-media player from online giant Amazon that costs $89.99. This product gives users access to over 200,000 TV episodes and movies, millions of songs and hundreds of games. The Fire TV also features a voice search function and the ability to mirror the content that's on your phone or tablet on your TV.
Another popular player in the streaming-media market is the Roku. With a price of $99.99, this product features access to more than 2,000 channels and an integrated movie store. You can control the device with the included remote or by way of a downloadable app for your smartphone or tablet.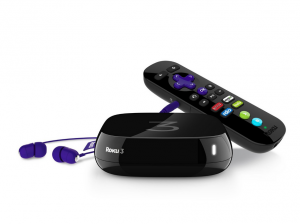 When considering any of these or other similar devices, here are a few questions you should ask yourself:
How many channels will I (really) have access to? Consider how many viewing options you'd like. The Roku, for example, boasts more channels than the Apple TV. But some of those 2,000 channels require payment and/or a subscription to receive access.
Do I want to watch Amazon Instant Video? If your answer is yes, you'd best opt for either the Amazon Fire TV or Roku. Apple TV lacks access to Amazon Instant Video as of this writing.
What about games? TV shows and movies are great, but if you're looking to use your streaming player for gaming, too, pay attention to your options. The Amazon Fire TV, for example, boasts more than 500 games and gives users the option to purchase an optional dedicated game controller (sold separately).
For more advice about what to look for when purchasing a streaming device, check out our Streaming Media Player Buying Guide.
Courtney Jespersen is a staff writer covering personal finance for NerdWallet. Follow her on Twitter @CourtneyNerd and on Google+. 
Updated Dec. 1 2016.
---
Images via Apple and Amazon.