E*TRADE Core Portfolios Review 2021: Pros, Cons and How It Compares
E*TRADE's robo-advisor brings low expense ratios and specialty portfolio choices. The platform offers extensive educational tools and financial planning services. It will especially appeal to existing E*TRADE customers.
Many or all of the products featured here are from our partners who compensate us. This may influence which products we write about and where and how the product appears on a page. However, this does not influence our evaluations. Our opinions are our own. Here is a list of our partners and here's how we make money.
---
The investing information provided on this page is for educational purposes only. NerdWallet does not offer advisory or brokerage services, nor does it recommend or advise investors to buy or sell particular stocks or securities.
Our Take
The bottom line:
E*TRADE Core Portfolios offers notably low expense ratios and deep educational resources, as well as specialty investment options to match a variety of risk profiles and investment aims.
Fees
Account Minimum
Promotion
None
no promotion available at this time
Pros & Cons
Pros
Extensive investor tools and educational resources.
Strong customer service.
Low investment-expense ratios.
Specialty portfolio options.
Compare to Other Advisors
Fees

0.15%

per year (approximately)

Promotion

None

no promotion available at this time

Promotion

Free

career counseling plus loan discounts with qualifying deposit

Promotion

No advisory fees

your first 90 days of Vanguard Digital Advisor investment management (Enrollment requires a Vanguard account with a minimum of $3,000)
Get more smart money moves — straight to your inbox
Become a NerdWallet member, and we'll send you tailored articles we think you'll love.
Full Review
Where E*TRADE Core Portfolio shines
Portfolio fees and specialty options: E*TRADE Core Portfolios uses low-cost exchange-traded funds with low expense ratios. It also offers socially responsible ETFs and a smart beta ETF.
Strong customer service: Customers gain access to excellent customer support and an impressive arsenal of investor tools and educational resources, including financial planning guidance from investment advisor representatives.
Where E*TRADE Core Portfolios falls short
Tax strategy: The company doesn't offer tax-loss harvesting, a service that can significantly reduce capital gains taxes.
---
E*TRADE Core Portfolios is best for:
Current E*TRADE customers.

Cost-conscious investors.
E*TRADE Core Portfolios at a glance
Investment expense ratios

Average management fee for taxable portfolios is 0.05%. Average management fee for all portfolios is 0.06%.

Account fees (annual, transfer, closing)

$75 full transfer out fee; $25 for partial transfer out.

Following a partial transfer, customers with a remaining account balance of greater than $5,000 will not be charged the partial transfer fee.

Portfolio mix is generally well-diversified but lacks exposure to international bonds and non-market-correlated assets such as real estate investment trusts and commodities.

Portfolios are customizable – clients can select socially responsible ETFs or a smart beta ETF based on their investing preferences.

Socially responsible portfolio options

Clients can choose to invest in SRI portfolio options for no additional fee.

• Individual and joint non-retirement accounts.

• Roth, traditional, rollover and SEP IRAs.

All brokerage accounts automatically enrolled in a tax-sensitive investment strategy.

Drift and semiannual rebalancing.

Clients do not have an individual financial consultant or portfolio manager assigned to the account. However, clients can consult with investment advisor representatives who have their Series 7 and 66 designations. Some employees have their CFP designations.

Bank account/cash management account

E*TRADE offers a premium savings account with 0.05% APY.

Customer support options (includes how easy it is to find key details on the website)

Team of investment advisor representatives available Monday-Friday, 8:30 a.m. to 8:30 p.m. Eastern. Live customer service representatives available 24/7 via phone or chat.
More details about E*TRADE Core Portfolios' ratings
Account minimum: 4 out of 5 stars
E*TRADE Core Portfolios has a $500 account minimum that applies specifically to an E*TRADE Core Portfolios account rather than an aggregated balance across all E*TRADE accounts. However, existing E*TRADE clients can use the intra-firm transfer tool to easily convert their accounts to Core Portfolios. You don't need to sell any securities before doing so — the robo-advisor will do that for you by liquidating holdings that aren't in your recommended portfolio, commission-free. (You may, however, have capital gains or losses in the process.)
Account management fee: 3 out of 5 stars
To manage your account, robo-advisors sometimes charge a fee. E*TRADE Core Portfolios charges a fee of 0.30%. If you have a balance of $50,000, for instance, your account management fee would be $150.
Investment expense ratios: 5 out of 5 stars
E*TRADE uses low-cost exchange-traded funds, with expense ratios that range from 0.05% for taxable portfolios to 0.06% for all portfolios.
Account fees: 3 out of 5 stars
Robo-advisors sometimes charge fees for activities such as transfers. With E*TRADE Core Portfolios, you're charged $75 for a full transfer out and $25 for a partial transfer out. If customers choose to do a partial transfer and they have a balance over $5,000, they aren't required to pay the partial transfer fee. There is no cost for $0 incoming wire transfers and $25 for outgoing ones.
Customers will also pay a $2 handling fee for each E*TRADE Securities paper statement mailed to them unless they're exempt. According to E*TRADE, "Exemptions include: customers enrolled with electronic statements, retirement and custodial accounts, global trading accounts; customers with a combined value of $10,000 in cash and securities in linked E*TRADE Securities accounts; customers with a combined balance of $20,000 or more in linked E*TRADE Securities and E*TRADE Bank accounts."
Portfolio mix: 3.5 out of 5 stars
Each customer or potential customer is taken through a series of nine questions designed to assess risk tolerance. The questionnaire is one of the most thorough we've seen. E*TRADE poses queries from multiple angles to try to figure out how the investor will tolerate various levels of risk and market fluctuations. And, admirably, the profile questionnaire is available without logging in or creating an account.
Once you've finished the questions, you're able to view a recommended portfolio. E*TRADE shares a recommended asset allocation, along with 15-year historical index returns in a best, worst and average case scenario for context. Investors are presented with two options — a recommended portfolio choice and a suitable alternative. E*TRADE shows customers the specific investments that will be in their portfolio in an investment proposal near the end of account enrollment.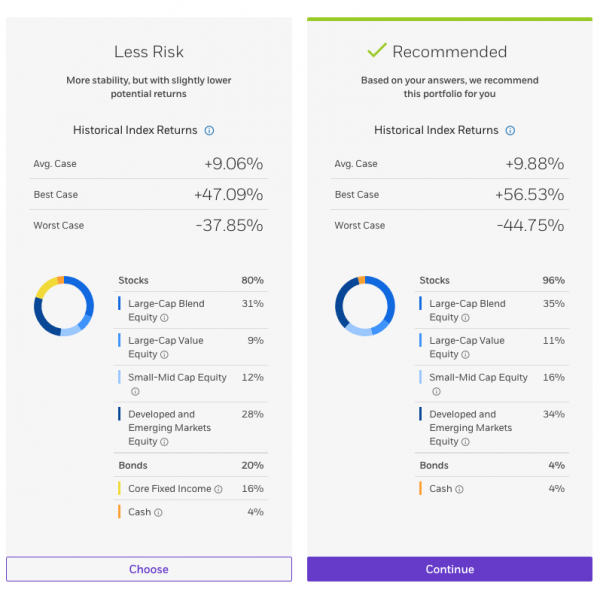 Customers can expect a well-diversified portfolio, but they won't be exposed to international bonds and non-market-correlated assets such as real estate investment trusts or commodities.
There is also the option of a smart beta ETF. Smart beta funds take a more active approach to investing with the goal of outperforming a benchmark rather than just mirroring it.
Socially responsible portfolio options: 5 out of 5 stars
Clients have the option of personalizing the equity portion of their portfolios by swapping E*TRADE's standard-issue ETFs with socially responsible ETFs, which will screen out companies that don't align with certain environmental and social values.
Accounts supported: 3 out of 5 stars
E*TRADE supports individual and joint non-retirement accounts; custodial accounts; Roth, traditional, rollover and SEP IRAs.
Tax strategy: 2 out of 5 stars
In taxable accounts,  tax-loss harvesting involves selling losing investments to offset the gains from winners and reduce capital gains taxes. It's widely available among robo-advisors for free, although some advisors impose an additional balance requirement before the service takes effect. E*TRADE Core Portfolios doesn't offer tax-loss harvesting.
Instead, Core Portfolios automatically enrolls all taxable brokerage accounts in a tax-sensitive strategy using municipal bond ETFs that can help minimize Uncle Sam's bite on the interest and dividends associated with those portfolios. Customers can choose to opt out by taking the questionnaire again.
Automatic rebalancing: 5 out of 5 stars
When the market shifts, that can cause your asset allocation to shift. E*TRADE offers drift and semiannual rebalancing of your portfolio to make sure your asset allocation stays in line with your investment goals and risk tolerance.  It will also review your account for material deposits and withdrawals, and rebalance if it shifts too far from its target asset allocation.
Human advisor option: 4 out of 5 stars
Customers won't have access to individual financial consultants. There is, however, access to a team of investment advisor representatives who have their Series 7 and 66 designations. Some employees are certified financial planners.
Savings account/cash management options: 2 out of 5 stars
Customers can open premium savings accounts with E*TRADE. It currently offers a 0.05% annual percentage yield.
Customer support options: 4 out of 5 stars
In addition to the vast library of tools and investor education, as noted above, E*TRADE Core Portfolios customers can consult with a team of investment advisor representatives during extended hours Monday through Friday.
They can provide guidance on building a retirement portfolio, and estimate projected income and financial needs in retirement. They can also provide investment recommendations, deliver portfolio-building strategies, and advise on financial decisions such as retirement, college and tax planning.
For general customer service, live representatives are available to answer questions via phone or chat 24/7.
A portion of our rating for customer support is devoted to how easily our testers are able to uncover key bits of information on the provider's website. With E*TRADE Core Portfolios, we struggled to find details we think are important for potential customers, including the investments used in portfolios and instructions for closing an account.
Other features you should know
Clients also have access to all of the educational content provided by E*TRADE, which is extensive: Investors can learn about topics such as how to build an emergency fund and how to perform complex options trades. E*TRADE's website also provides impressive retirement planning tools and guidance.
Is E*TRADE Core Portfolios right for you?
E*TRADE has created a solid contender in the robo-advisor arena. While the service's management fee is a bit above that at two other robo-advisor heavies — Wealthfront and Betterment each charge 0.25% — the ETFs used by E*TRADE may have lower expense ratios, depending on your portfolio.
How do we review robo-advisors?
Arielle O'Shea and Tiffany Lam-Balfour contributed to this review.
Disclosure: The author held no positions in the aforementioned securities at the original time of publication.
How do we review robo-advisors? Here's our methodology.
NerdWallet's comprehensive review process evaluates and ranks the largest U.S. brokers by assets under management, along with emerging industry players, using a multifaceted and iterative approach. Our aim is to provide an independent assessment of providers to help arm you with information to make sound, informed judgments on which ones will best meet your needs.
DATA COLLECTION AND REVIEW PROCESS
We collect data directly from providers, and conduct firsthand testing and observation through provider demonstrations. Our process starts by sending detailed questionnaires to providers to complete. The questionnaires are structured to equally elicit both favorable and unfavorable responses from providers. They are not designed or prepared to produce any predetermined results. The questionnaire answers, combined with product demonstrations, interviews of personnel at the providers and our specialists' hands-on research, fuel our proprietary assessment process that scores each provider's performance across more than 20 factors. The final output produces star ratings from poor (one star) to excellent (five stars). Ratings are rounded to the nearest half-star.
Evaluations vary by provider type, but in each case are based upon the weighted averages of factors that include but are not limited to: advisory and account fees, account minimums and types, investment selection, investment expense ratios, trading costs, access to human financial advisors, educational resources and tools, rebalancing and tax minimization options, and customer support including branch access, user-facing technology and mobile platforms.
Each factor can involve evaluating various sub-factors. For instance, when gauging the investment selections offered by robo-advisors, 80% of the score is based on the potential for diversification (how well-diversified a resulting portfolio of investments could be) combined with the availability of specialty portfolios and level of customization for investors. Expense ratios form an additional 10% of the score, and low or no management fee the remaining 10%.
The weighting of each factor is based on our team's assessment of which features are the most important to consumers and which ones impact the consumer experience in the most meaningful way. The factors considered, and how those factors are weighted, change depending upon the category of providers reviewed.
Writers and editors conduct our broker reviews on an annual basis but continually make updates throughout the year. We maintain frequent contact with providers and highlight any changes in offerings.
The review team comprises seasoned writers, researchers and editors who cover stocks, bonds, mutual funds, index funds, exchange-traded funds, alternative investments, socially responsible investing, financial advisors, retirement and investment strategy on a daily basis. In addition to NerdWallet, the work of our team members has been published in The New York Times, The Washington Post, Forbes, USA Today, Bloomberg News, Nasdaq, MSN, MarketWatch, Yahoo! Finance and other national and regional media outlets.
The combined expertise of our Investing team is infused into our review process to ensure thoughtful evaluations of provider products and services from the customer perspective. Our writers and editors combine to have more than 70 years of deep experience in finance, ranging from a former Wall Street Journal reporter to a former senior financial advisor at Merrill Lynch.
While NerdWallet does have partnerships with many of the reviewed providers, we manage potential conflicts of interest by maintaining a wall between our content and business operations. This wall is designed to prevent our writers and the review process from being influenced or impacted by our business partnerships. This way, all reviews can provide an unbiased review that serves the interests of our users. For more information, see NerdWallet's editorial guidelines.