Editorial Review
Motif Investing Review 2019
Motif Investing is part broker, part portfolio manager and part idea-generation tool, but investors looking for a dedicated broker or robo-advisor may be better served elsewhere.
At NerdWallet, we strive to help you make financial decisions with confidence. To do this, many or all of the products featured here are from our partners. However, this doesn't influence our evaluations. Our opinions are our own.
Our Take
The Bottom Line: Motif is great for socially conscious investors or buying fractional shares - not for beginners.

Fees
Account Minimum
Promotion
None
no promotion available at this time
Pros & Cons
Pros
Fractional shares.

Portfolio trades of up to 30 stocks or ETFs.

Theme- and values-based guidance.
Cons
No dividend reinvestment.

Minimal trading tools.
Compare to Other Advisors
Promotion

Up to 1 year

of free management with a qualifying deposit

Promotion

$5,000

amount of assets managed for free
Full Review
Motif Investing is a unique offering: Part broker, part portfolio manager and part idea-generation tool, the company lets investors trade stocks and exchange-traded funds — including fractional shares — for just $4.95 (or $0 for next-day trades). It also allows users to build and trade "motifs" — themed collections of up to 30 stocks or ETFs — for just $9.95 at the next market open or $19.95 in real time.
The company also offers two automated investing choices: Motif Impact Portfolios, an automated investing service for socially or environmentally conscious companies or industries, and Motif Blue, a $19.95 monthly subscription service that gives three monthly commission-free real-time trades and real-time quotes.
Motif Investing is best for:
Those who want to buy fractional shares of stocks or ETFs.

Thematic or impact investors.

Those who want to invest in IPOs.

ETF investors.
Motif Investing at a glance
Because Motif is a sort of hybrid, we ran it through our rubric for brokers and, separately, our rubric for robo-advisors. This provided the best apples-to-apples and oranges-to-oranges comparisons, as well as some scoring differences. For example, customer service is weighted differently for Motif's brokerage arm because there are more options there compared to robo-advisor services (which by nature require a lighter customer service touch).
Below the tables, this review more fully explains each aspect of Motif's service.
Where Motif Investing shines
Flexibility: Motif Investing meets the needs of many different types of investors. Those who want to trade individual stocks and ETFs can do so, and have access to all U.S.-listed securities. Users also trade stocks in dollar amounts — say, $5,000 of Apple — rather than by the share, which means fractional shares are available and the service is suitable for small-dollar investors.
Then there are the motifs, which allow investors to build their own small-scale funds out of up to 30 stocks or ETFs. Account holders can access a catalog of pre-built options — some created by Motif Investing, some by other investors who have opted to publicly share — create one from scratch, or customize an existing motif. Motif also offers American depository receipts, which trade on U.S. markets but represent shares in foreign companies.
Trading costs: Trading stocks, ETFs and fractional shares for $4.95 per trade is a competitive price, and Motif Investing is unique in offering $0 next-day-market-open trades (the downside, of course, is the price can shift between making the order and next-day prices).
Motifs: These are the foundation of Motif Investing and the feature that really makes the company stand out. The motifs fall into two overarching categories: professional motifs and community motifs. The professional motifs are built by Motif Investing, and the community motifs are built by investors on the platform who choose to share their motifs.
There are more than 100 professional motifs that trade for $9.95 in real-time, or $0 if you're willing to wait until the next market open. Community motifs and motifs you build yourself trade for $19.95 in real-time or $9.95 at next market open. Professional motifs also charge a licensing fee of 0.25% to 0.50% that functions like an expense ratio.
The depth here is impressive: Those who want to purchase a pre-built model can use tools to explore the options, including filters that search by professional or community, by category — such as green investing, financial services, social causes, health care, energy and natural resources — and by custom search terms.
More than 12,000 community-built motifs include themes as diverse as "stem cell stocks" or a "hell in a hand basket" motif (for investors looking to short the market).
The catalog maintains lists of motifs sorted by performance, most purchased and highest dividend yield, alongside a ranking of 30-day winners and 30-day losers.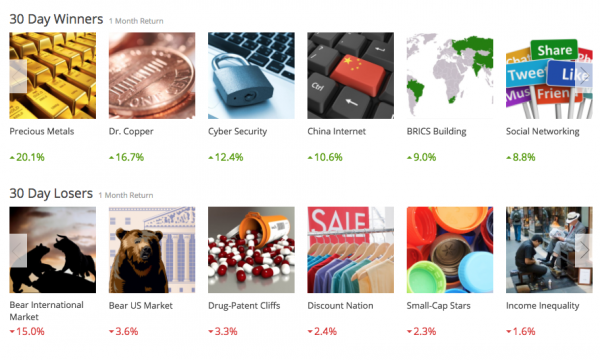 And then there are the Horizon Model motifs, which function like target-date funds, investing with a specific date in mind and reducing risk as that date approaches. The professionally built Horizon Model motifs are free of licensing fees.
To build your own motif, search stocks and ETFs, add the ones you want and adjust their weighting by either customizing each selection or allocating weighting evenly or by market capitalization. The tool automatically shows how your motif would've performed over the last year, benchmarking against the S&P 500, and that performance measure adjusts as you add and remove investments or change the weighting.
Theme-based guidance: If you're a mission-driven investor, meaning you want to know that your investments align with your values or support specific industries you believe in, Motif is an attractive choice. Motif Impact Portfolios allows users to choose investments by three investing themes: Sustainable Planet, a portfolio of companies with a small carbon footprint, as scored by third-party firm MSCI ESG Research; Fair Labor, which picks firms with strong labor management and supply chain standards; and Good Corporate Behavior, which chooses companies with strong business ethics and fraud protection.
Or you can build a theme of your own. As noted above, the company makes it easy to sort motifs by categories, and you can easily create a portfolio with stocks and ETFs that align with your values. In this way, the service is similar to Stash, which also helps investors identify ETFs that align with their values, but Motif offers a much wider selection at arguably lower costs than Stash, which has a subscription-fee model.
IPOs: Motif provides access to select initial public offerings with no trading commission or fee. Account holders can browse upcoming IPOs on the site and indicate their interest or sign up to be notified about upcoming IPOs via email. The company offers fractional shares, but investors must commit a minimum of $250 to participate in an IPO. Like stock orders, IPO orders are placed in dollar amounts rather than by share.
Motif Blue: Motif Blue allows account holders to buy into their chosen motifs at a set frequency — biweekly, monthly, quarterly or annually — without paying a commission each time.
Instead, investors pay $19.95 for three commission-free real-time trades per month, unlimited commission-free next market open trades, and real time quotes.
Where Motif Investing falls short
If you're an investor who dollar-cost averages into the market, putting money into the same investment on a regular basis, you could save on commissions with Motif Blue. But it's important to compare costs.
First, that savings assumes you're investing in commissioned funds or individual stocks. You could easily build a portfolio of commission-free ETFs or no-transaction-fee mutual funds at another broker and pay nothing for each subsequent contribution. While motif offers free trades on single stocks and ETFs at next market open, the market price could swing significantly in that time.
The other comparison investors should make is to a robo-advisor, which would offer commission-free access to ETFs and auto-rebalancing for a management fee of around 0.25%. On $10,000, that works out to $25 per year; investors in Motif Blue would pay $239 plus any licensing fees on their motifs.
Of course, Motif Investing differentiates itself with all the qualities highlighted above: the ability to build or find a motif that aligns with a particular mission or value system, auto-rebalancing combined with the hands-on investing of building your own motifs, and the flexibility of fractional shares.
Minimal trading tools: Motif Investing seems in part to target active traders, but the service lacks some of the features these traders typically want, including diverse research, analysis tools and a variety of order options. For example, traders can use stop and stop-limit orders only on sell orders. (For more on what those terms mean, see our post on how to buy stocks.)
Is Motif Investing right for you?
There are plenty of investors who will love this kind of service: You can get your hands dirty and customize a portfolio at a low cost. The ability to trade up to 30 stocks or ETFs for one low commission is truly noteworthy, as is the support in finding investments that align with your values. Motif is also one of the best services for diversifying a small investment, either by investing in motifs or buying stocks and ETFs in fractional shares.
On the other hand, Motif might not be the right choice for investors who prefer a hands-off approach — a robo-advisor might make more sense in those cases. And someone who wants to build a portfolio of commission-free ETFs or no-transaction-fee mutual funds, or trade other strategies like options, might also prefer another brokerage.