Rich Uncles Review 2020: Pros, Cons and How It Compares
Rich Uncles allows you to invest in 45 income-producing commercial properties located in 14 states via a non-publicly-traded real estate investment trust.
Many or all of the products featured here are from our partners who compensate us. This may influence which products we write about and where and how the product appears on a page. However, this does not influence our evaluations. Our opinions are our own.
Our Take
The bottom line: With a minimum investment of $500, Rich Uncles provides an affordable entree for investors looking to expand their portfolio into real estate investing and potentially earn monthly dividend payments from rental income. But investors should know that 3% of their initial investment goes directly to fees.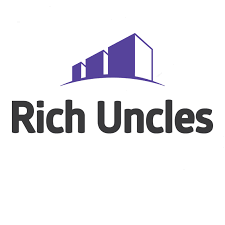 Fees
3%
upfront fee; other fees may apply
Account Minimum
Promotion
None
no promotion available at this time
Pros & Cons
Pros
Access to commercial real estate investments.

$500 minimum to begin investing.

Open to non-accredited investors (but some restrictions apply).
Cons
Highly illiquid investments.

Unable to choose among commercial projects.

Limited investment choices.
Compare to Similar Brokers
Fees

1%

other fees may apply

Promotion

None

no promotion available at this time

Promotion

Advisory fee waiver

for 24 months
Full Review
Rich Uncles is a crowdsourced real estate company that allows investors to invest in commercial properties through a real estate investment trust, called a REIT.
Rich Uncles reopened to new investors in January 2020 after the company finished combining its two separate REITs into one fund with over $450 million in real estate assets under management.
The combined fund, called the RW Holdings NNN REIT, is not publicly traded on an exchange, but it is required to register and submit an annual audit with the Securities and Exchange Commission. This gives greater transparency than some other real estate investments — but it's important to remember that because the REIT isn't sold on a public exchange, shares can be harder to sell and their value can be more difficult to assess than publicly traded REITs. (Learn more about investing in REITs.)
Investors looking for a low-cost entry into real estate investing.

Investors who don't need their cash back for years.

Investors looking for potential monthly income.
| | |
| --- | --- |
| | Net worth of $250,000 or more, or gross annual income of at least $70,000 and a net worth of at least $70,000. |
| | |
| | Redemption program with no penalty after three-year holding period. |
| | 3% at purchase of shares. Other fees may apply. |
| | Non-publicly-traded REIT with 45 retail, office and industrial tenants in 14 states. |
| | This is our judgement of how easy it is to find critical information on the Rich Uncles website, including platform fees, account minimum and redemption options (if offered). |
| | This is our judgement of how easy it is to find critical information about investment offerings, including investment fees, risks, risk mitigation efforts, the process for vetting investments and how investment returns are distributed to investors. |
| | |
Rich Uncles features you should know
Low minimum investment: While some online real estate investment sites like CrowdStreet have minimum investments of $25,000, Rich Uncles' minimum investment requirement is only $500 — a more affordable choice, especially for beginning investors.
Investment properties: Rich Uncles, based in Costa Mesa, California, operates 45 income-producing properties in 14 states, including 19 retail properties such as gas stations, Dollar General stores and Walgreens drug stores; 14 office complexes for companies like Costco and engine-manufacturer Cummins Inc.; and 12 industrial tenants, including a global distribution hub for manufacturing conglomerate 3M.
The Rich Uncles REIT is a triple net lease (or NNN) fund, which means tenants pay all expenses on the properties — including taxes, insurance and maintenance — keeping investor expenses down. The reorganized Rich Uncles REIT also requires that no one tenant represents more than 8% of net rents, and the top five tenants comprise no more than 32% of total rents — moves to help ensure that the loss of any one tenant won't have an outsize impact on rental income.
The fund doesn't have a set deadline for a liquidity event (such as sale of properties), and may never sell the properties. Check the Rich Uncles prospectus for full details before you decide to invest.
Fees: Investors pay a 3% initial fee on any purchased shares; that goes toward Rich Uncles' operating costs, so only 97% of your cash is actually invested. The fund has no external management fees, asset management fees or acquisition fees, the company says.
Share cost and dividend payments: The estimated cost per share (known as the NAV) was set at $10.27, but may fluctuate based on market conditions. Dividends are paid on a monthly basis, or may be automatically reinvested. For 2020, the Rich Uncles board set an annualized dividend equal to $0.70 for every share held, but dividends may fluctuate or halt depending on market conditions.
Investments funded through an IRA: You need to open a self-directed IRA to fund your Rich Uncles account. If you don't already have a self-directed IRA, Rich Uncles will help you open one from a choice of five custodial providers: Pensco Trust Company, NuView Trust Company, Strata Trust Company, Equity Trust Company or Millennium Trust Company.
Investor requirements: Rich Uncles requires a net worth of at least $250,000, or a gross annual income of at least $70,000 and net worth of at least $70,000 to invest (net worth excludes the value of the investor's home and autos). This is less stringent than other investment platforms, like EquityMultiple, that are open only to accredited investors. The SEC defines an accredited investor as having a net worth of more than $1 million or annual income in each of the last two years of at least $200,000 for individuals ($300,000 for couples who file joint tax returns).
States where available: Rich Uncles is available to investors in these 25 states as of February 2020 (but more may be added — check with the provider for a current list): Alaska, California, Colorado, Connecticut, Florida, Georgia, Hawaii, Idaho, Illinois, Indiana, Kentucky, Louisiana, Missouri, Montana, Nevada, New Hampshire, New York, South Carolina, South Dakota, Texas, Utah, Virginia, Vermont, Wisconsin and Wyoming.
Share repurchase agreement: Real estate investments are long-term propositions, and non-traded REIT investments typically have less liquidity than traditional stock market investments. But Rich Uncles offers a share repurchase agreement for investors who want to take cash out sooner than expected. Withdrawals within a year of the initial investment pay a 3% fee, which is reduced to 2% within two years and 1% within three years. However, the company may halt repurchases if it doesn't have sufficient cash reserves.
Is Rich Uncles right for you?
Rich Uncles offers the opportunity to invest in a diverse collection of commercial retail estate properties across industries and states, at an affordable price for the average investor. As a triple net lease fund, the property expenses are on the tenants rather than the investors — a definite plus. Its share repurchase program is a comfort in the highly illiquid world of real estate investing, but it's important to remember that market conditions may still lock you into your investment.
One thing to note: In September 2019, Rich Uncles paid a $300,000 settlement to the SEC for 2017 violations related to how it advertised and advised investors about its previous selection of funds. Rich Uncles' reorganization puts its recent SEC problems in the rearview mirror, but that violation might still give some investors pause.
It's important to understand that there are other options for investing in real estate, including publicly traded REITs, which can be valued, bought and sold more easily than non-traded REITs. There are also REIT mutual funds, which offer investors a diversified real estate portfolio without the trouble of evaluating individual REIT investments.
The online brokers below all offer publicly traded REITs and REIT mutual funds: