AIB Business Banking Overview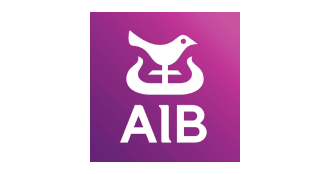 AIB business banking can suit a range of business sizes. Find out more about the accounts on offer, how to open one, and what features you could expect.
Visit Website
Browse Allied Irish Bank UK Business Bank Accounts FAQs
AIB is a financial services company operating in the Republic of Ireland. With over 200 branches across the country, it's one of Ireland's largest banks. The AIB parent company, Allied Irish Banks Ltd, was founded in 1966 after the amalgamation of three separate Irish banks.
Today, AIB aims to achieve Net Zero in its financed emissions by 2040, and for 70% of its new lending to be green or transition by 2030.
AIB also offers an online app that provides the flexibility to choose between online banking and chatting in-branch.
Read on to find out more about AIB business banking services, including the features you can expect to find and how to apply.
What business accounts do AIB offer?
AIB Business Banking offers a variety of business accounts in Ireland, which are listed below:
The Business Current Account allows you to manage your cash flow and access an overdraft. Account fees apply, and charges for certain features.
The Business Start Up Account is designed for new businesses. It allows you to bank online or in person and you can currently enjoy two years fee-free.
The Young farmer current account is designed for people getting into agriculture. It can help with setting up your business and, like the Start Up account, currently offers a fee-free period of two years for certain charges.
The Currency Current Account can be opened in a currency other than the Euro. It supports international payments and can support Sterling for businesses trading in the UK.
AIB also offers The Currency deposit account and Demand deposit accounts.
» COMPARE: Business bank accounts
How do I open an AIB Business Account?
AIB provides an online tool that lets you download an application form, which you can then hand-in to an AIB branch.
If you're looking for a sole trader business account, you'll need to make an appointment with your local branch, rather than use the form.
On the account application form, you'll need to state your type of business, whether you're already an AIB customer, and the country of your registration. After that, one director and one employee who's authorised to sign any transaction will need to provide photographic ID and proof of address.
While the process is generally simple, you need to visit an AIB branch to finalise your application.
» MORE: How do I open a business bank account online?
What features does the AIB Business Account offer customers?
AIB currently offers a range of features, including:
Five different business cards, including credit, debit, and purchasing cards
Zero annual fees on Business Debit Cards currently
Treasury Services to help your business identify and manage risks
Online Help Centre
Tailored solutions for certain specific sectors
Currently it offers two years' waive of transaction fees and account fees on Start Up Account and Young farmers account
Cash withdrawals from ATMs (for a fee)
Integration with account software platforms, including QuickBooks
Cash deposit options through the Post Office (for a fee)
Standing orders and Direct Debits
How does AIB compare to other banks?
AIB Business Account details

FCA regulated

Yes

FSCS protection

Yes

Licensed bank

Yes

Free UK transfers

Yes

Cash deposits

Yes (for a fee)

Free ATM withdrawals

No (p

ossible for a

fee)

Integration with account software

Yes

International transfers

Yes

Create and send invoices

Yes
What do other AIB Business Banking reviews say?
Below, you'll find user reviews:
App Store: 3 out of 5, based on 1,603 reviews
Google Play: 2.9 out of 5, based on 19,599 reviews
TrustPilot: 1.3 out of 5, based on 394 reviews
This information is correct as of 28 April, 2022.
Conclusion
AIB could be anoption for many businesses in Ireland, offering various services tailored towards specific sectors, including agriculture, healthcare, energy, and retail. It also caters for companies of all sizes, from startups to established corporations.
With its app enabling you to send invoices and make payments from your smart device, AIB could be suitable if you'd like to manage your finances on-the-go. At the moment it also has over 200 branches across Ireland.
AIB has environmental targets – such as reaching Net Zero by 2030 – which may align well with you if your company has green goals of its own.
With all of its branches in Ireland, AIB may not be as convenient for businesses in the UK.
AIB Business Account FAQs
AIB stands for Allied Irish Banks.
Can I get an AIB Business Account?
You can open an AIB Business Account, if you're eligible, using the online application form on the AIB website.
If you're a sole trader, you'll need to make an appointment with your local branch to set up your new account.
You may compare business bank accounts using the comparison tool on this page.
AIB operates in the Republic of Ireland, having closed its British branches in 2020.
Is there an AIB business credit card?
AIB offers three business credit cards, one purchasing card and one debit card, with varying annual fees.
About the author:
Dan is an experienced writer of B2B and B2C content, having written for start-ups, small businesses and household name brands. His specialist topics include finance, insurance and business energy. Read more
Services offered by this provider may change over time. Always check Ts&Cs.
See all business current account providers