Ulster Bank Business Account Overview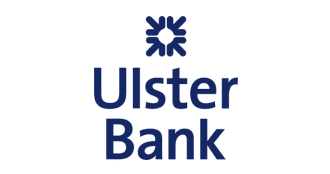 Ulster Bank offers business options in Northern Ireland. Find out more about their accounts, application process and features.
Visit Website
Browse Ulster Bank Business Bank Accounts FAQs
Founded in 1836, Ulster Bank has a long history of providing banking services to consumers, small businesses and corporations in Northern Ireland.
Ulster Bank offers a range of business accounts, with offerings for startups, growing businesses, non-profits and organisations that trade internationally, so you can find a setup that matches your needs.
Ulster Bank also provides its business customers with access to environmental products, advice, and resources, such as loans for green assets, and mentorship from environmental experts.
Find out everything you need to know about Ulster business banking.
What business accounts do Ulster Bank offer?
Ulster Bank currently offers four bank accounts for businesses at different stages of growth or with different requirements.
The Business Bank Account is for businesses with turnover under £6.5m and fewer than 50 employees. It provides access to anytime banking, international payments, local business managers and comprehensive borrowing options for a quarterly fee.
The Startup Bank Account is available to new businesses that have been trading for less than a year and have turnover under £1m. It provides all the same features as the Business Bank Account, but without transaction fees for the first 18 months.
The Community Bank Account is for non-profits and charities, with free or reduced tariff banking available for up to two years.
The Foreign Currency Account is only available to existing Ulster Bank customers. It allows you to make and receive payments in a range of foreign currencies and has no minimum or maximum balance.
For all of Ulster's business accounts, your business needs to reside in Northern Ireland and all of your business owners must be UK or Irish residents.
» COMPARE: Compare business bank accounts
How do I open an Ulster Bank Business Account?
You can apply for an Ulster Bank business account online. To do so, your business must reside in Northern Ireland and you must be over 18. Additionally, all business owners must be either UK or Irish residents.
Select the account you wish to open on the Ulster Bank website and follow the steps. You'll need to provide some information about you and your business.
Personal details include your name, address, date of birth, and contact details, and details of any directors, partners, members or signatories.
For your business, you'll need your trading and any registration addresses, contact details, your business activity, number of employees, financial year end date, registration for tax purposes, and details of your cash flow forecasts. Limited companies will also need their registered company number.
Once you have the necessary information to hand, you can get started. HooYu, Ulster Bank's identification and security partner, will review your identity and run a credit check. Then you just need to wait for Ulster Bank to get in touch.
» MORE: How to open a business bank account online
What features does the Ulster Bank Business Account offer customers?
Ulster business banking offers a range of in-branch, online, mobile and telephone services to its business customers:
Manage the finances of up to 50 business accounts with Anytime Banking and Ulster Bank business online banking
Variety of card payment machines available through Tyl
Business lending to fund growth, including overdrafts, loans, asset, and invoice finance
Fee-free access to FreeAgent accounting software as long as you hold an account
A relationship manager (dependent on turnover and eligibility)
Opportunities for network growth through local business managers and Ulster Bank Accelerator
Support on your climate goals with funds for sustainable assets and green initiatives
Make payments in foreign currencies through the Foreign Currency Current Account
Deposit cash in-branch or at the post office
Enhanced digital banking services through Bankline, including multiple accounts and users, customised roles, secure payments.
Access to a credit card
How does Ulster Bank compare to other banks?
| | Ulster Bank Business Account details |
| --- | --- |
| FCA regulated | Yes |
| FSCS protection | Yes |
| Licensed bank | Yes |
| Free UK transfers | Yes |
| Cash deposits | Yes |
| Free ATM withdrawals | No |
| Integration with account software | Yes |
| International transfers | Yes |
| Create and send invoices | No |
What do other Ulster Bank Business Account reviews say?
Ulster Bank's mobile app has received positive reviews from its users on a number of review sites.
App Store: 4.6 out of 5, based on 2,088 reviews
Google Play: 4.3 out of 5, based on 9,927 reviews
However, Ulster Bank itself has just 1.7 out of 5 on TrustPilot, based on 227 reviews
This information is correct as of 27 April 2022.
Conclusion
Ulster Bank offers a range of accounts and services for startups,small businesses and not for profits, making it possible to find a setup that works for you.
As well as offering traditional in-branch services, Ulster Bank allows you to bank from home or while on the move with Anytime, mobile, and telephone banking, and offers enhanced digital banking services through Bankline.
You can also access small business essentials to help your business grow, including card payment machines, loans and overdrafts, and its business accelerator.
Ulster Bank's commitment to environmentally-friendly banking, including green mentors and loans for green assets, may also be a major benefit if you need help hitting your environmental goals.
You will be subject to charges for many everyday banking services, but as long as you take the time to work out how these charges will align with your everyday business activities, you can make an informed decision on whether Ulster Bank is right for your business.
Ulster Bank Business Account FAQs
Who owns the Ulster Bank?
Ulster Bank was transferred to NatWest in 2021 using the Banking Business Transfer Scheme, though it still operates under the Ulster Bank brand and its banking services have remained the same for business customers.
Can I get an Ulster Bank Business Account?
To open an Ulster Bank business account, your business must reside in Northern Ireland and you must be over 18 years old. Additionally, all business owners must be residents of either the UK or Ireland.
How long does it take to open an Ulster Bank Business Account?
Ulster Bank claims that it takes around 10 minutes to open an Ulster Business Banking Account.
Where does the Ulster Bank operate?
For business customers, Ulster Bank operates in Northern Ireland only.
Is there an Ulster Bank business credit card?
Yes, Ulster Bank's OneCard is available to business customers for an annual fee It currently offers an interest-free credit period and allows you to set spending limits, restrict transaction types, and track your spending online.
About the author:
Henry is passionate about helping individuals and businesses stay informed. Over the last 8 years, he's written for startup and small business sites, with a focus on finance, insurance, and websites. Read more
Services offered by this provider may change over time. Always check Ts&Cs.
See all business current account providers