New York has long had the highest health insurance premiums in the country, and many are interested to see if Obamacare corrects this price discrepancy—or if New Yorkers will continue to pay higher rates than the rest of the country. With the success of Obamacare hinging on young, healthy adults signing up for these plans, we wanted to know how much these plans might actually cost young adults.
Meet Samantha: she's a 27-year-old, uninsured, single woman with a yearly income of about $23,000—roughly the median income for uninsured adults under 30. Like most young people, Samantha wants health insurance, but she can't afford any plans currently available. She's hoping that she'll be able to get something affordable through Obamacare. Here's a basic idea of the plan types that Samantha and others seeking insurance through Obamacare will have access to come October 1.



NerdWallet designed the Obamacare Plan Finder web app to help young, uninsured adults like Samantha find the most affordable plans available on the new insurance marketplaces. New York State of Health, New York's health insurance marketplace, released an Excel-based tax credit and premium estimator. NerdWallet Health did the homework to see how much individuals like Samantha might actually have to pay to get insured across 62 counties in New York state.
What we found:
Monthly premiums (before subsidies) are expensive for young adults—over $4,000 per year for a Silver plan.

Across the 62 counties in New York, the average minimum monthly premium for a Silver plan without subsidies is $337 ($266 for Bronze)—which adds up to over $4,000 a year.
The highest premium offered to someone like Samantha tops in at almost three times that: a Platinum plan costs $920/month, and is available through Empire Blue Cross in Clinton and Essex counties.
Obamacare offers premium assistance to people whose income is within a certain range, meaning that they pay less for monthly premiums. Those who earn above the maximum pay the full premium, and those who earn below the minimum are eligible for Medicaid.

Premium assistance can save young adults money on the right plans, reducing costs to about $44/month for young adults like Samantha.

Across the 62 counties in New York state, young adults with median incomes like Samantha can expect to pay somewhere around $44 or $114 per month for the lowest-cost Bronze and Silver plans, respectively.
On average, young adults like Samantha will receive roughly $222 in monthly subsidies to offset the price of either a Bronze or Silver plan.
The most expensive Bronze and Silver plans for young adults in New York state are $402 and $493, respectively—a pretty penny for plans that have higher copays and deductibles when an insured member falls ill.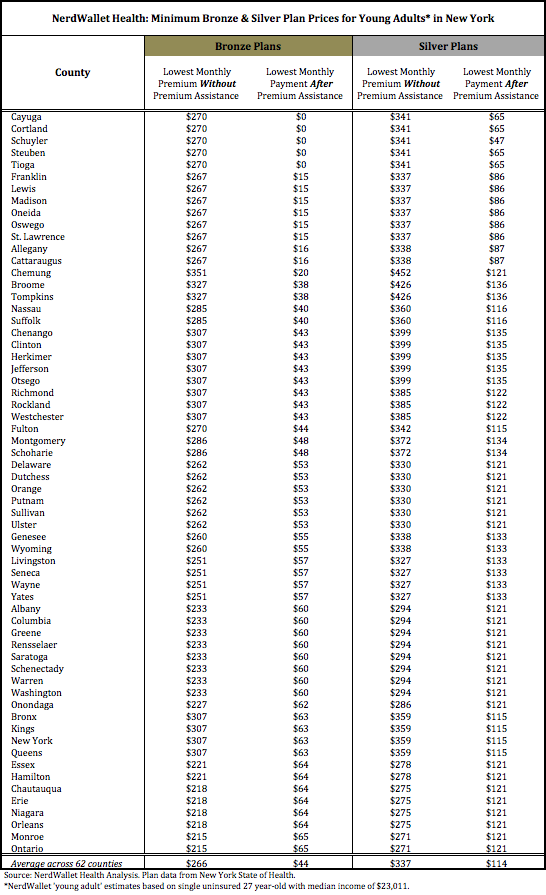 With an average minimum rate of $44, Bronze plans can be the most affordable option for healthy young adults, but price depends on where you reside
More than half of the counties in New York state offer young adults like Samantha a subsidized Bronze plan for less than $50 each month. 14 counties offer monthly subsidized rates under $20.
According to the official New York state rate estimator, in some counties young adults may receive Bronze plans for free. These plans will be fully subsidized.
While Bronze plans do require higher copays and deductible payments, at just 39% the cost of the Silver plan the price of Bronze plans may be right for many young adults.
Plan prices vary significantly—in some counties Bronze plans cost five times more than in other parts of the state
To buy the lowest price health insurance, young adults living in Utica and Rome will pay just one-fifth of the price of a young adult in Rochester.
Uninsured young people living in Binghamton or Ithaca will be surprised to find the lowest price Silver plan costs then $136, but their friends in Utica and Rome will pay only $86 each month.
Bargain shopping can get you lower deductibles and copays for the same price—some Silver, Gold, and Platinum plans will be available for less than more expensive Bronze plans

Pricing varies significantly, even for the same plan type. In Albany county, insurance company Health Republic quotes Samantha a price of $60 for a Bronze plan while BlueShield of Northeastern New York would charge $289 for its Bronze plan. If Samantha had over $200 to spend on health insurance, she could buy a Platinum plan – with zero deductible – from Health Republic for only $219!
Silver plans start at $47 per month, while the most expensive Silver offering is over ten times this price at $493.
Discussion

A recent poll found that more people go without health insurance because it is too expensive than for any other reason—not surprising considering that almost 75% of uninsured young adults have incomes under 250% of the Federal Poverty Level. It's debatable if young adults in New York will spring for the new insurance plans offered beginning October 1. NerdWallet Health's analysis reveals that New York State of Health will provide some low-cost insurance options—alongside many high priced plans. A recent study by NerdWallet Health revealed that the lowest subsidized rates in New York and California will be similar—but that unsubsidized rates will be higher in New York. Says Christina LaMontagne, VP of Health at NerdWallet, "while some affordable options exist, health insurance shoppers should be aware of all of their options—including plans that aren't part of the state exchange. People who aren't eligible for subsidies in New York will have to pay high prices for 'affordable' plans available through New York State of Health."
Young adults in New York looking for insurance through the state exchange should do their research before committing to a plan. Opting for a certain company might cost hundreds, or even thousands, more every year—and since the law mandates that certain benefits are included in all plans (such as free preventative screenings and emergency services), you could end up paying much more for the same coverage. According to LaMontagne, "Young adults should decide what they are looking for in a plan. In addition to price, they should ask questions like: Are hospitals and providers in their area included on the plan? Will they be using healthcare service often, making a higher tier plan a better option? With many higher tier plans costing the same as Bronze plans, the possibility to get a lot more 'bang for your buck' is big in the New York exchange."
Methodology
We collected insurance plan and pricing data from New York State of Health's Tax Credit and Premium Estimator. NerdWallet 'young adult' estimates are based on a single uninsured 27 year-old with a yearly income of $23,011, the median income for young uninsured adults according to a report by the CommonWealth Fund. 'Average lowest monthly payment ' and 'average lowest monthly premium' were found by computing the average of the lowest monthly payments/premiums for a Silver or Bronze plan across the eight regions analyzed. 'Average monthly payment' for each metal tier was found by calculating the average subsidized payment across all plans of a given tier. Least and most expensive regions were determined by calculating the average monthly payment by tier for each region.
Please consult your state's website for the most up-to-date information on individual insurance plan options. The prices provided in this study may not match exact health insurance costs when the state marketplaces officially open on October 1, 2014.
About NerdWallet Health
NerdWallet Health provides transparency to patients, empowering them to choose better and more affordable health care. NerdWallet Health's Obamacare Plan Finder web app helps young adults find the most affordable insurance plans in just one click. Please consult a health professional for medical advice.