Florida hospitals charge vastly different prices for the same procedures, depending on which hospital a patient chooses for care. Whether insured, uninsured, or waiting for new Obamacare plans to start up in 2014 – savvy Floridians will want to know which hospitals offer more affordable rates. NerdWallet Health built a Best Hospitals tool to help patients investigate the cost of hospital care in their local areas. Using this same data we analyzed the 100 most common treatments at over 100 hospitals in Florida to find the top 10 most affordable large hospitals. We asked the following questions:

1) Which Florida hospitals offer the highest number of affordable treatments, and where are they located?
2) What are these treatments?
3) How satisfied are patients of these hospitals?

The Top 10 Most Affordable Hospitals in Florida

1. Indian River Medical Center—Vero Beach, FL
This 335-bed, non-profit medical center has more than just the basics, with all private rooms, Chef's Choice room service, and free Wi-Fi. Indian River recently received a $24 million gift for cancer care and currently performs robotic surgery on-site. It claims to have nationally recognized vascular surgery and orthopedic services, and it welcomes over 1,200 babies per year in its birthing center. The medical center dedicates lots of resources to cardiac care, with a designated Heart Center affiliated with Duke Medicine and the area's first Heart Valve Center. Indian River is most affordable for many cardiac procedures, as well as respiratory failure, food poisoning, and internal bleeding. Despite it's affordability, the medical center receives patient satisfaction rates of 73%, which is barely over the nationwide average.
2. Bay Medical Center—Panama City, FL
Bay Medical Center boasts the only comprehensive heart program in the Panama City area. It is certified by the Joint Commission as a Center of Excellence for heart attack, heart failure, and stroke and is also highly sought after for surgery – it performs 400 open-heart surgeries a year. Most affordable for cardiac care and joint replacement, the Center recently inaugurated a comprehensive joint program that includes a free pre-surgery class and performs about 1,000 orthopedic surgeries per year. In previous years, Bay Medical Center received the HealthGrades America's 50 Best Hospitals award and was recognized as a "Best Regional Hospital" by U.S. News & World Report. Patients reported 77% satisfaction here.
3. Sacred Heart Hospital—Pensacola, FL
Sacred Heart Hospital is part of Ascension Health, the nation's largest Catholic, non-profit health system, as well as Sacred Heart Health System, which has existed since 1915. In 2012, Sacred Heart Hospital partnered with Bay Medical Center (see #2). The hospital itself includes a 466-bed acute care facility and designated children's and women's hospitals. It is the region's leading stroke center and you can find affordable stroke treatment here—as well as affordable care for seizure and pneumonia. Patients were also relatively satisfied here, with a 77% reported satisfaction rate.
4. Halifax Health Medical Center—Daytona Beach, FL
This 678-bed hospital is the area's only Level II Trauma Center and Pediatric emergency department. It features a 24-hour emergency department, and is part of Halifax Health System, which also offers psychiatric services, four cancer treatment centers, and the area's largest hospice organization. Its Centers for Cardiology, Orthopedics, Neurosciences, and Oncology have consistently ranked in the nation's top 5% for clinical outcomes. Go here for affordable angioplasty and surgery to the hip or thigh bone—but beware that it received patient satisfaction rates of 68%, which is slightly lower than the national average.
5.Sarasota Memorial Hospital—Sarasota, FL
This 806-bed medical center with 802 physicians and over 1,000 volunteers was founded in 1925. It specializes in cardiac, vascular, and neurological care, and is the only hospital in Sarasota that provides obstetrical and pediatric services. It is also a Level III neonatal intensive care unit. Sarasota Memorial is ranked as #48 in the nation by U.S. News. It has earned "high performing" designation in diabetes & endocrinology, gastroenterology, geriatrics, nephrology, orthopedics, and pulmonology—not surprising considering 81% patient satisfaction rates. Patients with asthma, Alzheimer's, or high blood pressure should look for affordable treatments here.
6. Cape Coral Hospital—Cape Coral, FL
A part of the Lee Memorial Health System, Cape Coral Hospital opened in 1977 and joined Lee Memorial in 1996. A 291-bed acute care hospital with all private rooms, it holds the largest Emergency Department in Lee County, serving over 55,000 patients annually and employing over 600 physicians. Find affordable treatments for heart attack and psychoses here, but know that the hospital receives only 63% satisfaction rates.
7. Naples Community Hospital—Naples, FL
This hospital features advanced heart, cancer, obstetric, newborn, and pediatric care. A member of the Mayo Clinic care network, Naples Community Hospital is Joint Commission accredited and rated as high performing in orthopedics by U.S. News. The Shick Heart Center here provides the most progressive cardiac care in southwest Florida. Patients can find affordable pacemaker implantation and spinal fusion here, but lower than average patient satisfaction rates of 69%.
8. Morton Plant Hospital—Clearwater, FL
Founded in 1916, this 687-bed hospital features over 50 specialty areas. A recent 4-year expansion project will include a new patient tower and an additional main entrance. Morton Plant was one of Thomas Reuters' Top 100 U.S. Hospitals in 2012, and the hospital receives patient satisfaction rates of 81%. Hip fracture repair and substance abuse treatments are affordable here.
9. Lee Memorial Hospital—Fort Myers, FL
Lee Memorial is the only Level II Trauma Center between Tampa and Miami—this 335-bed acute care facility employs about 1,800 individuals, has over 1,000 physicians on staff, and is helped by over 500 volunteers. This hospital has been around the block—it opened in 1916. It was one of 50 of HealthGrade's America's Best Hospitals in 2013. Additionally, its All-Star Total Joint Center is the 7th most active joint replacement center in the nation. Patients with diabetes and blood clots in the lower extremities can find affordable treatments here—along with 72% satisfaction rates.
10. Leesburg Regional Medical Center—Leesburg, FL
Part of the Central Florida Health Alliance, this 322-bed hospital was built in 1963. It features a Regional Heart Institute—which is one of the largest heart programs in the state—and is the region's first designated stroke center. Leesburg Regional received the Joint Commission Seal of Approval, but only 64% of patients report being satisfied with this hospital. Treatment for severe anemia and aortic aneurism repair are most affordable here.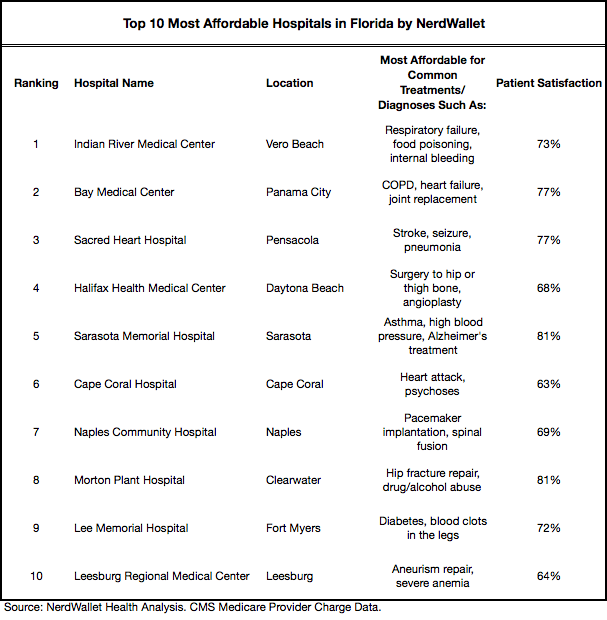 Learn more about options for health insurance  in Florida.

Methodology:
Affordability: Using CMS Medicare Provider Charge Data, we first determined the 50 largest hospitals in Florida (of 166 total) by calculating the total number of Medicare patient discharges per year. We then calculated which of these 50 has the lowest price for each of the 100 most common medical procedures, and then summed the number of times that each hospital had the lowest price. The data are for services billed for Medicare patients.
Procedures/diagnoses: For the procedures that each hospital was least expensive, we presented the most commonly known.
Patient satisfaction: Patient satisfaction rates were obtained from HCAHPS, a nationally administered survey on patient satisfaction. "Satisfied" was taken to be patients who reported, "I would definitely recommend this hospital" on this survey.
Hospital characteristics: Individual hospital websites and U.S. News & World Report Best Hospitals.
Florida flag photo courtesy of Shutterstock