Home Hospital Care Is on the Rise — Is It Right for You?
The pandemic gave a boost to the concept of sending patients home for certain types of care. Here's what to know.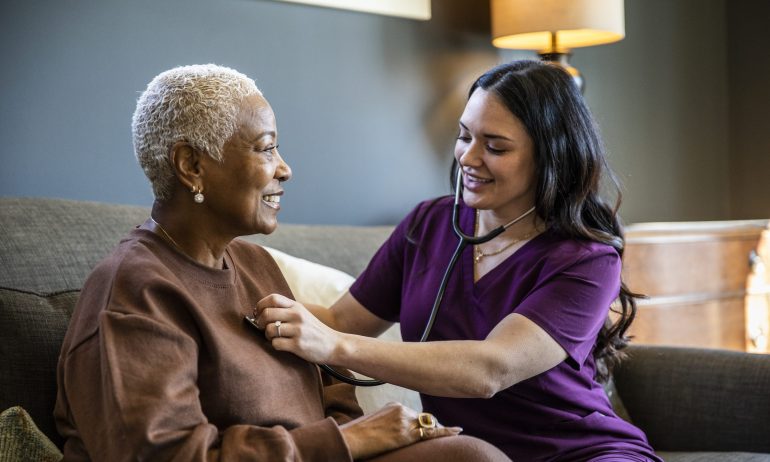 Many or all of the products featured here are from our partners who compensate us. This influences which products we write about and where and how the product appears on a page. However, this does not influence our evaluations. Our opinions are our own. Here is a list of our partners and here's how we make money.
Incessant patient-monitor alarms. Hospital food. Middle-of-the-night checks of vital signs. The audible suffering of random roommates.
Yes, being in the hospital is no fun, and not only because you're receiving treatment for an acute illness or serious injury.
Decades ago, doctors began wondering if select patients presenting in hospital emergency rooms with certain illnesses and injuries couldn't be sent home to be monitored closely and treated there, rather than being admitted to a hospital ward. This seemed feasible for many chronically ill patients experiencing flare-ups, such as people with complications from diabetes or certain heart conditions.
"Who wouldn't want to be home rather than in the hospital?" says Dr. Jeff Levin-Scherz, an assistant professor at the Harvard T.H. Chan School of Public Health and a health management consultant at WTW, a financial services company. And the stressful hospital environment isn't just unpleasant for patients; it can impede their healing.
"

Who wouldn't want to be home rather than in the hospital?

"
Jeff Levin-Scherz

,

health management consultant
Adoption of the concept took off in late 2020, as the overcrowding of hospitals treating COVID-19 patients motivated the federal government to authorize and reimburse hospital-at-home care across the country. These programs, now available through nearly 300 hospitals in 37 states, are demonstrating some ability to provide acute, hospital-level care for patients in their own homes, through a variable mix of provider visits, infusions and other treatments, remote monitoring and portable diagnostics.
Many emergency department physicians are glad to consider home hospital care for appropriate patients. "It gives ER doctors an extra option for patients who they are thinking about admitting," says Dr. Gregg S. Meyer, president of the Community Division and executive vice president of Value-Based Care for the Mass General Brigham health care system in Boston.
But home hospital care may not be the best option for everyone it's offered to. Data on health outcomes is limited, and a patient's personal preferences and home situation should factor into the choice of acute care setting. Insurance coverage for home hospital care may not be the same as for traditional inpatient care.
Here's what you or someone close to you should know about home hospital care — just in case.
Which illnesses and conditions are suited to acute care at home?
Hospital-at-home programs can treat diseases like pneumonia, chronic obstructive pulmonary disease, diabetes, liver disease and heart failure (a chronic condition), as well as acute conditions like serious urinary tract or skin infections. Each provider institution creates its own list of diseases and conditions for which it may offer acute care at home.
In addition to direct medical care, institutions typically offer a range of services for a hospital-at-home admission. Health care provider Kaiser Permanente's program for advanced care at home offers services such as medical equipment, oxygen, laboratory testing, medical meals and supplies, mobile diagnostics, pharmacy, blood draws and transportation.
Still, there is reason for caution. For one, the physicians' task of choosing the right patients to be offered acute care at home — "those not too sick but sick enough" — is complex, wrote the authors of a 2023 paper analyzing the effectiveness of burgeoning hospital-at-home programs, published in Public Policy & Aging Report. "Minimal research informs this issue, and no reliable standards or diagnostics have yet been set."
Will my insurance pay for home hospital?
If you have private insurance through an employer or state or federal marketplace, contact your insurer and inquire about your coverage for hospital-at-home services provided by specific hospitals in your area. Medicare has led the way with paying for home health care, reimbursing these programs for their services at the same rate as if the patient were in the hospital.
Medicaid coverage for home hospital care varies by state. Contact your state's Medicaid office to learn more.
How does the quality of care compare?
Because hospital-at-home programs are just beginning to gain traction, research on the quality of care that they provide is limited. But so far, the data is mostly encouraging.
"There are dozens of randomized controlled trials that show that acute care at home is actually superior to traditional care in the hospital on many, many outcome metrics," says Dr. David Levine, a clinician-investigator at Brigham and Women's Hospital and an assistant professor at Harvard Medical School.
According to Mount Sinai Health System's data on its home hospital program, 30-day re-admission rates for the New York City provider's home hospital patients were less than half of those treated in the hospital: 7.8% versus 16.3% for the two years ending December 2016.
On another key metric, how long a patient remains in acute care, Mount Sinai's impressive results were in line with those of many other home hospital programs. The average length of stay for acute care was 5.3 days for patients in the hospital versus 3.1 days for the system's hospital-at-home patients. (Since 2020, the average home hospital stay has increased to 4.4 days, probably for reasons related to the COVID-19 pandemic.)
However, concerns about patient care quality and safety have made many physicians reluctant to send acutely ill patients to home hospital care, according to the Public Policy & Aging Report paper. "To date, a handful of rigorous studies have found positive cost and quality results, but these are based on tiny samples."
How safe is home hospital care?
How does patient safety compare for home hospital versus inpatient care? Each environment has pros and cons. In a hospital ward, a registered nurse is always seconds away, and a doctor can be at a patient's bedside in minutes; response times for home hospital care are longer. But hospitals have their own safety problems. In 2015, an estimated 72,000 patients with health-care-acquired infections died while in the hospital, according to the Centers for Disease Control and Prevention.
Overall, home hospital care has "very, very low unexpected mortality and very low rates of complications," says Dr. Bruce Leff, director of The Center for Transformative Geriatric Research at Johns Hopkins Medicine.
Some patients receiving acute care at home say they feel safer in their own domestic environment than in a hospital. That was the case for Theresa Corcoran, 87, who in April 2023 suffered a cut on her leg that required many stitches. Weeks later, after developing a serious skin infection in the injured leg, Corcoran was evaluated at Brigham and Women's Hospital in Boston during a 24-hour stay and then admitted to the system's hospital-at-home program, which provided antibiotic infusions and wound care.
"Getting to the bathroom wasn't easy for her" while she was in a hospital ward, says Bridget Ellis, a registered nurse. Ellis was one of the nurses who visited Corcoran during her time in hospital at home. Corcoran said that during her treatment she felt more confident moving around her own home in Belmont, Massachusetts.
The home environment also helps patients in acute care maintain their mental health while healing physically, Ellis says. "If someone wakes up in the hospital in the middle of the night, they're very confused about where they are. Not being around familiar faces and surroundings, people do get very confused and some lash out — it can be difficult to keep them safe."
A study at Johns Hopkins Medicine found that delirium was observed in 9% of hospital-at-home patients versus 24% of inpatients.
How does it feel to be a hospital-at-home patient?
When the hospital offered Corcoran admission to Mass General Brigham's hospital-at-home program, "my first thought was, 'Ooh, go home?' That sounded good," she says. "The places of comfort for me are in my own home." In the hospital, "there were people in beds in the hallway."
Corcoran says that at home, it was easier to heed her doctors' advice. "One of the good things about this is that I can find a spot that's comfortable in my house and keep my leg up." Corcoran also says that sleeping in her own bed in peace and quiet and having meals on her own terms helped set the stage for healing.
When Corcoran entered hospital-at-home care, "we had a lot of people coming in, and a lot of phone calls, and a lot of doorbells ringing," to set up the equipment and services that Corcoran would require, says Jane Chiarelli, Corcoran's daughter. "I think it's very important that the patient has somebody with them, at least at the beginning."
Mass General Brigham home hospital patients do have the option of receiving 24-hour care with home health aides.
How do home hospital patients fare after discharge?
In Ellis' experience, patients typically do better after they are released from hospital-at-home care than when they are discharged from a hospital ward.
"Being in the hospital, sometimes patients are in bed three or four days straight without getting up much," she says. "Patients get very weak, and they do end up in rehab. At home, they're not relying on nurses to bring them food, walk them to the bathroom or roll them in bed. They're up and moving around a lot more, so they keep up their strength."