SBA Loans for Business: How to Qualify
An SBA loan is a small-business loan offered by banks and online lenders, and partly guaranteed by the government.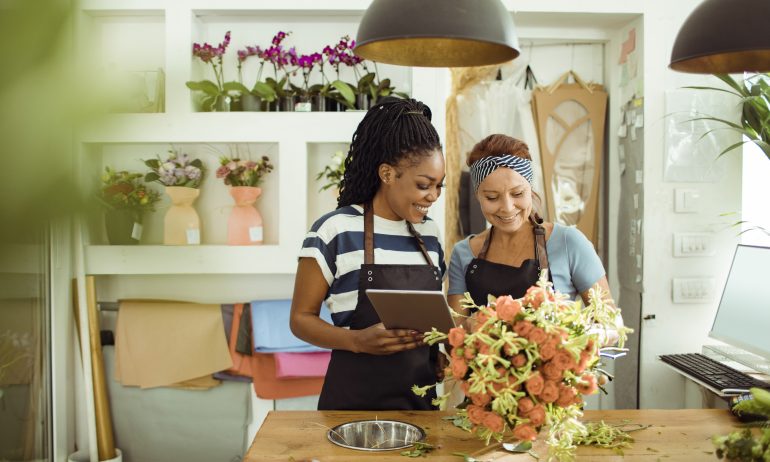 Many or all of the products featured here are from our partners who compensate us. This may influence which products we write about and where and how the product appears on a page. However, this does not influence our evaluations. Our opinions are our own.
Update Jan. 19, 2021: The latest round of the Paycheck Protection Program is open to small businesses hard hit by the coronavirus pandemic.
The legislation provides more than $284 billion for first and second forgivable coronavirus relief loans, reviving the Paycheck Protection Program that lapsed in the summer. It also widens the kinds of businesses that could seek PPP funding, such as news outlets, and adds funding for smaller, independent entertainment venues and restaurants. For the latest information, read our PPP page.
SBA 7(a) loans are loans that are partially guaranteed by the U.S. Small Business Administration and issued by participating lenders, usually banks.
Because these loans are backed by a federal agency, they can have more flexible terms and lower interest rates than traditional bank loans, making an SBA loan one of the best ways to finance your business.
It can be tough to get a loan from the SBA due to tight lending standards, but with a little know-how, you can maximize your chances.

APPLY FOR PPP ROUND 2
Does your business need a new or additional Paycheck Protection Program loan? Apply quickly and easily with BlueVine.
How does an SBA loan work?
When you apply for an SBA loan, you submit your application to the lending institution, and that lender then applies to the SBA for a loan guarantee. That means if you default on the loan, the SBA pays the lender the guaranteed amount. The maximum SBA guarantee is 85% for loans up to $150,000 and 75% for loans greater than $150,000.
The SBA also requires an unconditional personal guarantee from every owner of the business with at least a 20% ownership stake. This guarantee puts you and your personal assets on the hook for payments if your business can't make them.
Once approved, your lender is responsible for closing the loan and disbursing the loan proceeds. You repay the lender directly, usually on a monthly basis.
SBA loans can be used for many reasons, such as starting your business, managing expenses (think inventory and payroll), expanding your operations or increasing your safety net.
What types of SBA loans are there?
The 7(a) loan program continues to be the SBA's primary way of providing financial assistance to small businesses, but there are other types of SBA loans, each with its own terms and conditions.
| | | | |
| --- | --- | --- | --- |
| 7(a) loan program (SBA's flagship loan program) | | Banks, credit unions, specialized lenders | To fund working capital, expansion and equipment purchases |
| | | A combination of traditional lenders like banks and Certified Development Companies (CDC) | To fund long-term, fixed assets like land, machinery and facilities |
| | | Community-based nonprofits | To fund working capital, inventory, supplies, equipment and machinery |
What is an SBA disaster loan?
Outside of its three main lending programs, the SBA also offers disaster assistance to businesses, renters and homeowners located in regions affected by declared disasters.
These loans can cover physical damage, such as the cost of repairs and replacement to a home or other building, or economic injury, which cover small-business operating expenses.
Loans are limited at $2 million and processed through the SBA. You can view an updated list of current declared disasters on the SBA website.
What's the interest rate for an SBA loan?
In keeping with SBA rules, participating lenders set their interest rates based on the prime rate plus a markup rate known as the spread.
SBA 7(a) loan interest rates
7(a) loan paid off in under 7 years *

7(a) loan paid off in over 7 years *

*Rates calculated with the current prime rate of 3.25%. Updated January 2021.
Note that the APR on a loan is different from the interest rate. The APR is a percentage that includes all loan fees in addition to the interest rate.
Fees for SBA loans usually consist of an upfront guaranty fee, based on the loan amount and the maturity of the loan, and a yearly service fee, based on the guaranteed portion of the outstanding balance. The SBA reassesses its fee structure each year.
APRs can vary substantially between SBA lenders and non-SBA lenders. For example, an online lender that specializes in SBA loans may cap its APR around 10%, while major online small-business lenders that don't offer SBA loans have loans with APRs as high as 99%.
In addition to the low APRs, another perk of SBA loans is that you get more time to repay them, which means you'll have more money available for other business needs. The loan term will depend on how you plan to use the money. The current maximum maturities are:
Working capital or inventory loan: 10 years.
How do I apply for an SBA loan?
1. Make sure your business is eligible
If your business is struggling, an SBA loan is probably out of the question. And if it falls into any of the ineligible categories, such as charitable and religious institutions, you shouldn't apply.
Lenders typically like to see at least two years in business, strong annual revenue and a good credit score, which starts around 690.
2. Gather your application documents
If you think you qualify, the best place to start is the SBA website, which includes a loan application checklist. Use this to gather your documents, including your tax returns and business records.
Here are some of the documents you will need before applying:
SBA's borrower information form.

Statement of personal history.

Personal financial statement.

Personal income tax returns.

Lease agreement if applicable.

One-year cash flow projection.
The SBA offers a convenient Lender Match tool to match potential borrowers with lenders within two days.
If you're applying through a traditional bank, it helps to work with one that has a track record of processing SBA loans. Ask your potential lender these questions:
How many SBA loans do you make?

How often do you fund SBA loans?

How experienced is your staff in the process?

What is the dollar range of the loans you make?
In general, a bank with multiple years of SBA experience will be able to better guide you, including letting you know your chances of being approved. Banks will follow SBA guidelines but use their own underwriting criteria to evaluate loan applications.
The time it takes to get approved for an SBA loan will depend on the lender you choose. With a bank, the entire process — from approval to funding — can take from 30 days to a couple of months.
Short on time? The SBA has another financing program called SBA Express, which aims to respond to loan applications within 36 hours. The maximum amount for this type of financing is $350,000, and the maximum amount the SBA could guarantee is 50%.
SBA loans online: SmartBiz and Live Oak
Banks are the most popular place to get SBA loans, but online platforms have made it easier and faster to apply.
We compared two top options: SmartBiz, based in San Francisco, and Live Oak Bank, based in Wilmington, North Carolina.
You must have an established business and solid personal and business finances to qualify.
When is SmartBiz the right choice?
If you're looking for an SBA loan of less than $350,000 for working capital or debt refinancing, SmartBiz is a good choice. It works with partner banks to underwrite SBA 7(a) loans of $30,000 to $350,000. The lender also offers SBA 7(a) commercial real estate loans from $500,000 to $5 million.
When is Live Oak Bank the right choice?
Live Oak Bank is the most active SBA 7(a) lender in the United States by lending volume. Loan amounts range from $75,000 to $5 million.
To qualify, you must be in good financial standing and able to show personal and business tax returns for the past three years.
Find and compare small-business loans
If an SBA loan isn't the right fit, look for small-business loans to meet your needs and goals with the help of NerdWallet's comparison tool. We gauged lender trustworthiness and user experience, among other factors, and made recommendations based on categories including your revenue and how long you've been in business.