SBA 7(a) Loan: What It Is and How to Apply
SBA 7(a) loans are issued by private lenders and backed by the SBA. Terms and conditions can vary based on loan type and lender.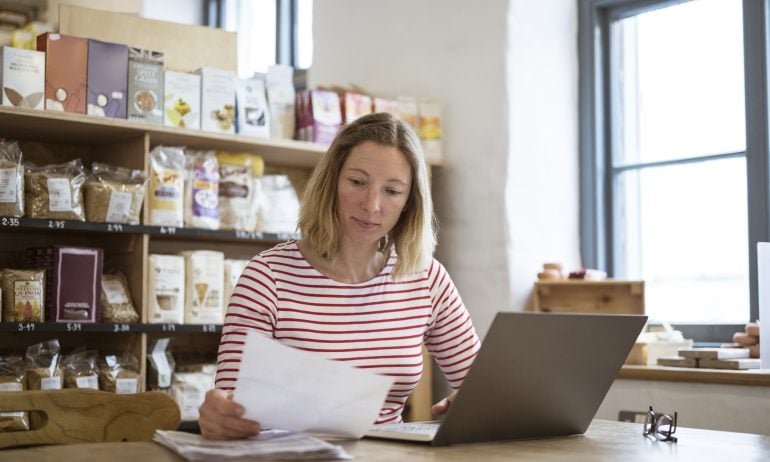 Many or all of the products featured here are from our partners who compensate us. This may influence which products we write about and where and how the product appears on a page. However, this does not influence our evaluations. Our opinions are our own. Here is a list of our partners and here's how we make money.
Like many SBA loans, SBA 7(a) loans are partially guaranteed by the U.S. Small Business Administration and issued by participating lenders, such as banks and credit unions. SBA 7(a) loans are the most common type of SBA loan, and therefore, the 7(a) loan program is one of the main ways the SBA supports small businesses — guaranteeing over 42,000 7(a) loans in 2020 alone.
Although SBA 7(a) loans can be hard to qualify for, they are an ideal option for business financing due to their long repayment terms and low interest rates. Plus, 7(a) loans can be used for a variety of purposes, including working capital, business expansions or purchasing equipment and supplies.
Here's what you need to know about SBA 7(a) loans and how to get one for your small business.
What is an SBA 7(a) loan?
An SBA 7(a) loan is a small-business loan issued by a private lender and backed by the SBA. Although "7(a) loan" is sometimes used as an all-encompassing term, the SBA 7(a) loan program consists of several different loan types (more on these below).
To apply for a 7(a) loan, you'll work with an SBA lending partner, like a bank or credit union, to complete an application. The lender will submit your application package to the SBA in order to receive a loan guarantee; this way, if you default on the loan, the SBA will repay the lender the guaranteed amount.
The SBA sets general guidelines for the 7(a) loan program that lenders must abide by, dictating maximum loan amounts, term lengths and interest rates; however, you'll receive the specifics of your SBA 7(a) loan from your participating lender.
SBA 7(a) loan rates and terms
The maximum term lengths for SBA 7(a) loans depend on the use of loan proceeds:
25 years for real estate.

10 years for working capital or inventory loans.
CAPLines of credit, however, have a maximum term length of 10 years, and the Builders line of credit cannot exceed a term of five years.
SBA 7(a) loan interest rates, on the other hand, are set based on the prime rate — a benchmark used by banks to dictate rates on consumer loan products, which changes based on actions by the Federal Reserve Board — plus a spread which is negotiated between you and your lender.
The spread may be fixed or variable, but is subject to SBA maximums, which are determined by the term length, or maturity, and the size of your loan.
Here's how the maximum SBA 7(a) loan rates break down:
| | | |
| --- | --- | --- |
| | Maturity of less than seven years | Maturity of more than seven years |
| | | |
| | | |
| | | |
As of April 2021, the prime rate is 3.25%.
It's important to remember that the interest rate is only one part of the overall cost of a 7(a) loan. Although the SBA restricts the fees lenders can charge, most SBA 7(a) loans will have a guarantee fee, which ranges from 0.25% to 3.75% based on the size of the loan.
Currently, due to the passage of the Economic Aid Act, the SBA has waived guarantee fees for lenders and borrowers (subject to the availability of funds) through Sept. 30, 2021.
There are six main types of SBA loans within the 7(a) program, plus the CAPLines program, which offers four different SBA lines of credit but generally adheres to the same requirements as the standard 7(a) loan.
The best SBA 7(a) loan for your business will depend on the amount of funding you need, how you intend to use the funding and how quickly you need it.
| | | | | |
| --- | --- | --- | --- | --- |
| | | | Application turnaround time from SBA | |
| | | | | Funding working capital, equipment and supplies purchases and real estate and business expansion |
| | | | | Funding smaller financing needs |
| | | 75% for loans of $350,000 or less and 50% for loans more than $350,000* | | Expedited funding for smaller loan amounts |
| | | 90% for loans of $350,000 or less and 75% for loans more than $350,000 | | Expedited funding to enhance a business's export development |
| Export working capital loan | | | | Funding working capital to support export sales |
| | | | | Long-term funding to expand export sales or modernize to contend with foreign competitors |
| | | | | Finance short-term and seasonal working capital needs |
The maximum SBA guarantee for standard 7(a) and small 7(a) loans will return to 85% for loans up to $150,000 and 75% for loans greater than $150,000.

The maximum loan amount for SBA Express loans will be $500,000 and all loans will return to the maximum SBA guarantee of 50%.

The maximum SBA guarantee for CAPLines of credit will return to 85% for lines up to $150,000 and 75% for lines greater than $150,000.
Although these criteria — maximum loan amount, SBA guarantee, application time frame and intended use case — differentiate the types of SBA 7(a) loans, some loans may also have different collateral policies, as well as specific application requirements.
The SBA pilot loan programs also fall under the larger umbrella of the 7(a) program. The SBA tests these programs for a limited time before deciding whether to extend them, make them a permanent part of the loan program or let them expire.
Currently, the SBA Community Advantage loan program is running through Sept. 30, 2022. This program focuses on providing financing to small businesses in underserved markets.
Previously, the SBA Express Bridge loan program offered financing to businesses in the wake of a declared disaster to help them cover costs while they awaited longer-term financing. This program expired on March 13, 2021.
SBA 7(a) loan requirements
Regardless of the type of 7(a) loan, you'll have to meet a standard set of requirements laid out by the SBA, as well as any requirements from your lender in order to qualify for financing. General SBA 7(a) loan eligibility criteria include:
Must be a for-profit business operating in the U.S.

Must be a small business, as defined by the SBA.

Must have, as a business owner, invested your own time and money into your business.

Must have sought out other forms of financing before turning to an SBA loan.

Must be able to demonstrate the need for a loan and show the business purpose for which you'll use the funds.

Cannot be delinquent on any existing government loans.
Certain types of businesses — such as real estate investment firms, religious organizations and gambling businesses — are not eligible for SBA 7(a) loans.
Additionally, although the SBA doesn't designate numerical minimums for evaluating a borrower's creditworthiness and ability to repay a loan, lenders will typically want to see a good personal credit score (690 and above), solid annual revenue and at least two years in business.
How to apply for an SBA 7(a) loan
If you think you might qualify for an SBA 7(a) loan, you can complete the application process by following these three steps:
1. Find an SBA 7(a) lender.
Hundreds of financial institutions offer SBA 7(a) loans, including national banks like Chase, Wells Fargo and Bank of America. You might start by contacting a bank you have a relationship with to see if it offers SBA 7(a) loans.
The SBA also offers a lender match tool through its website that allows you to provide information about your business and get connected with a lender in your area.
In general, you'll want to look for SBA lenders that have experience issuing 7(a) loans, as these institutions will be able to expedite the application process, answer questions you may have and, hopefully, increase your chances for approval.
To this end, you can view the 100 most active SBA 7(a) lenders list, which is updated quarterly on the SBA website. Additionally, you can look for banks or credit unions that are members of the SBA Preferred Lenders program; this program gives lenders more authority to process and close SBA loans.
2. Gather your documents and submit your application.
Your SBA lender will be able to help you gather your documents to prepare and submit a completed SBA 7(a) loan application. Although the requirements will vary based on the individual lender and the type of SBA 7(a) loan, here is some of the documentation you may need to provide:
SBA Form 1919, Borrower Information Form.

Personal background and financial statement (SBA Forms 912 and 413).

Business financial statements, such as balance sheets, profit and loss statements and projected financial statements.

Business certificate or license.

Loan application history.

Resumes for each business owner.

Business overview and history.
3. Wait for approval and close on your loan.
After you've submitted your SBA 7(a) loan application, you'll need to wait for approval — whether from your lender directly or the SBA. SBA Preferred Lenders may approve loans without the SBA reviewing the application, thereby expediting the timeline.
Once your loan is approved, your lender will start the closing process, which includes securing collateral, preparing loan documents and fulfilling any other authorization requirements. Your lender will then disburse your funds, and you will repay the loan in monthly payments over the course of the term.
Although the approval turnaround time on a standard 7(a) loan application from the SBA should be five to 10 business days, the entire application process can take anywhere from 60 to 90 days.
Find and compare small-business loans
If an SBA 7(a) loan isn't right for your business, or if you'd like to compare loan options, NerdWallet has a list of small-business loans that are best for business owners. All of our recommendations are based on the lender's market scope and track record and on the needs of business owners, as well as rates and other factors, so you can make the right financing decision.