8 Best E-Commerce Website Builders for Small Businesses in 2022
To find the best e-commerce website builder for your online store, compare available features and tools.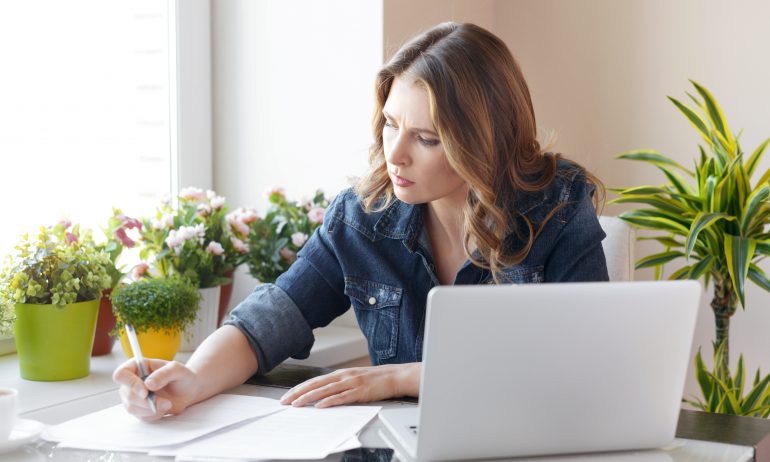 Many or all of the products featured here are from our partners who compensate us. This may influence which products we write about and where and how the product appears on a page. However, this does not influence our evaluations. Our opinions are our own. Here is a list of our partners and here's how we make money.
An e-commerce website builder makes it easy to launch any type of online business. Whatever you want to sell when you start your e-commerce business — physical products that ship, various services, digital goods like ebooks or music, or even online lessons — e-commerce website builders make it happen. They deliver all the tools you need to market your brand, accept payments and manage your online business.
E-commerce website builders come in all shapes and sizes. Some are very versatile and offer a wide range of selling options; others are tailored for specific selling needs. A few even let you combine several types of online income streams — like physical and digital product sales, content memberships and lessons — all within a single website.
Best of all, even the most powerful e-commerce website builders — including our top eight picks below — are extremely user-friendly. Each lets you quickly launch your online store without any experience or technical skills. Let's dive in so you can find the best e-commerce website builder for your online store.
Best e-commerce website builder: Comparison chart
If you're wondering, "What is the best platform to build an e-commerce website," you can start the search for your business by referring to our summarized breakdown of some of the top e-commerce platform options in our chart below:
| Ecommerce Website Builder | | |
| --- | --- | --- |
| | | All-in-one ecommerce website building. |
| | Free plan available; paid plans start at $29 per month. | Free e-commerce website building for Square POS users. |
| | Plans with e-commerce features start at $23 per month. | Businesses that want to offer appointment booking or subscriber-only content. |
| | | Highly customizable e-commerce websites. |
| | Starts at $29.95 per month. | |
| | Free if you process at least $500 per month using Shift4 payments. | Businesses that use Shift4 for payment processing or do business-to-business sales. |
1. Shopify: Best all-in-one e-commerce website builder
With over 800,000 online stores, Shopify is the most popular all-in-one e-commerce website builder on the market. It seamlessly combines your e-commerce website hosting, product and order management tools, digital marketing and multichannel sales all within a single platform. It even has a retail point of sale, or POS, that supports in-store sales if you want an integrated online and in-store sales solution.
Features and benefits of Shopify
Shopify is designed for product sales, both physical and digital. If you're planning to sell products that ship, sell digital items via download or sell in person, Shopify provides all the tools you need, including:
Beautiful plug-and-play store designs (called themes) and customization tools.

Quick launch using Shopify's intuitive store setup wizard.

Built-in payments via Shopify Payments, or use your own processor.

Free Digital Downloads app to manage digital product sales.

Powerful inventory management tools.

Built-in shipping label printing via Shopify Shipping.

Fully enabled social commerce via Facebook Shops, Facebook Messenger and Instagram.

Integrated multichannel sales via Amazon and eBay.

A huge suite of built-in digital marketing tools.

In-person payments using mobile card readers (part of Shopify Payments).

Complete Shopify POS solution for retailers looking to sell in-store and online.
Don't have any products to sell yet? Shopify can help you with that, too. It has built-in integration with the Oberlo dropshipping marketplace. Plus, you can find other dropshipping partners, including some top-rated print-on-demand vendors, in the Shopify Apps market.
There are two things that Shopify doesn't easily deliver in the world of e-commerce.
The first is online sales outside of physical or digital products. You can't combine product sales with members-only access to online content, like lessons or webinars, without using third-party apps, which generally add costs. Likewise, adding features like online appointments, prepaid bookings or donations all require added apps.
The important word here is easily. You can sell these things on Shopify, but you must find, install and set up an app to add those features. In contrast, e-commerce website builders like Squarespace and Wix have these sales options built in.
Blogging is another shortcoming of Shopify. It offers basic blogging functionality, but it's very simplistic compared to the blog-based e-commerce website builder WordPress, which we'll cover below.
Shopify doesn't have a free version, but its starter e-commerce website builder plan is just $29 per month. For that, you get two user accounts, unlimited products and access to multichannel sales and a ton of e-commerce marketing tools.
Higher-priced plans run $79 and $299 per month and support growing businesses with perks like advanced reporting and added sales tools. Shopify also has an Enterprise version, so if your business takes off, your e-commerce website platform won't hold you back.
It is important to note that Shopify tacks on added transaction fees if you don't use Shopify Payments for payment processing. These are 2% on the Basic Shopify Plan, 1% on the standard plan and 0.5% on the Advanced plan. It's important to consider these per-transaction fees if you want to use your own payment processor on Shopify.
2. WordPress: Best do-anything e-commerce website builder
WordPress is one of the most popular website builders in the world, powering an extraordinary 34% — over one-third — of all websites worldwide. This versatile platform is home to all types of personal and business blogs, marketing website sites, interactive learning sites and e-commerce websites.
In fact, its most popular e-commerce plugin, WooCommerce, currently runs 28% of all e-commerce websites worldwide — nearly 3.5 million online stores. While WooCommerce is the most popular e-commerce solution for WordPress, it's not the only one. You can add all sorts of online sales functionality to WordPress using an array of specialized e-commerce plugins.
Features and benefits of WordPress
As a blog-based website builder, WordPress gives you unlimited content creation and online store options. Basically, if you can dream it, you can build it on WordPress. To create any type of e-commerce website imaginable on WordPress, simply add an e-commerce plugin for sales functionality and a WordPress e-commerce theme to create your overall design.
Here are a few of the many online businesses you can run using the WordPress e-commerce website builder:
Create a content-rich website with informational articles, videos and blog posts.

Create a storefront-style website selling all types of physical or digital products.

Sell digital products alone or in combination with other products, memberships or lessons.

Sell items on blog posts by simply adding a "Buy" button to the page.

Set up item-specific landing pages for sales funnel marketing.

Create educational portals to sell single video lessons or full courses with tests and certifications.

Create a restaurant website that accepts reservations and delivery and pickup orders.

Accept appointments and sell services with prepaid bookings or deposits.

Create members-only access to content for music or e-learning sites.

Run a subscription box standalone site or offer subscriptions alongside other product sales.

Process payments with virtually any payment processor you choose.
WordPress e-commerce plugins also integrate with various dropshipping and print-on-demand vendors. Like Shopify, you also can use WordPress to start an online store even if you don't yet have any products to sell.
All of WordPress's incredible versatility comes at a cost, and that's ease of use. WordPress is not the most beginner-friendly e-commerce website platform. In fact, of the options in our list of the best e-commerce website builders for small businesses, they're one of the solutions that have the largest learning curve. However, you don't need technical or coding experience to build a great WordPress e-commerce website. You just need time and patience to learn how to navigate the environment.
WordPress also requires more setup than others on our list. WordPress has more moving parts, starting with website hosting, e-commerce plugins and store themes. Plus, you'll need other plugins to add features like search engine optimization, marketing tools, multichannel sales and social media integrations.
Unlike e-commerce website builders that provide built-in functionality and features, you have to put it all together on WordPress. However, that's also what makes WordPress infinitely expandable.
WordPress can be the most economical e-commerce website builder, especially when you're just starting out. WordPress itself is free, and so are the basic versions of many e-commerce plugins, including WooCommerce and Easy Digital Downloads. You can find plenty of free e-commerce themes, too.
Starting out, your only real expense is your website hosting, and that starts at just $2.95 per month on Bluehost. Bluehost also offers WooCommerce-specific hosting for $6.95 per month. It comes with WooCommerce pre-installed, plus other perks like additional storage and security, which is important for e-commerce sellers.
You generally have to pay for specialty e-commerce plugins that support online lessons and subscription sales. Plus, you can get more features if you opt for a paid WordPress theme. However, with added costs, the WordPress e-commerce website builder can be more economical compared to others on our list.
3. Square Online: Best free e-commerce website builder for Square users
Square Online is an extremely user-friendly e-commerce website builder. Its Square integration is an ideal way for Square users to expand into online sales. Plus, it's the only option on our list that offers a free subscription plan, making it one of the best free e-commerce website builders for small businesses.
If you want to launch a free Square Online store, head to your Square dashboard. From there, you can set up your store in just minutes, populate it with your existing products and conveniently manage all of your sales — in person, in store and online — in Square.
Features and benefits of Square Online
Square Online's seamless integration with the company's POS and in-person sales is its biggest selling point. The fact that any Square user gets a free e-commerce website with a tidy package of online selling tools is another feather in Square's small-business services cap.
The real strength of the Square Online website builder is its seamless integration with all of Square's selling tools. Other e-commerce website builders outperform Square Online in things like store design options, but for integrating with Square, they're tough to beat.
Here are a few of the many things you can do with the Square Online website builder:
Set up a complete, full-featured e-commerce website for free.

Cleanly sync product information and inventory counts between your Square POS and Square Online store.

Expand the features of the free Square Online store with paid plans.

Integrate Instagram on the free and paid plans; integrate Facebook Ads on higher paid plans.

Accept online donations alone or alongside product and service sales.

Sell products that ship or make orders available for local delivery or customer pickup.

Sell online and in-store services and take online bookings with prepayments or deposits.

Offer coupon codes and sell Square gift cards.

Accept online pickup orders for coffee shops, food trucks and other food and beverage outlets.

Build customer lists and market to customers via built-in Square Marketing tools like targeted email, feedback and loyalty programs.
Drawbacks of Square Online
Square Online doesn't match Shopify, Wix or Squarespace in terms of overall e-commerce features, and it will never match the expandability of WordPress. So, if you're looking for the most robust e-commerce website builder, it falls short.
However, it's a super-easy way for any Square user to reach their customers online. That's its purpose, and in that role, it excels. Square Online grows, you'll likely see more sales features and design options added to the mix.
Looking for a way to launch a full-featured e-commerce website for free? The free Square Online store is your best bet. It delivers all of the basics that you need to start selling a wide variety of products and services online.
As you grow, you can upgrade to paid plans to expand your sales and marketing features. The three paid plan options cost $16, $29 or $79 per month. You'll save if you prepay annually, and those costs average out to $12, $26 or $72 per month.
Of course, you do have to use Square to process your payments when you choose this solution. Online payment processing fees are 2.9% plus 30 cents per transaction for the free and lower-paid plans. That drops to 2.6% plus 30 cents per transaction on the highest-paid plan.
You also get Square's full suite of sales and business management tools, including its in-store POS system, mobile card reader, online invoicing, appointments, business reporting and employee-management tools, all at no added cost, making it one of the best free e-commerce website builders, as well as one of the top options for any Square POS user.
4. Squarespace: Best for influencer-type e-commerce websites
Squarespace is an all-in-one website builder that offers a nice suite of e-commerce sales tools along with 40 truly stunning plug-and-play website design templates.
Even a brand-new user can quickly and easily create a customized, visually appealing website using Squarespace. That explains why nearly 2 million websites, ranging from blogs and online galleries to all types of e-commerce stores, currently reside on Squarespace — and that number is growing.
Features and benefits of Squarespace
Squarespace combines great design and versatile e-commerce options with robust blogging capabilities that far exceed what you get on Shopify, Wix or Square Online. Its blogging tools aren't the match of WordPress (none are), but they're a much easier platform to learn.
For many, Squarespace perfectly balances sales and blogging capabilities with ease of use. Here are a few of the many things you can do with the Squarespace e-commerce website builder:
Become a blogger influencer, sell products and services online, and make money in affiliate sales.

Sell all types of physical products that ship and digital products via download.

Sell online or in-store services and offer online bookings with prepayments or deposits.

Create a website that accepts online donations alone or pairs them with sales.

Create a membership content website with paid access to things like music and online lessons.

Create a subscription box website or add subscription sales to your standard collection.

Market your photography, art or graphic design services using designs with visual impact.

Promote events, send invites, take reservations and RSVPs and sell tickets online.

Sell products and services on Instagram using Squarespace's direct integration.

Easily build email lists and implement email marketing strategies using Squarespace's built-in tools.
In terms of multichannel sales, Squarespace's e-commerce website builder doesn't match Shopify. For one, you can't directly integrate with Amazon, eBay and other sales channels, and you don't get perks like built-in shipping label printing or a Facebook Shop integration.
Nor is Squarespace as expandable as WordPress, or free like the Square Online store. That said, Squarespace fits somewhere in the middle of them all. It's easier to learn than WordPress, not as pricey as some all-in-one plans and offers more design potential than the Square Online store.
Simply put, you'll know if it feels "right" once you use it. Luckily, Squarespace has a 14-day free trial, so you can test-drive the platform risk-free before you commit.
The Squarespace website builder has four paid plans, but only two support e-commerce sales. If you want to sell any type of product or service on Squarespace, you need an e-commerce plan.
Squarespace's two e-commerce plans cost $30 or $46 per month. You'll save if you prepay annually, and that averages out to $26 and $40 per month. You'll need the higher-priced plan for features like membership sales and abandoned cart recovery.
5. Wix: Easiest e-commerce website builder for new users
Wix is the most beginner-friendly e-commerce website builder on our list. The Square Online option is a close second, but for creating a truly gorgeous e-commerce website out-of-the-box, you can't go wrong with Wix. In fact, at 110 million individual and small-business users, they're officially the most popular website builder worldwide. Much of that is due to its stellar ease of use.
Wix also offers an e-commerce version of its popular website builder. It's not as feature-packed as Shopify and WordPress-powered e-commerce websites but does deliver an extremely user-friendly e-commerce solution.
Features and benefits of Wix
Wix lets you easily and quickly build many types of beautiful websites. You can pick from over 500 website themes, then customize your website from there using intuitive drag-and-drop design tools. Wix also packs many online selling tools into its e-commerce website plans.
Here's a sampling of the many ways you can put the Wix e-commerce website builder to work for your business:
Create an online store that sells one, a few or entire collections of products online.

Market and sell original music with Wix's built-in customizable music player.

Set up a website for local services and offer online bookings with prepayments or deposits.

Market special events, create and manage guest lists and sell tickets right from your website.

Create an instructional website with subscription access to video, audio or blog content.

Market your restaurant, food truck or beverage business and accept to-go orders and reservations online.

Sell your photography, original art or design services via digital downloads.

Use simple blogging tools to create attention-getting content that attracts and engages your audience.

Build your brand using Wix's integrated email and social media marketing tools.
Like many of our best e-commerce website builders, Wix checks a lot of boxes. But while they're a very easy way to launch a website, they're not what most e-commerce experts consider a power-seller platform.
First, they're not multichannel-friendly. There's no direct integration to sell Wix products on Amazon, eBay and other seller marketplaces, unlike Shopify and many WordPress e-commerce solutions. Its back-end order management tools aren't as robust as these platforms, either. Also, your website's storage space is limited by your plan, unlike most all-in-one platforms that provide unlimited storage.
Nor does Wix have a built-in POS system to combine in-store and online sales. Wix supports some integrations, like Square POS, but built-in solutions like Square Online typically are more complete and reliable. It does support subscriptions; however, recurring payments require using Wix Payments, Stripe or PayPal.
Design-wise, Wix has a notable hiccup. Once you publish your website, you can't swap your entire design over to a new theme, like you can with most other e-commerce website builders. To completely change your online store's look, you have to completely rebuild it in a new theme.
Wix has three e-commerce website plans that range from $23 to $49 per month, plus an enterprise plan for power-sellers who want to stay on Wix rather than move to a platform like Shopify or WordPress.
The three Basic, Unlimited and VIP plans deliver all that most startups and small sellers need to launch and grow a business on Wix. Like most e-commerce website builders, when you're ready for more features, you can easily upgrade your plan without interruption.
6. BigCommerce: Best e-commerce website builder for Omnichannel selling
In addition to selling on their own e-commerce website, many merchants find success by diversifying their channels — that is, selling through social media, email, marketplaces and more. If you're looking for the best e-commerce website builder to implement this strategy, known as omnichannel selling, you'll want to consider using BigCommerce.
A top Shopify competitor, BigCommerce is similar to many of the other platforms we've discussed. With BigCommerce, you can quickly and easily customize and launch your own online store, process and manage orders, as well as market and promote your business.
Features and benefits of BigCommerce
As we mentioned, although BigCommerce is similar to many other platforms, one of the areas where it excels is its integrated sales channels. BigCommerce includes access to eBay, Amazon, Google Shopping, Facebook, Instagram and POS integrations with all of its plans.
Moreover, BigCommerce offers the following tools for businesses looking to build an e-commerce website:
Unlimited products, file storage, bandwidth and staff accounts with all plans.

Single-page checkout, Apple Pay, Google Pay and Amazon Pay acceptance.

Over 100 professional and customizable templates.

Coupons, discounts and gift cards.

Real-time shipping quotes and professional reporting tools.

Product ratings and reviews.

Free sitewide HTTPS and dedicated SSL.

Integrated multi-currency functionality.

Access to over 50 payment processors with no additional transaction fees.

Discounted credit card processing fees through Braintree.
Although BigCommerce is a strong all-inclusive e-commerce website builder, especially for selling through multiple channels, there are some things to keep in mind with this platform.
First, perhaps the biggest downside of BigCommerce is that its plans are limited by annual sales volume. Therefore, if you exceed the limit for annual sales, you'll be required to upgrade to a more expensive plan.
Additionally, even though BigCommerce offers a decent library of themes, there are very few free options and some of the paid options can get expensive — up to $300. If you compare the BigCommerce theme options to competitors like Shopify, Wix and Squarespace, you'll find that some of these platforms can offer more affordable, user-friendly theme designs.
As a top Shopify alternative, the BigCommerce pricing structure is very similar to Shopify's. BigCommerce offers three core plans, as well as an enterprise solution, with its entry-level plan priced at $29.95 per month. The remaining two plans cost $79.95 and $299.95 per month, respectively, and these plans include additional features such as abandoned cart saver, stored credit cards, custom SSL, Google customer reviews and higher annual sales limits.
It's important to mention that although BigCommerce allows you to choose from a variety of payment processors and doesn't charge its own transaction fees, you can access specialized rates (as low as 2.2% plus $0.30 per transaction) by working with Braintree for payments.
7. Shift4Shop: Best e-commerce website builder for users with web experience
Like Shopify and BigCommerce, Shift4Shop is one of the best all-in-one e-commerce website builders for small businesses. Unlike Wix and Squarespace, which are first and foremost website builders, Shift4Shop is designed completely for an e-commerce experience.
In fact, Shift4Shop has an extensive feature list, including everything from single-page checkout to product reviews regardless of which plan you choose. Plus, Shift4Shop offers five different plans (starting at only $19.00 per month)–making it a great e-commerce website builder for scalability.
This being said, the big difference between Shift4Shop and some of the other options on our list is that Shift4Shop requires that you edit your theme in HTML or CSS to customize it for your business. For this reason, this e-commerce website builder is ideal for those with previous web or technical experience (or those willing to hire a professional) but may not be as suitable for beginners looking to manage things on their own.
Features and benefits of Shift4Shop
With Shift4Shop, you can choose from over 50 mobile-ready themes to create your online store. Unlimited orders, secure web hosting, unlimited bandwidth, a built-in blog and access to over 100 payment providers are included in every plan.
In addition, here are some of the top features you can expect when building your e-commerce site with Shift4Shop:
Create an online store with an unlimited number of products.

Access real-time shipping and shipping labels.

Customize your product listings with variants, categories, images and zoom, as well as advanced product options.

Manage inventory, offer bulk quantity discounts, implement single or multi-page checkout.

Allow shoppers to leave product- and Google Customer Reviews

Use SEO tools, a built-in blog, social wish lists, gift cards, coupons and discounts and additional marketing tools.

Sell on mobile devices, through Facebook, over the phone, with Square POS and using dropshipping.

Receive 24/7 live chat and ticket support.

Choose from over 100 payment gateway providers, integrate with PayPal, keep customer cards on file, accept Apple and Google Pay, as well as Bitcoin.
The main drawback of Shift4Shopis that although it's ideal for business owners with web experience, it's not a great e-commerce website builder for beginners. Not only are Shift4Shop's themes more difficult to edit than other options on our list, but the platform also has over 200 built-in features, which can easily be overwhelming for online sellers who are just starting out.
Another notable downside of Shift4Shop is its annual sales limitations. Like BigCommerce, each Shift4Shop plan has a maximum annual sales volume per year. Therefore, although Shift4Shop's extensive feature list makes it a great option for larger volume sellers, these sellers will also have to opt for a higher-level plan in order to truly take advantage of everything Shift4Shop has to offer.
As we mentioned, Shift4Shop offers five different plans — these plans range in price from $19 per month to $229 per month. With these monthly costs, Shift4Shop remains on par with competitors like BigCommerce and Shopify, although the entry-level plan does fall at a lower price point than these two similar options.
This being said, even with the lower-tier plans, Shift4Shop includes a significant amount of features right off the bat. With the higher-level plans, however, you'll have access to features such as customer groups, product comparisons, automation rules, recurring orders, abandoned cart saver, email marketing newsletters, loyalty programs and more.
Additionally, it's worth noting that although you can choose from a variety of payment processors with Shift4Shop, you can access special rates from Shift4Shop's preferred partners — as low as 2.5% for the highest-level plan.
8. Selz: Best e-commerce website builder for selling digital products
Finally, the last option on our list of the best e-commerce website builders for small businesses is Selz. Although many of the other solutions we've reviewed allow you to sell digital products, Selz offers a range of specific features for these types of sellers. Plus, you don't only have to sell digital goods with Selz, you can also sell physical products as well.
Moreover, with Selz, you can design and launch your own website, sell on an existing blog or website, as well as sell through Facebook, Instagram, Google Shopping or Square POS.
Features and benefits of Selz
Overall, Selz is akin to many of the platforms on our list. Selz offers three subscription plans — each of which includes unlimited products, storage, bandwidth and customers; a fully customizable online store; and 24/7 customer support.
In addition, here are some of the top capabilities Selz has to offer as an e-commerce website builder:
Customer analytics, discount codes, global tax settings, custom domain and abandoned cart tools with every plan.

PayPal integration with all plans.

Secure digital file delivery with all plans.

Integrated payment processing with Selz Pay.

Ability to sell e-books, software, video and other digital downloads.

PDF stamping, download limits and streaming, license keys, automatic delivery and automated product updates for digital selling.

Free SSL certificate and ability to use a custom domain name.

Professionally designed and customizable themes (and they're all free).
Although Selz has unique features for digital product sellers, there are areas in which this e-commerce website builder is lacking in comparison to other options.
First, even though all of the Selz themes are free, its theme store is very limited, only offering a handful of options. Additionally, like Shopify, Selz charges transaction fees for those who don't use Selz Pay for payment processing. These fees range from 2% to 0.5%, based on your plan. In this way, if you already work with a payment processor and want to continue to do so for your e-commerce website, you'll end up paying significant fees when using Selz.
Finally, although Selz excels with its digital selling tools, not all of these tools are available with its entry-level plan. To access its license keys, capabilities, for example, you'll need at least the Standard (middle-level) plan.
When it comes to pricing, Selz offers subscription levels that are fairly similar to Shopify and BigCommerce. Selz has three different plan levels, with the first plan, Basic, priced at $29 per month. Next, the Standard plan costs $59 per month, and the Advanced plan costs $199 per month.
As we mentioned, the higher-level plans included additional digital selling features, as well as extra staff accounts, custom fields and receipts, real-time shipping rates, priority support and lower processing rates.
This being said, Selz also offers a "Do It For Me" plan, where you work with a professional team to create and manage your business's website. This plan costs $599 per month.
Finally, it's important to note that processing rates for Selz Pay start at 2.9% plus $0.30 and fall as low as 2.7% plus $0.30 with the Advanced plan. Although 2.9% plus $0.30 is pretty standard for online processing, Selz's rates for its higher-level plans do not quite compare to some other solutions we've discussed.
How to choose the best e-commerce website builder for your business
Now, at this point, with all of these options in mind, you might be asking: What is the best e-commerce website builder?
The answer to this question, however, is subjective. The best e-commerce website builder is the one that meets your unique needs. Therefore, as you try to sort through these (as well as any other) platforms, you can narrow down your options by keeping the following points in mind:
Price: Price is often one of the top factors involved in choosing an e-commerce website builder. In order to find the best platform for your business, it will need to be one that's within your budget and that you can afford on an ongoing basis. If you're not sure that you'll be able to afford a sizable monthly subscription, you might opt for a free platform, like Square Online, and upgrade as your business grows.
Features: What kind of e-commerce website are you looking to create? What are you going to sell? How are you going to promote your business? Answering these questions, as well as other similar ones, will help you determine what features to look for in an e-commerce website builder. We'd recommend making a list of the things that are most important to you — e.g., professional templates, abandoned cart recovery, product variations, etc. — so that you have an idea of what to look for as you compare different options.
Design: What do you want your website to look like? Will you be building the site yourself? Have you built a website before? If you're looking to launch your e-commerce website as quickly and easily as possible, you'll want a builder that is easy to edit and offers simple designs, like Shopify or Wix. On the other hand, if you want the highest level of customization, you'll want to explore solutions that give you greater flexibility, like Shift4Shop or WordPress.
Payments: In order to sell online, you need to be able to accept payments. As we've seen, certain e-commerce website builders include in-house processing, whereas others offer third-party integrations for processing. On top of a monthly subscription fee, online credit card processing rates will be one of the biggest costs involved with your e-commerce website, so you'll want to be sure you evaluate your options carefully and ensure you're getting the most affordable deal. As an example, if you already have a contract with a processor, you'll want to avoid platforms like Selz or Shopify who charge additional fees to businesses that work with third-party processors.
Scalability: Finally, you'll want to think about how scalable any platform is with regard to your potential business growth. Although it's possible to switch platforms in the future, doing so can be difficult — so you'll want to consider how you might be able to use your e-commerce website builder as your business progresses. For example, if you think you'll only be doing occasional selling, a free option may be enough for you. On the other hand, if you're looking to grow your store into an international operation, you'll want to find a platform that can accommodate that goal.
Once again, to choose the right e-commerce website builder for your small business, you'll want to consider where you are now and where your future growth might take you.
Interested in combining multiple online income streams, like product sales, subscription content, services and blog sales? Then platforms like Wix, Squarespace and WordPress might be ideal. Think you'll need in-person, in-store and online sales capabilities in a simple, low-cost system? Square Online plus Square can make it all happen. Hoping to grow into a serious e-commerce power-seller? Shopify can get orders in and products out fast, day after day.
This article originally appeared on JustBusiness, a subsidiary of NerdWallet.