The Best Online Shopping Cart Software
An overview of online shopping carts and a few of the best e-commerce shopping cart options for small businesses.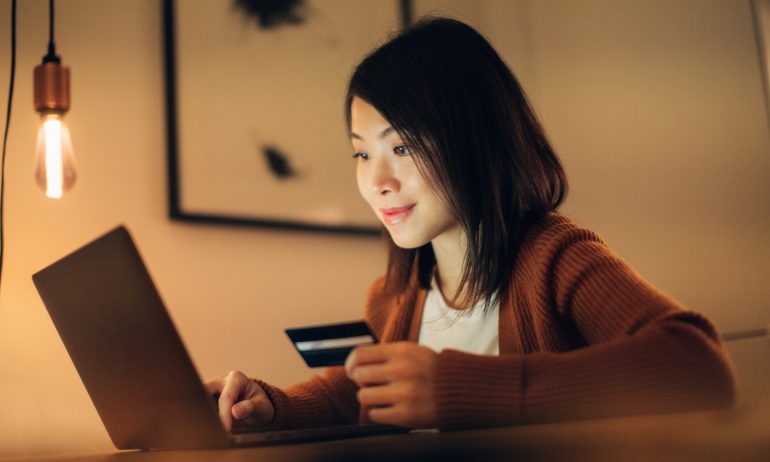 Many or all of the products featured here are from our partners who compensate us. This may influence which products we write about and where and how the product appears on a page. However, this does not influence our evaluations. Our opinions are our own. Here is a list of our partners and here's how we make money.
An online shopping cart, or e-commerce shopping cart, is the software that allows customers to shop on a website. Online shopping cart systems typically include a full range of e-commerce capabilities, including store building, payment processing and customer management tools.
Unlike a physical shopping cart, an e-commerce shopping cart can involve a variety of components and can function differently depending on the system you use. Here are our top picks.
Types of online shopping cart systems
What to look for in an e-commerce shopping cart
Perhaps one of the most well-known online shopping cart systems, Shopify offers four different service plans, ranging in price from $5 to $299 per month. Shopify allows you to create and customize your online store with its drag-and-drop builder, list and sell your products and, of course, gives customers the ability to browse and place orders. Shopify offers its own in-house payment processing, as well as a robust app store of over 1,200 integration possibilities.
Overall, Shopify is known for its approachable platform, easy customization and general usability for beginners to advanced web users alike. This being said, selling on Shopify is a great option for businesses of all sizes, across all industries. For smaller businesses just starting out, the Basic Shopify plan ($29 per month) will probably fulfill most of your needs. Larger or quickly-growing businesses may consider going with one of the higher-level Shopify plans.
Like Shopify, Shift4Shop offers four different online shopping cart plan offerings — each of which gives you the ability to set up and manage your online store. Plus, Shift4Shop has over 200 built-in features, according to its website. The Shift4Shop plans range in price from $19 to $229 per month.
There are a few features that set Shift4Shop apart from Shopify as an online shopping cart solution. First, Shift4Shop offers more payment processing options, allowing you to integrate with over 100 different processors without charging transaction fees. Additionally, Shift4Shop includes a personalized domain with all of its plans, as well as offers multiple built-in shopping cart checkout options. However, while Shopify's site builder is mainly drag-and-drop based, Shift4Shop requires you to edit your online store with HTML or CSS.
Shift4Shop is a great Shopify alternative to consider and generally a worthy online shopping cart system for small businesses. If you're looking for more customization and built-in features, can edit in HTML or CSS and would prefer less of a reliance on add-ons, Shift4Shop might be the right solution for you. For businesses looking for affordability, Shift4Shop's $19 plan is one of the cheapest plans you'll find, with the most functionality.
Both Shift4Shop and Shopify can serve as hosted online shopping cart add-ons — giving you the ability to add shopping cart functionality to your existing website.
Unlike Shift4Shop and Shopify, Weebly is first and foremost a website builder. With Weebly, you can build your business website, choosing one of its themes and customizing it using a drag-and-drop builder. Weebly provides web hosting, SSL security and website management from its mobile app. You can also add photos and videos and integrate with third-party tools. If you choose to do so, you can operate your Weebly website with one of its completely free accounts.
If you want to bring e-commerce shopping cart functionality to your Weebly website, you can choose one of its paid plans which range from $12 to $38 per month. With these plans, you'll receive online shopping cart capabilities, as well as the ability to accept payments. In this way, Weebly is similar to competitor website builders, particularly Wix and Squarespace. Weebly, however, offers the cheapest e-commerce plan out of the three and is probably the most appealing for smaller businesses, especially those just starting out in e-commerce.
Although you can sell digital products with all of these e-commerce solutions, you might also consider a more specialized platform like Selz or Sellfy, if your business will be more focused on digital goods.
Of all the free, open-source online shopping cart systems, OpenCart is perhaps one of the most user-friendly for those with limited technical knowledge. To use OpenCart as a licensed solution, you must download it and install it on your server. Although you can find your own web hosting, OpenCart also gives you the opportunity to work with its hosting partner to host your online store.
Overall, OpenCart offers significant out-of-the-box functionality, including unlimited products; customer-, product- and order-management tools and built-in SEO. Additionally, OpenCart gives you the ability to connect to over 13,000 modules (including credit card processors) and themes to customize and grow your store. If you're interested in the flexibility that an open-source shopping cart solution can offer, OpenCart will probably be one of your best options. Although you probably will need some developer assistance to work with and use OpenCart to the fullest extent, it seems to be one of the most user-friendly and accessible options, even when compared to more popular open-source online shopping carts, like Magento.
Similarly to OpenCart, PrestaShop is an open-source licensed online shopping cart that you can download and install to create your e-commerce store. PrestaShop gives you the option to find your own web hosting or work with its hosting partner. Additionally, PrestaShop includes over 600 built-in features with its software, all of which can be customized to accommodate your specific business using the open-source code.
Despite the number of included features and open-source nature of this platform, PrestaShop is pretty highly reviewed and known for being user-friendly, with a clean and intuitive dashboard. Plus, since it's based in Europe, PrestaShop equips businesses with the ability to sell internationally — allowing you to present your store in multiple languages and currencies, as well as adjust your checkout for international taxes and shipping.
If you want a flexible, yet robust e-commerce shopping cart solution, PrestaShop might be worth considering. Keep in mind that PrestaShop is an open-source solution, which means you'll probably need a developer to make the most out of this software.
Although WooCommerce is a licensed online shopping cart, it's different from software like OpenCart and PrestaShop in that it's a plug-in. WooCommerce is used to add shopping cart functionality to an existing website, more specifically, an existing WordPress website. The WooCommerce plug-in is free to download and is also open-source, meaning you can edit and customize it to your specific needs.
When you add WooCommerce to a WordPress site, you receive shopping cart functionality — including the ability to list products, customize checkouts, accept payments and manage orders. Even though WooCommerce is a shopping cart plug-in, it also gives you many of the advanced capabilities of a full-service e-commerce solution. With WooCommerce, you can create discounts and coupons, track your stock levels, customize email templates to use for customer notifications and view reporting analytics. You also have the ability to add to your WooCommerce functionality with any of its 400+ extensions.
As one of the most-used online shopping cart solutions out there, WooCommerce is a great option for businesses looking to get started selling online. Although WooCommerce is open-source, it can more easily be used without developer assistance compared to other solutions.
Remember that in order to use WooCommerce you have to have a WordPress website — which means that you'll need to set up the hosting, security and overall design of that site before implementing this plug-in. If your business already uses WordPress, WooCommerce is a fairly simple and cost-effective way to try your hand at e-commerce.
A version of this article was first published on Fundera, a subsidiary of NerdWallet.