10 Best Website Builders for Online Stores
Compare the best free and paid online store builder options.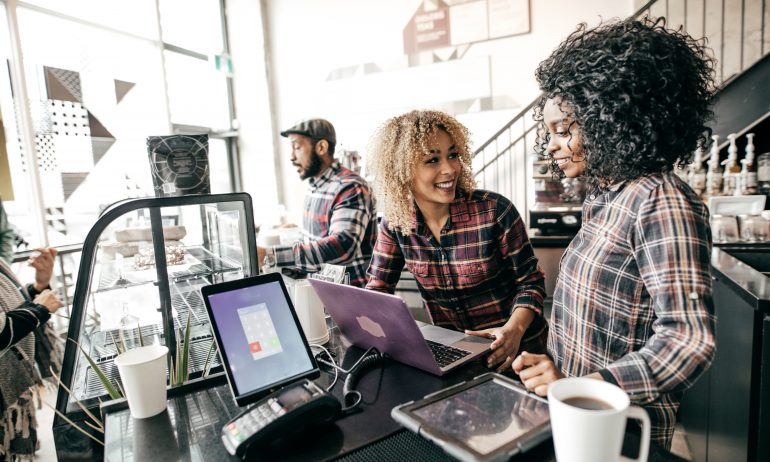 Many or all of the products featured here are from our partners who compensate us. This may influence which products we write about and where and how the product appears on a page. However, this does not influence our evaluations. Our opinions are our own. Here is a list of our partners and here's how we make money.
Thinking of launching an online business? Then you probably need an online store builder. These are website platforms with features specifically geared for e-commerce sales. With them, you can sell goods that ship, digital products via download, online and offline services — and even book prepaid appointments to sell lessons online.
Some e-commerce platforms are better suited for certain types of businesses — and budgets — than others, however. Our guide explores the 10 best online store builders and highlights their costs, top features and best fit for various business needs.
Affordable, user-friendly and feature-packed Shopify is the most popular online store builder for startups and small businesses who want to get up and running quickly.
It seamlessly connects all of your sales channels, including your branded website, social channels, Amazon, eBay and in-person sales, within one convenient system. It's also a leading platform for dropshipping sales and every Shopify user can access its free built-in supplier platform, .
Shopify is primarily geared toward sellers that ship physical goods to customers, or that need to tie online and in-store sales within one system. Publishing products to various channels, and tracking inventory, customer orders and shipping is an easy affair in Shopify.
It's also an ideal platform for dropshipping and print-on-demand businesses and offers plenty of plug-and-play integrations to these types of suppliers. You can even manage your entire operation on the go with its mobile app.
BigCommerce is a multichannel-focused online store builder that seamlessly integrates with Amazon, eBay, Google Shopping, Facebook, Pinterest, Instagram and other sales channels. BigCommerce is extremely user-friendly and offers plenty of ready-to-go designs, so you can easily launch a store within a few hours.
BigCommerce surpasses other all-in-one e-commerce platforms in one key area — it integrates with WordPress. This lets growth-minded brands pair WordPress' virtually unlimited content features with BigCommerce's powerful multichannel sales tools.
Startups and small businesses who want the most complete online multichannel sales platform should consider BigCommerce as one of the best online store builders. Plus, BigCommerce is the ideal solution for sellers who want to pair a content-focused WordPress website with a multichannel sales machine.
If you're looking for one of the best free online store builders, you'll want to consider WooCommerce.
The free WooCommerce online store builder, however, needs the WordPress platform to run. It's not a standalone e-commerce store platform like others on our list. However, pairing the powerful WordPress blogging platform with the WooCommerce e-commerce plugin lets you create the online store of your dreams at a very economical price.
WooCommerce lets you sell just about anything via a WordPress site. Physical items that ship, digital downloads, service bookings, subscription sales, online lessons and even donations are all fair game with WooCommerce. The free version supports physical and digital goods, but the other selling scenarios might require paid extensions or add-ons.
Square Online is a website builder with a wealth of e-commerce features and seamless integration with Square. The company developed it after acquiring the e-commerce platform Weebly. If you're a Square user and want to combine an online store with your POS, it's the ideal online store builder for you.
If you're a Square user looking to expand into e-commerce, Square Online is one of the best website builders for online stores. It seamlessly integrates with your free Square POS software and you can connect some — or all — of your Square item inventory to your online store in just a few clicks. You also get a mobile app to manage sales, marketing and other business details from anywhere.
Square Online doesn't offer the robust multichannel sales features that you get with Shopify or BigCommerce, nor does it match the blogging capabilities of WordPress with WooCommerce. However, Square users can certainly benefit from the seamless integration with Square POS and all other Square services.
Wix is a simple-to-use online store builder that offers an array of attractive and modern website designs and online sales capabilities. Wix isn't a multichannel online store builder — but that's not its goal.
Instead, Wix offers an array of online commerce options beyond its product sales features. You can easily sell services, event tickets and subscriptions, take online bookings and even accept orders for pickup using Wix.
Wix is one of the best online store builders for restaurants, event promoters and service businesses selling locally. These companies can tap into online ordering, delivery and pickup tools, ticket sales and booking features to easily market and sell to local audiences. Wix is also particularly good for businesses selling digital goods and subscription access to photography, music and video products.
It's an easy way to sell physical goods online, too. However, Wix doesn't match the multichannel sales features of the all-in-one platforms on our list. You can't connect Wix items to Amazon, eBay or Etsy, or sell within Facebook and Instagram posts.
Ecwid is an economical multichannel online store builder that supports sales on a website as well as Amazon, Facebook, Instagram and more. Along with features that rival Shopify and BigCommerce, Ecwid has another claim to fame.
You can with websites on Wix, Square Online, WordPress, Joomla, Squarespace and many other platforms. If your platform's built-in e-commerce features aren't doing the trick, Ecwid just might be your answer.
Ecwid is ideal for businesses wanting to add a full-featured online store to an existing website on Wix, Square Online, WordPress or other platforms. In most cases, Ecwid offers more multichannel sales features than these platforms' built-in e-commerce solutions.
You can also add an Ecwid store to any number of websites — you're not limited not just one. Plus, if you sell fewer than 10 products, Ecwid is completely free.
Squarespace is a user-friendly multipurpose website platform that also offers e-commerce features — in this way, it's one of the best website builders for online stores.
Like Wix and Square Online, Squarespace supports a variety of sales, including products that ship, subscriptions, services and appointments, and digital files like music or photos. It also offers a tidy donations feature and supports Instagram shoppable posts, which is a nice social selling perk.
Squarespace is an ideal online store builder for image-minded service providers, nonprofits and influencer brands who want to sell physical or digital goods on a branded website and via Instagram. However, it isn't right for the multichannel power-seller who wants to sell everywhere, like on a branded website, Amazon and other marketplaces and all social media sites.
As one of the original e-commerce solutions, Volusion is one of the best platforms to build an online store — continuing to be an industry leader in terms of multichannel features and store design options.
This time-tested platform delivers everything you need to sell online, plus offers a unique perk called Quick Wins. This program delivers personalized setup assistance and training on key e-commerce tools and tactics. Other platforms provide useful DIY tutorials, but Volusion makes sure you're prepped for success.
Any startup or growth-oriented online seller looking for a multichannel solution should consider Volusion. It's on par with Shopify, BigCommerce and 3dcart — and its Quick Wins setup assistance and training program will jump-start your e-commerce efforts.
Volusion also offers built-in drop shipping supplier and fulfillment provider integrations if these methods are on your radar.
3dcart is another industry-leading online store builder that was popular long before Shopify and BigCommerce hit the scene. It has a lot to offer startups and small businesses, plus it's less expensive than other top options.
3dcart delivers an SEO-friendly page structure that ranks well in search, offers over 50 free store themes and supports hundreds of payment processing options. Its dashboard is also ideal for sellers with large product catalogs.
Although 3dcart can work for any size seller, it's going to offer the best way to build an online store for sellers with large catalogs and fast-moving inventory.
3dcart's built-in content management system (CMS) makes creating and tracking hundreds — or thousands — of product pages a manageable task. You can also craft SEO landing pages for specific categories to boost organic search results and fine-tune your marketing efforts.
If you're looking for one of the best free online store builders, Freewebstore might be the ideal solution. Unlike some e-commerce platforms that offer a free, but limited-feature version, Freewebstore doesn't hold back.
You can access all built-in sales features for free. The Freewebstore platform appears dated, but it boasts great reviews and many happy users. Clearly, the platform delivers as expected and the price is right.
Freewebstore is a free e-commerce tool geared for the shoestring startup that wants to launch a side-gig or online business at little to no cost. Individuals can also launch a store on Freewebstore, so it's perfect for test-driving an e-commerce idea with no costs or commitments.
The best online store builder is the one that meets your unique selling needs and business model. It's easy to say that Shopify or WooCommerce are the top contenders due to its overwhelming popularity. However, many highly successful websites run on other platforms for various reasons.
BigCommerce, for example, is fast becoming the darling of multichannel power-sellers, while Ecwid and 3dcart offer economical all-in-one solutions. Likewise, Square Online is an easy pairing for Square users, Wix offers great localized commerce tools and Squarespace appeals to influencers leveraging Instagram.
Online store builders offer free trials that let you build a working e-commerce website. This is a great way to dig into the features of each platform and see what appeals to you. You can try out different store designs, create products, test payments, explore marketing tools and run test orders — even real orders on some platforms — all without spending a dime.
It's important to closely examine and compare platform features and costs to pick the best value for your specific needs. You can use each platform's Price/Feature chart to do this. These charts are generally found under the "Pricing" link on store builder websites.
For example, in the Shopify Price/Feature chart shown below, the base $29 monthly plan clearly doesn't include every feature. This is common with most online store builders.
In most cases, more features equal higher monthly fees. However, some store builders offer more features than others at lower plan levels. So it's important to compare the features you need among different platform plans and price levels.
Changing platforms isn't an easy task, so it's important to select a platform that's ready to support your future growth. For example, selling on Amazon and social media sites might not be on your radar now. However, many online sellers are successful on those channels. If that's a possibility for your business, a multichannel store builder like Shopify or BigCommerce is probably a better starting point than Wix.
You can use the Price/Feature charts covered above to clearly define which platforms support the growth opportunities you might need. It's far easier to add functionality by simply upgrading your plan than it is to shift an entire website onto a new platform.
This is called future-proofing in the world of e-commerce and is, in fact, crucial for small and growing sellers. If there's one certainty in this industry, it's change. So, picking an online store builder that can handle your needs and budget today, plus grow with you well into the future, will put you on the course to e-commerce success.
A version of this article was first published on Fundera, a subsidiary of NerdWallet.